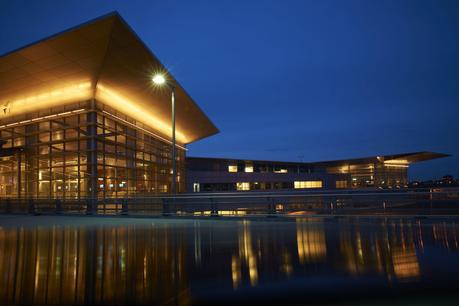 If you are a traveler you appreciate a good airport, when I lived overseas I had the pleasure of transiting through Incheon International Airport on a regular basis on my way to the south coast of Korea and I used to marvel at the experience. Bright airy spaces, fast service and a logical design, I used to think that the half hour average time from gate to subway stop was a byproduct of my 'professor status' but that airport has been ranked in the top 5 airports in the world since it opened so maybe not so much.
Until now the top airports have been primarily located in Asia but there's a new city appearing on the list; Winnipeg's James Armstrong Richardson International Airport.
It made it on the list of the Travel Channel's top ten most iconic;
 Renowned architect César Pelli (who designed the Petronas Towers in Malaysia and the International Financial Centre in Hong Kong) drew his inspiration from the vast prairies and sky when he conceived of this terminal, the first freestanding airport building in Canada that's LEED-certified. Skylights, an atrium and large windows fill the space with light and bring the big sky inside — a design element that (along with "smart" mechanical systems) helps reduce overall energy consumption.  Travel Channel
The existing terminal designed in 1964 is on its way to retirement or to be re-purposed.  The Winnipeg Airports Authority (WAA)designed the new terminal with the following principals; abundant use of transparency and natural light, openness to the interior, and connectivity. Special attention was paid to space management which resulted in; wider corridors, larger lounges, more seating, and larger customs facilities, with extra space in the screening and security areas in case any new regulations come along. I guess its important to plan for 1984 even if you don't want it to happen. s
Either way, the new terminal in Winnipeg is likely to stay near the top of the list for a while, until another North American city gets frustrated that it is being beaten by Winnipeg. To bad for Toronto, and Vancouver, your new Airport's are already done.
The Winnipeg Airports Authority has a youtube channel if you want to take a closer look.



For a better gallery of images from inside visit ChrisD.ca for gallery supplied by a local and the requisite photos of college age people wearing inflatable airplanes that authorities love so much.