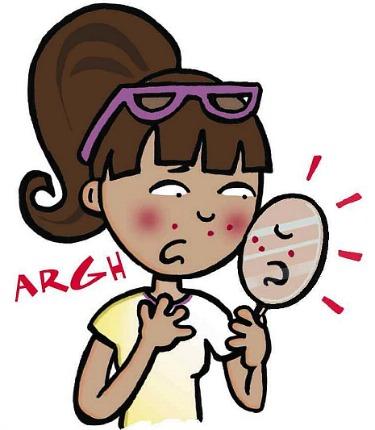 I have a confession to make: over the past few years my skin often looked worse than a 14 year-old teenager's (which is oh-so-ironic considering that I never had a blemish one in my teens). When I hit my mid 20s, it was good-bye clear skin, hello acne-prone skin. And after trying everything in the proverbial book (from that famous "infomercial" brand to just about every drugstore acne product out there), I've found a product line that has sent my acne packin' permanently. Meet CoralActives, my clear-skin weapon!
So what gives with acne when we're adults? A quick acne 101: First, no single factor causes acne. Second, for reasons doctors do not completely understand, follicles (aka pores) sometimes get blocked. Sebum (oil), which normally drains to the surface, gets trapped in the pore and stimulates bacteria. Bacteria live on everyone's skin and generally pose no problems, but oil can cause it to multiply, inflaming surrounding skin tissue as a result. So what can you do about acne on your own? While there is no magic product or regimen that is right for every person and situation, this triple trifecta is typically the most effective: 1) unclog pores 2) kill bacteria 3) minimize oil. And CoralActives acne products are formulated to do all of the above without being so harsh that your face resembles a red lollipop (you routine acne product users know what I'm talking about on this one). Ready to give acne the boot once and for all, skin enthusiasts? Here's the anti-acne-loving scoop: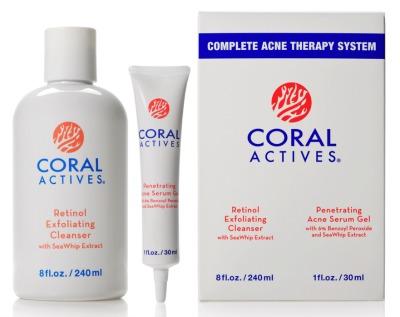 Beauty 411: There are a plethora of acne product brands to choose. So what's different about CoralActives? It's all about the Whip (Sea Whip Coral, that is). Sea Whip Coral is a soft coral found in the Caribbean. It provides a very potent (but natural0 anti-inflammatory extract that is super effective. Clinical studies have shown that Sea Whip Extract has both anti-inflammatory and analgesic properties when topically applied to the skin. This enzyme is the foundation of the skin's inflammation response that leads to signs of redness and discomfort. Sea Whip Extract has also been shown to assist the skin to repair itself. It is a natural solution for sensitive and irritated skin (read: this clever coral extract prevents skin from becoming inflamed and irritated. Their products also include key anti-acne ingredients like 6% Benzoyl Peroxide (to kill bacteria), humectants (to attract water from the atmosphere onto your skin), emollients (to retain the moisture on your skin), microbeads (to remove dead skin cells), retinol (to promote skin renewal and reduce fine lines), and other all-natural ingredients such as tea tree oil and licorice extract.
Beauty bottom line: CoralActives has crafted a formulation that sends acne packin' permanently. There are a lot of acne products out there (I swear I've tried them all) that make big promises but only deliver dried out, red, irritated skin with the acne still remaining. My results after using CoralActives? (Drumroll, please…) After a few days of use, I noticed a big reduction in acne (which I personally tend to get around my jaw, chin, and forehead area). And after three full weeks of use my skin has never been clearer (which is quite a big deal as after fighting acne for the past several years and trying everything in the over-the-counter book). So if you're battling acne, have tried every topical possible, and don't want to go the "meds" route, for under $30 bucks CoralActives is an effective solution that will help dramatically clear up skin.
To learn more about CoralActive's anti-acne collection, head on over to their website. And for the commitment-phobes (like myself) they offer a 30-day risk-free trial.
Dear Acne: We've been together for, well, way too long and I've decided our zit-uation just isn't working out. I'm breaking up with you for good this time. I (don't) wish you all the best. ~SS
What do you think, readers? Do you battle acne? Any acne products you swear by?
 Crows' Feet, Cupcakes, and Cellulite does not accept compensation for reviews. Samples may have been provided. Opinions are 100% the author's own.