This is a start yet will barely put a dent in the $71.8 BILLION unfunded liability.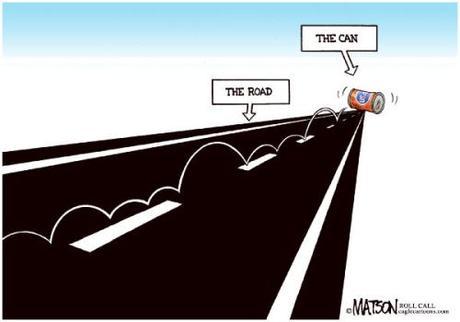 Sacramento Bee: Gov. Jerry Brown's administration has reached a tentative deal with a key employee union that would require state engineers to contribute toward their retirement health care benefits, likely establishing a template that will be applied to other state employee unions to help reduce a growing financial liability.
Under the three-year agreement, which still must be ratified by the union's members and the Democratic-dominated Legislature, the Professional Engineers in California Government in mid-2017 would have to begin paying one-half of 1 percent of their pre-tax salaries into a fund to chip away at the fiscal millstone.
The contribution, including the dollar-for-dollar match by the state, would rise to 2 percent of the workers' salary by July 2019, though a union spokesman noted that the group is scheduled to return to the bargaining table in early 2018.
For employees hired after Jan. 1, the deal lengthens from 20 years to 25 years the amount of time it would take to become fully vested in the retiree health care program. And the amount the plan would pay for those employees would be reduced from 100 percent for primary beneficiaries and 90 percent for dependents to 80 percent for both.
The Brown administration did not comment on the deal. But it represents a victory for the Democratic governor, who wanted current state employees to begin paying for retiree health care and future employees to have more modest benefits.
The California Association of Highway Patrolmen six years ago became the first state employee union to agree to help fund retiree health benefits.
While the engineers' tentative contract does not technically affect the other unions because they bargain separately, generally agreements reached earlier tend to establish limits for later pacts. Terms of the deal are likely to be applied to three other state worker bargaining units without contracts and more than a dozen others whose contracts expire next year, ultimately affecting the entire state workforce.
The new payment toward health care could be at least partially offset by raises. The engineers' deal – retroactive to July 2 – gives the union's 13,000 members a 5 percent raise in July 2016 with a 2 percent raise one year later. It is set to expire on June 30, 2018.
Last year, then-Controller John Chiang pegged the unfunded liability of the state providing health and dental benefits for its retirees at $71.8 billion as of mid-2014. The balance is particularly burdensome because unlike guaranteed public employee pensions, which are funded as employees remain on the job, the state only covers what's needed to pay for the costs as they come due.
Bruce Blanning, the engineers union's executive director, cited the pension issue in describing how the negotiating team approached the new contribution. In 2011, most state workers began paying an additional 3 percent toward their retirement benefits, a figure offset by employee raises.
"I think it's a reasonable ask," Blanning said of the health care piece. "The administration wanted to start jointly putting aside money … to build up a fund, and from our end of it, (we thought) 'OK, that's an understandable objective.'"
Unionized state engineers are among the highest-paid employees in government, with regular annual pay averaging $94,147 for calendar 2014, according to state payroll data. They last received a 3.3 percent raise on July 1.
The engineers union released news about the raises to the media on Monday. It waited until Tuesday, however, to publicly disclose the new out-of-pocket costs because it wanted to break that news directly to its members first.
Some agreements contain "most-favored nation" clauses that allow a union to reopen talks if a later contract with another group is more generous. The engineers' contract, however, does not contain such a clause.
See also:
California taxpayers have never paid more for public worker pensions, but it's still not enough

Shocker, not: No high-deductible CalPERS medical plan in California budget

Shocker, not: Despite strong returns, California pension funds' fiscal hole got deeper
DCG