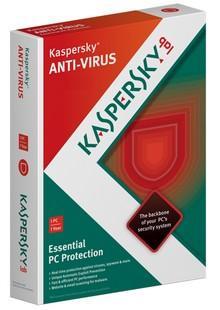 Having a premium quality anti-virus software is a must for Windows because malware and virus attacks are very common among PC users. And Kaspersky is  a well-known software for protecting computers for years.  Normally a copy of Kaspersky Anti-Virus 2013 costs about $40 US dollars (CNET price). But today, we have an amazing deal that allows you to get a copy of this anti-virus software for only half  the price at just $20 US dollars.
"Kaspersky Anti-Virus 2013 is a powerful antivirus tool which provides many ways to detect, block and remove malware. It allows you to scan individual files or folders from the Explorer right-click menu, for instance. The Critical Areas Scan checks just the most likely infection points in a few seconds, while the Full Scan checks everything. And scans can be run manually, on a schedule, or you can have the program check your system automatically whenever it's idle."
Kaspersky Anti-Virus 2013 guarantees to protect your PC from all kinds of threats with the latest updates and technology. If you're already using Windows 8, then don't miss out this opportunity to buy this software at this low price. Deal won't last long.
Hurry up and head over to Download Crew website to buy Kaspersky Anti-Virus 2013 for $20.
 
(All the images, trademarks, logo's shown on this post are the property of their respective owners)
Roshan Jerad Perera