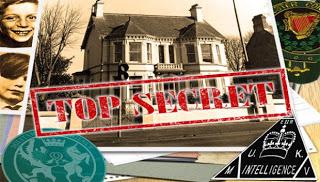 The BBC, and other so-called News Networks, ran a story yesterday (for most of the day) about new policies for dealing with children reporting sexual abuse in foster care or by politicians/celebrities/priests.
Child sex abuse victims treated 'overcautiously'
Draft guidelines are expected to be published in May ahead of a three-month public consultation.
Child sex abuse investigations put too much focus on the victims' credibility and not enough on the suspects, says the director of public prosecutions as he announces a shake-up of guidelines.
Director of Public Prosecutions Keir Starmer told the BBC there was an "overcautious" approach to victims.
In a speech delivered earlier, Mr Starmer said: "We cannot afford another Savile moment".
Hundreds of cases where there was no prosecution could be re-examined. [source BBC]
Hundreds of cases where there was no prosecution could be re-examined?
This might be so, but, as we learned from the coroner, Dr Fiona Wilcox, in the MI6-hacker Gareth Williams pink-bag-in-bath inquest, "The cause of his death was unnatural and likely to have been criminally mediated. I am therefore satisfied that on the
balance of probabilities
Gareth was killed unlawfully." Head on over to the DAILY MAIL for
their Gareth Williams Inquest page
.
All through the above MI6 case there were National Security restrictions implemented. Just think, what if most of the child sex cases in UK, Europe and America are indeed to do with National Security as in 'child sex abuse material used as leverage to corrupt and control those in power'? It's been done before in many countries? And surely it won't have been an isolated case. So, some kid reports that he's regularly child-sex-abused at some location like Kincora Boys Home in Ireland, NOTHING WILL EVER BE DONE because of National Security. And what about Holly Greig, is she a National Security case, too?
Iraq WMD investigator Dr David Kelly has elements of National Security to it. As did the JEan Charles de Menezes case, and others. We've all seen the glaring (or maybe just clumsy) cover-ups of the Warren Commission and the 9/11 Commission and the downplaying of other Covert Acts for PROFIT (yes, Follow The Money, always) like Operation Gladio.