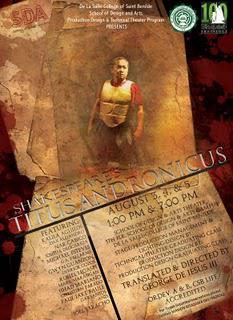 Opening this August 3 and running until August 5 is a presentation of William Shakespeare's "Titus Andronicus" as the thesis production of the AB-Production Design and AB-Technical Theater program of the De La Salle-College of Saint Benilde School of Design & Arts.
The play is directed and translated by Palanca award-winning playwright George De Jesus III. Translated into Filipino, this staging adheres to the visual styles and designs of the period when the Roman Empire is at its ebb. Although judged as Shakespeare's most maligned play, the brutality and violence in "Titus Andronicus" conceals a deep understanding of human nature. The cycle of revenge and retribution is interpreted as the loss of reason and the decay of rationality, engendering a spectacle of violence that plunders what makes a human being human. It is a truth this production regards as relevant to this day.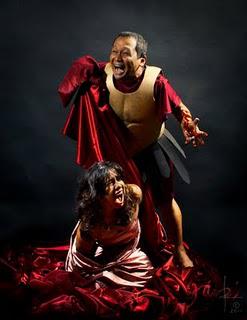 First performed in the winter of 1594, "Titus" is seen as Shakespeare's bloodiest and most violent work, marked by a number of beheadings, a disembowelment, rape, dismemberment, murder, and cannibalism. Set during the latter days of the Roman Empire, the play tells the fictional story of Titus, a general in the Roman army, who is engaged in a cycle of revenge with Tamora, Queen of the Goths.
Featuring theater stalwarts Kalila Aguilos, Dax Alejandro, Joshua Deocareza, Nar Cabico, G.A. Fallarme, Derrick Gozos, Gwyn Guanzon, Russell Legaspi, Mara Marasigan, Jihad Mariano, Paolo O'Hara, Christian Parado, Paul Jake Paule, Gab Santos and Joel Saracho as Titus, the play will be shown at the SDA Theater at the De La Salle-College of Saint Benilde School of Design & Arts along Vito Cruz, Manila.
Performance Dates are August 3, 4, and 5, 2011 with 1 p.m. and 7 p.m. shows. Ticket prices are at P150, 300 and 350. For tickets and other inquiries, please call or text: 0917-8387285, 0915-5059439, 0917-5020531, 0916-3256772.