Goofy, family-fun is a great way to describe DC Comic's Shazam so long as your family is over 13, or fine with constant bad language.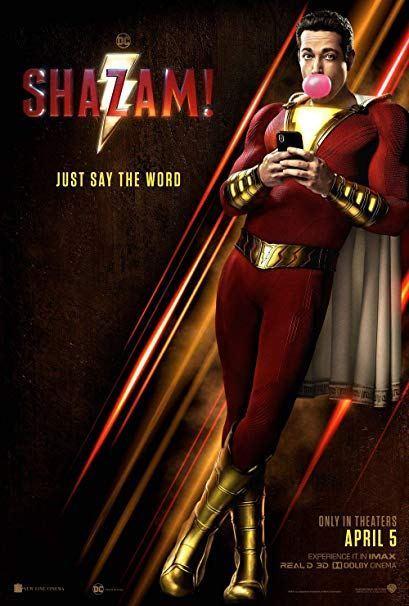 That's the biggest thing wrong with this Zachary Levi, who plays Shazam, movie. Bad language abounds from the beginning to the end, definitely earing it's PG-13 rating (though I must admit there were no f-bombs).
This movie touches home because we've all had a moment in our lives when we wished we could live out the life of a superhero that we have seen in the movies or on television. In Shazam, Billy Babon (Asher Angel, Andi Mack) gets to do just that with just a bit of magic. All he needs to do is shout out his new superhero name and magically he's transformed into the adult superhero, Shazam. Still a kid at heart, Shazam revels in the new version of himself by doing what any other teen would do – have fun while testing out his newfound powers with his friend/foster brother, Freddy (Jack Dylan Grazer, CBS's Me, Myself and I). But Billy'll need to master them quickly before the evil Dr. Thaddeus Sivana (Mark Strong, Kingsman: The Secret Service) can get his hands on Shazam's magical abilities.
If I had gone to the theater with my husband instead of my three kids, 11 and under, I might have given this movie a 9 out of 10 stars rating, just for surprising me by how well it turned out to be. However, not paying attention to the PG-13 rating, I did bring my children and after watching them cringe every time bad language was used (quite often in certain circumstances), I have to give this movie a 7.5 out of 10. Mostly because this movie seemed cute enough to take them, and it would have been had the writers refrained from so much expressive language that in all honesty did not have to be there as much as it was.
My eldest wasn't as affected as much by the language and gave the movie a 4.5 out of 5 because he believes there should be move superhero movies that allow kids to dream big instead of always having "older" adults play the roles. My middle child, while enjoying the movie, gave it a 3 out of 5. He was disturbed greatly by the language and even days later expressed a wish that it wasn't there as much as it was so he could have actually enjoyed it fully. My youngest dismissed the language. He told me, with the most common sense that only a young child can have, that he knows better than to repeat any of that. He told me he would give the movie a 3.5 to 4 out of 5. He thought the villain was a little weird and that maybe he was too old compared with everyone else in the movie, especially as he almost came off the most childish. My son also did not like the family interaction between the villain and his family. He thought it was a little too harsh for a "teen" movie.
Overall, the movie was funny and a lot better than we expected heading into it. If only we could just get over all the negativity of the language used. However, I can't wait to see what else Zachary Levi (Chuck) will be putting out next.
Did you get a chance to see Shazam? Are you planning to? How about adding it to your movie collection when it comes out in a few months? Tell me what you think about it and all the language used in comparison to your children in the comments below.