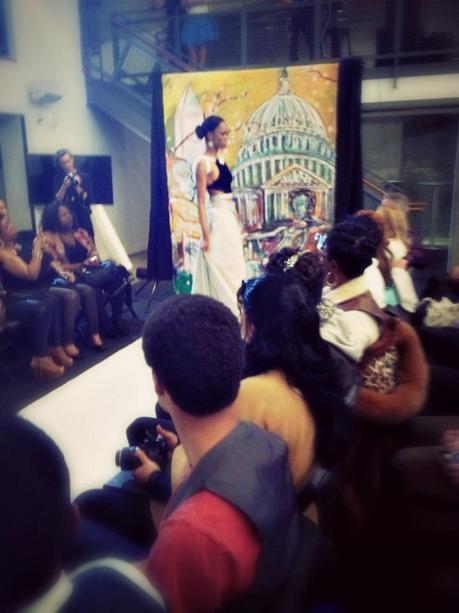 Estella Couture
On Monday, I headed to DC for the Eco Fashion Show, the kickoff event for DC Fashion Week. It was great to be able to be up close and personal with these designers who are having a positive impact on communities locally and abroad and using sustainable materials. It's exciting to see more and more designers making an effort to use fair labor and being more conscientious of where their materials come from. Many designers featured throughout the week are also committed to producing their garments ethically, so it wasn't just limited to the Eco Show, which is awesome.
Here's a little background info on the show from the Inova Health System's press release:
The Eco-Fashion Show is a collaboration between DC Fashion Week and Inova Health System's Office of Sustainability to help support environmental sustainability in the fashion industry.  It is a sustainable design showcase featuring the work of eco-friendly fashion designers.  The show will highlight the impact of the fashion industry on the environment and public health, and emphasizes the need to switch to sustainable design and consumption.  If you're not familiar with the material, blue wrap is a recyclable woven material made from the plastic polypropylene and used in hospitals to cover sterilized surgical instruments.  The show will highlight blue wrap, provided by Inova Health System, and fashioned by eco fashion designers featuring elements including organic cottons and dyes, recycled and reused materials.  Fashion designers will include: Das Man, Estella Couture and The Kourtney Jaeson Collection.  This show also highlights how items that would otherwise by recycled or thrown away can be made into runway fashions.
And here is a glimpse of what we saw on the runway:
Click to view slideshow.
I wasn't able to get a good picture of everything, but if you click the links below, you'll see the entire collection from each designer.
Click here to see The Kourtney Jaeson Collection in action
Octavia Wyche (owner and creator of The Kourtney Jaeson Collection) is a self taught seamstress and fashion designer from Delaware. She was inspired to start sewing after seeing and hearing about the professionally crafted garments of her grandmother and aunts. 'The Kourtney Jaeson Collection' (that now houses JUSTIN'S HEART for men where 10% of profits go to cancer research and LOVE BABY the maternity line where 10% of profits go to HIV research)- which has a growing fan base who flocks to her line because of its variety and uniqueness. Octavia Wyche has gained success as a fashion designer by showcasing her garments on runways at various shows along the east and west coasts. The majority of her items are made of 100% recycled / recyclable materials.
---
Click here to see the Das Man Collection in action
Das Man creates eco-friendly underwear that feature Organic Cotton – sustainably grown cotton used for our fabrics is free of pesticides and insecticides and Organic Dyes – no harsh and harmful chemicals in the dyes used for coloring. And absolutely no sweatshops or child labor involved with the factories that make these products. By keeping things simple, they created something great.
---
Click here to see the Estella Couture Collection in action
Estella Couture is a fashion house that uses ethnic, exotic fabrics and materials from around the works to create couture and ready-to- wear garments that meet the tastes of modern day fashionistas. Ms. Estella Ogbonna has graced runways around the globe. In addition to winning International fashion awards and nominations in various other sectors not including nominations in movie costuming, wardrobe, community development efforts and volunteer activities. More prominent in their recent shows are 'Restylecled' collections. An ethically responsible way of production has led to Estella Couture working with local women groups in Ghana, to make their clothes, and at the same time, empowering the women economically.
---
What do you think? What are some of your favorites?
---
---