Disney/Marvel and WB/DC are having a bit of an arms race right now in the live-action television arena (although DC is bizarrely yielding the animated television field to Marvel).  Marvel has their deal with Netflix involving 4 different TV shows and a mini-series.  Plus, it looks likely that Agents of SHIELD will be back, supplemented by a potentially brief season of Captain America: The First Avenger spin-off Agent Carter.  However, DC just got a big boost: their 4 most high-profile in-development projects have all been ordered to series this week.  That means Flash, Gotham, Constantine, and iZombie will all be on TV soon, most likely before the end of 2014 unless for whatever reason one gets held back as a mid-season replacement.
Flash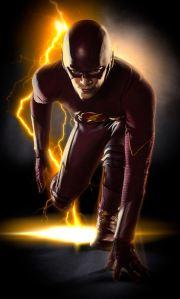 Network: The CW
Background: Arrow fans, rejoice!  We shall be seeing Grant Gustin's Barry Allen again as well as the characters Caitlin Snow and Cisco Ramon who recently showed up on Arrow to update us on Allen's status (update: still in coma).  The Flash is being co-created and produced by Arrow writer/DC Chief Creative Office Geoff Johns and Arrow co-creators/executive producers Greg Berlanti and Andrew Kreisberg.  David Nutter directed the pilot, as he did for Arrow.  For a run-down of the primary cast of The Flash pilot head elsewhere on the site, here specifically.
So, what's the over/under on how many episodes into the first season they wait to do a cross-over with Emily Bett Rickards' Felicity visiting Allen in Central City?  I'm going with no more than 6.
Gotham
Network: Fox
Background: Remember how cool it was seeing a young James Gordon meeting a young Bruce Wayne for the first time in Batman Begins?  Yeah, they're making a TV show about that.  It's called Gotham, and it will feature James Gordon (Ben McKenzie), his boss (Zabryna Guevera) and fiance (Erin Richards), Harvey Bullock (Donald Logue), Alfred (Sean Pertwee), Penguin (Robin Lord Taylor), the Penguin's boss (Jada Pinkett Smith), and very young versions of Selina "Catwoman" Kyle (Camren Bicondova) and Bruce Wayne (David Mazouz).  It WAS a developmental project Fox won the rights to by granting a series commitment, basically meaning they agreed to pay roughly $10 million to Warner Bros.-TV if they passed on the pilot.  Well, Fox either really liked the pilot or are too embarrassed to pay out that $10 million because they just made Gotham an actual TV show set to premiere later this year, agreeing to a minimum of 13 episodes.  
It's The Wire/The Shield but with James Gordon and the Gotham City PD.  Wait – it'sSmallville but with Bruce Wayne.  No, it's both.  The answer has differed depending on who you asked, with those close to the show describing it as an origin story for "James Gordon and the villains that made Gotham famous" but Fox's President Kevin Reilly comparing it more to Smallville.  Ultimately, it will be the twin narrative of Gordon's ascension from rookie detective to police commissioner, and Wayne from brooding little kid to brooding young man composing heavy metal songs to illustrate his pain (that is, of course, if LEGO Movie is any indication).
Constantine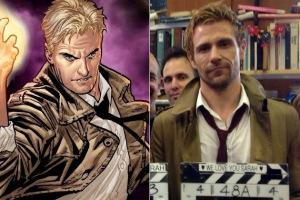 Network: NBC
Background: John Constantine began as a chain-smoking, trenchcoat-wearing British street magician/conman who became a paranormal investigator constantly tasked with looking into the latest supernatural happenings on the seedy streets of London in Hellblazer. He has most notably beaten cancer and journeyed to hell.  He is a notoriously cynical, irreverent anti-hero, an individual around whom loved ones drop like flies and return to haunt him as literal ghosts.  The TV adaptation comes from uber-screenwriter/producer David S. Goyer (The Dark Knight trilogy, Man of Steel, Da Vinci's Demons) and writer/producer Daniel Cerone (The Mentalist, Dexter).
They're already doing a better job of adapting DC Vertigo's Hellblazer/Constantine comic book series than the Keanu Reeves film of the same name because their John Constantine (Matt Ryan) is at least British (assuming he'll speak with his natural accent on the show).  As for the supporting cast:
"Harold Perrineau ( Lost, Sons of Anarchy), Lucy Griffiths ( True Blood), and, perhaps most importantly, Charles Halford ( True Detective) will all aid Constantine throughout his adventures battling the darkness. While the latter two will play original characters created for the show, Halford will play none other than Chas Chandler, John Constantine's longtime friend and sidekick from the comics."
Perrineau's character, Manny, will be an angel using his celestial powers to step into mortal bodies to keep on eye on Constantine on Earth, although he's not suposed to interfere.  On the other end, Griffiths' character, Liv, will be an otherwise normal human who can actually perceive all the supernatural happenings on Earth.  She needs Constantine's protection since a demon has marked her for death.
Fox hit big with a supernatural genre show like Sleepy Hollow while NBC somewhat struck out with Dracula.  So, NBC might be trying to chase some of that Sleepy Hollow viewership with a B-movie version of Constantine, pairing it with Grimm on Friday nights, assuming Grimm survives.  
iZombie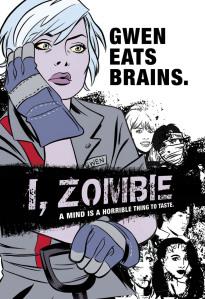 Network: The CW
Background: Coming to us from Veronica Mars' Rob Thomas and Diane Ruggiero, iZombie is officially described as:
"The supernatural crime procedural, based on the DC Comics title of the same name, centers on Liv (Rose McIver), a medical student-turned-zombie who takes a job in the Coroner's Office in order to gain access to the brains she must reluctantly eat so that she can maintain her humanity. However, with every brain she eats, she inherits the corpse's memories. With the help of her medical examiner boss and a police detective, she solves homicide cases in order to quiet the disturbing voices in her head."
Compared to the comics, the primary setting has been changed (graveyeard is now the morgue), the storytelling rules bent (brains eating leads to straight crime-solving now instead of mixture of crime solving and simple last wish fulfillment), and pretty much all of the fun, supernatural supporting characters completely dropped, replaced with far more normal, Veronica Mars-y humans.
It is shaping up to be an odd mixture of Pushing Daisies meets Veronica Mars, just their Veronica Mars will be a zombie who still looks like a normal, living girl.  If you have no attachment to the comics, it could be kind of awesome.  If you do, you'll probably be pretty ticked.  The rest of the cast includes Robert Buckley as the male love interest, Malcolm Goodwin as the homicide detective Liv works with, Alexandra Krosney as Liv's roommate, and David Anders as a very Veronica Mars-sounding rich kid who gets in over his head in the drug trade.
Sources: THR (Flash/iZombie), THR (Constantine)
Sadly, the very comic book-y though not actually based on a comic book The Tomorrow People has been canceled.  Thought I'd save that bummer for the very end.  But there are new shows to which we can look forward.  Which of the 4 intrigues you the most?