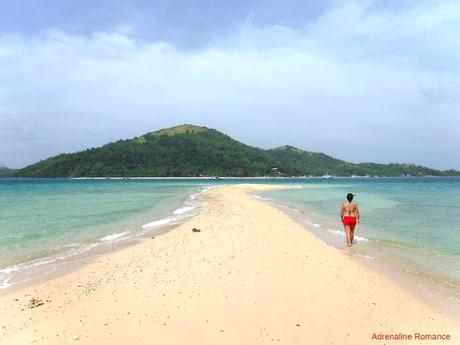 Postcards. That's how we took our first glimpses of the beauty of the Philippines. Seeing these postcards of beaches, hills, mountains, and islands that adorn our country were our first steps in embracing a lifestyle of travel and adventure. And once again, we had the opportunity to visit another postcard-worthy, summer-perfect destination. This time, we buried our feet in the stunning sandbars of Concepcion, Iloilo.
If you recall, we won Cebu's Best Blog of 2016, a prestigious award given by the real-estate giant Megaworld Corporation. Our first prize was a free 3-day/2-night stay in their new township, the Iloilo Business Park. To make things a bit more interesting, we decided to insert a few out-of-town adventures in our stay.
To maximize our time in Concepcion (and to avoid chasing tight schedules), we took a dawn flight to Iloilo. We love dawn flights as we could see lovely sunrises from above a sea of clouds. We were giggling with joy because this was our first-ever flight on Philippine Airlines, our country's flag carrier.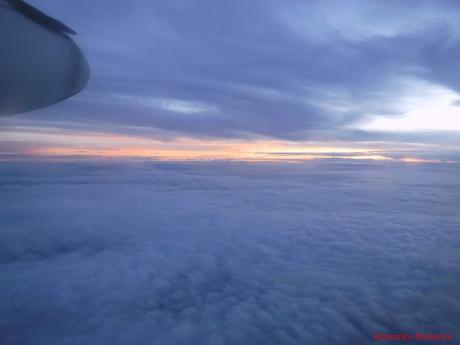 We arrived in Iloilo on time and met Greg, our friendly contact in Megaworld, and her sister. After enjoying a hot and filling breakfast of authentic Iloilo batchoy to energize us, we checked in our hotel and prepared for the first adventure in our 3-day sojourn. The siblings then brought us to the Tagbak Bus Terminal in Jaro where we rode a non-airconditioned bus to Sara.
The bus ride was longer than we expected; it was half past noon when we reached the Concepcion town center. It was a good thing that their friendly, helpful, and knowledgeable tourism officers took care of us and coordinated with an assigned boat operator.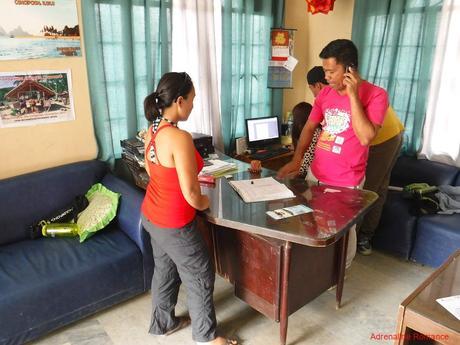 We brought some leftover puto (rice cake), and our tummies were still heavy from our huge breakfast, so we decided to skip lunch. After buying some bottled juice and meeting our boatman, we hiked for a few minutes to the port where we boarded his boat.
"Oh, it's deja vu," we said to each other when we saw the vessel. It was quite large and can accommodate around 30 people. But for this trip, sans the boatman and two of his friends, the only passengers were Sweetie and me! This was the same situation we had when we cruised around Britania Islands in San Agustin, Surigao del Sur.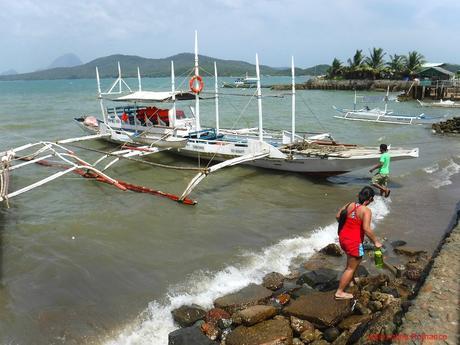 With a healthy roar, our vessel came to life. We started our journey across Tagbo Pass where we can see Igbon Island in the distance. Although a thin layer of clouds covered the sky, the day still had a "summery" feel.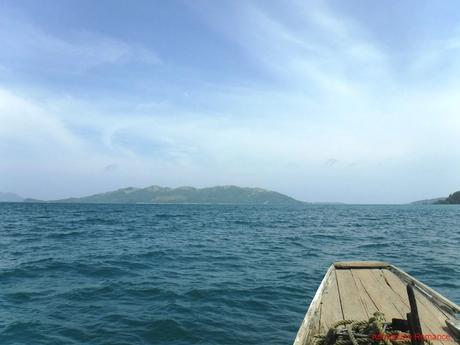 Small isolated, uninhabited beaches and coves like these can be seen everywhere. Fishermen usually dock here to rest or to take shelter in case of rough seas.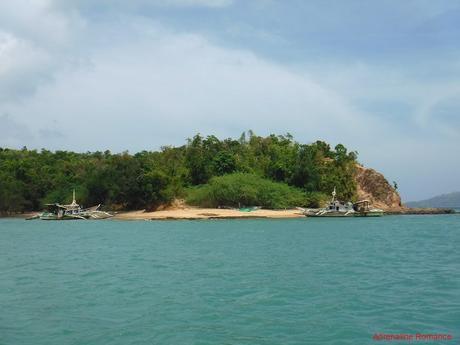 Bulubadiangan Island
After about 20 to 30 minutes, we arrived at the Bulubadiangan Island, southeast of Conception. We had a friendly race with another boat heading to the beach, which serves as a docking area. We won!
Just look at how beautiful that is! For a fee, you can set camp and stay overnight here as long as you pitch on high ground; the lower part of the sandbar gets submerged in high tide.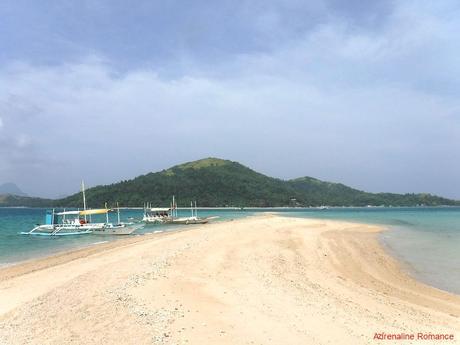 The primary feature of this small island is a large, long sandbar that forms its peninsula. It's a perfect place for sunbathing and frolicking around. The island is mostly uninhabited except for a tiny community of people who take care of the place.
Cottages at the foot of the hills at the other end of the sandbar can be rented at reasonable prices.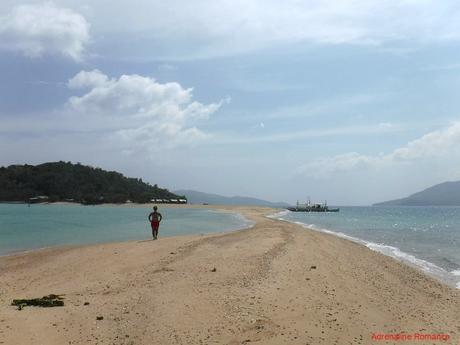 Unless a strong storm hits Concepcion, the sandbar will probably retain its shape for years to come because it is protected by the larger Tagubanhan Island in the south and Igbon Island up north.
With the aquamarine and deep blue water surrounding the beach and with the backdrop of the green hills of Igbon Island, it is not difficult to understand why locals and tourists fall in love with this place.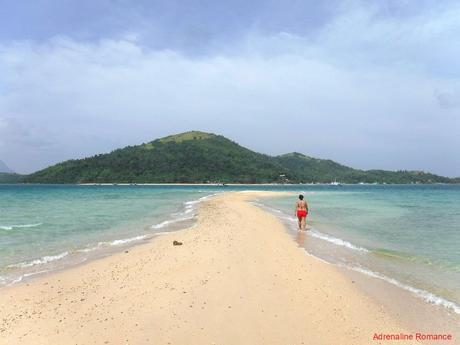 The east side of the sandbar actually extends farther out into the sea. This is an ideal area for non-swimmers because the water is relatively shallow. In addition, this sandy reef connects to the neighboring Danao-danao Island as seen in the photo below.
Bulubadiangan Island is one of the best postcard-perfect examples of sandy paradises the Philippines could offer.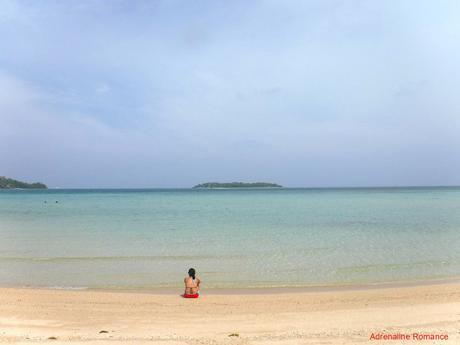 We cooled off for a while before heading off to the next sandbar in our itinerary. On the way, we spotted large fishing boats like these preparing for their night's voyage.
The waters around Conception Bay, Tago Pass, Apiton Pass, and the vast Visayan Sea must be extremely rich fishing grounds. These seas are vital marine resources, and we should ensure to take care of them.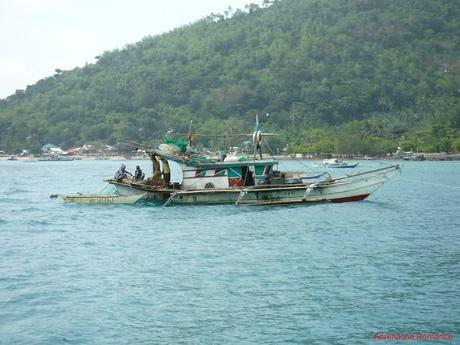 The small barangays that surround Igbon Island are mostly composed of families of fishermen. According to our guide, these communities subsist on bare minimums of modern living. Fresh water is difficult to find, so without a submarine pipe, they have to regularly haul gallons of water from the mainland. Electricity, generated by a small power plant somewhere in the island, is scarce; thus, the communities have scheduled power interruptions.
We would definitely love to have a cultural immersion adventure here if given the chance.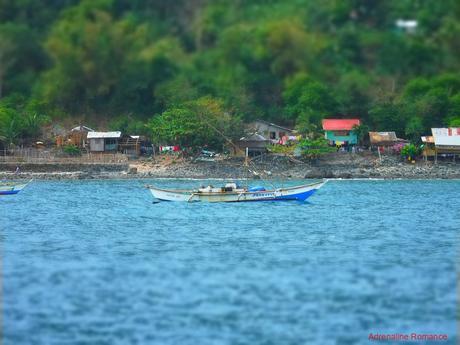 See that very steep faraway mountain? That is Mt. Manaphag in Pan de Azucar Island. It is a steep volcanic cone that rises almost 600 meters above sea level. We didn't include this in our island hopping itinerary because we plan to have a special trip to Pan de Azucar in the near future. And yes, we will climb that beautiful mountain.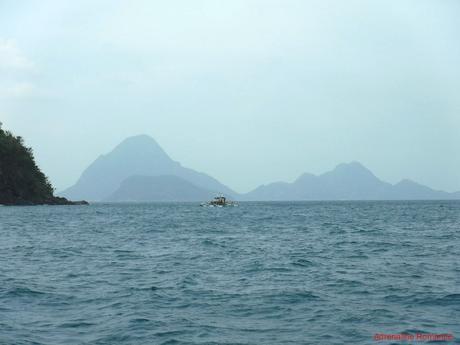 Agho Island
We approached small Agho Island from the south. That stretch of beach looked really inviting! The green wooded area is home to the Tabon scrubfowl as well as sea hawks.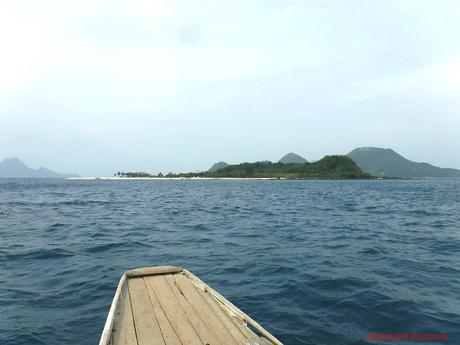 As we approached the island's sandbar, we couldn't help noticing the abrupt change of coloration of the water. The sharp contrast of light green, dark green, and blue meant that the sandbar drops steeply in deep water on this side of the peninsula. Thus, you need to be careful if you plan to swim on this side.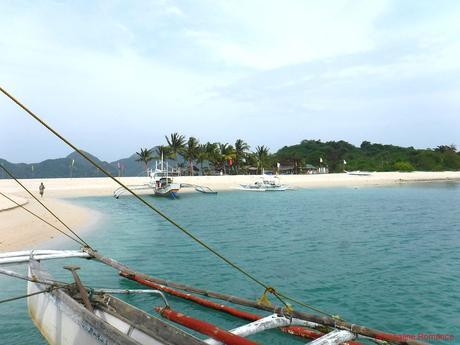 Agho Island is virtually uninhabited. However, it is owned by a prominent Iloilo clan who opted to put up a resort and a sari-sari store for the convenience of visitors. Just like in Bulubadiangan Island, the cottages can be rented for a reasonable fee for both day use and overnight sojourns.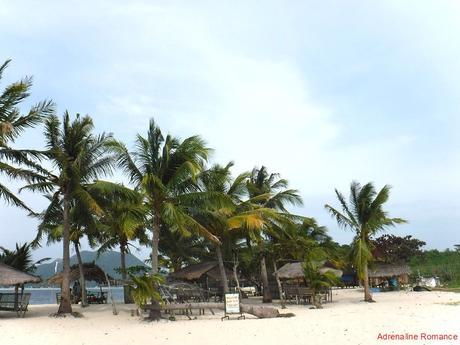 According to locals, Agho Island was place for rest and recreation for Japanese soldiers during World War 2. Seeing the beauty of the island, they decided not to put up a permanent garrison here.
Our country is indeed beautiful, isn't it? With crystal-clear seas, blue mountains, and warm weather, we have magnificent seascapes that somehow casts a spell of awe on us.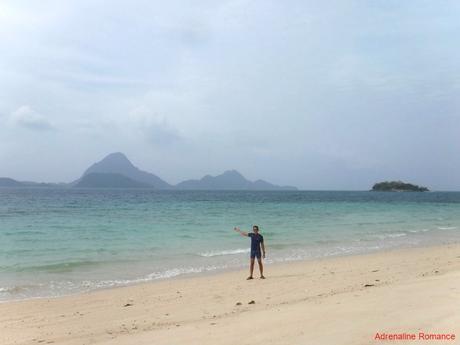 Just a short jump away is Malangabang Island, a densely populated barangay. Just look at that white strip of sandy beach. Dwellers in this island are very lucky to wake up every morning to a stunning vista of Mother Nature's glory.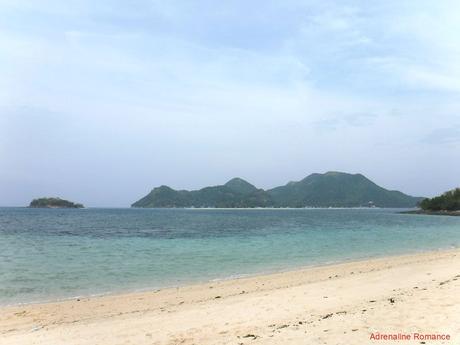 We took our time making vaguely shaped sandcastles, swimming in the warm water, and simply admiring the view right before us. It is not every day that we get to bury our feet in fine sand.
In places like these, we often ask ourselves what comes into man's mind that he decides to destroy beautiful places like these so easily without much thought and remorse. Sometimes, we reflect on what the Matrix villain Agent Smith said to Morpheus when the former captured the latter and likened humans to a virus. Considering what we do to our environment, Smith may be right all along.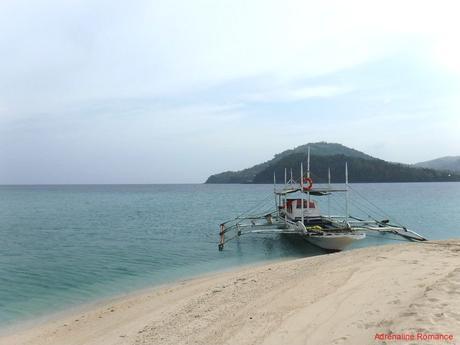 After having our fill of fun, we cruised back to the port of Concepcion where we had a quick shower before catching the last bus back to Iloilo.
The pretty sandbars of Conception are really exquisite gems in this part of Iloilo—gems that need to be protected. They beat by a mile the beauties that you see in tourist postcards.
Needless to say, the Bulubudiangan and Agoho sandbars are perfect summer destinations. So wear your airy black women's harem pants from One Tribe Apparel (they have very cool designs), pack your favorite Speedo bikini or trunks, slip on your Deuter backpack, and head off to these sandy Edens.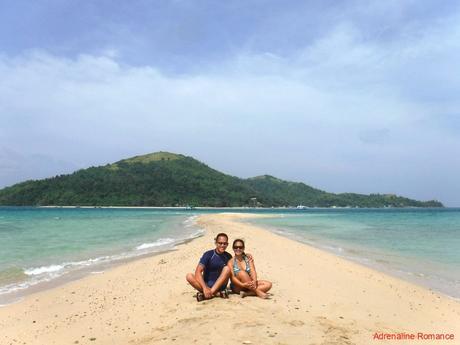 Budget*
P 112 per person – non-aircon Ceres Bus fare from Tagbak Terminal, Iloilo City to Sara (same rate applies on the return trip) **
P 15 per person – jeepney fare from Sara to Concepcion (same rate applies on the return trip)**
P 125 per person – non-aircon Ceres Bus from Concepcion to Tagbak Terminal, Iloilo City (same rate applies on the return trip) **
P 2,500 per boat – island hopping boat rental
P 30 per person – environmental fee
P 25 per person – Bulubadiangan Island entrance fee
P 25 per person – Agho Island entrance fee
* Rates are subject to change without prior notice. We did not include our expenses for meals, snacks, souvenirs, accommodations, tips, and other fees in this rate sheet as you may have different needs, preferences, itineraries, and sharing scheme from us.
** To save time, we opted to ride a bus to Sara because the bus for Concepcion already left when we arrived at the Tagbak Terminal. However, you can definitely ride a Ceres bus that goes directly to Concepcion. Note that the last bus trip for Iloilo from Concepcion leaves at 5 PM.
Tips
1. For boat reservations and guideship services, head to the Concepcion Tourism Office just in front of the basketball court. Visiting the tourism office should be your first order of business. They are open from 8 AM to 5 PM every day, including weekends and holidays. Check below for contact details:
2. We recommend starting your island hopping adventure early in the morning where there aren't many tourists. The charm, serenity, and the feeling of oneness with nature disappears when there are too many visitors around.
3. Whether you are going for a day tour or staying overnight in any of the sand bars, buy your food, drinks, and supplies in the Concepcion town proper.
4. Pack light but bring the following:
water (at least two liters)
sandals
umbrella, hat, or sarong
snacks and softdrinks
packed lunch
swimming attire
goggles/snorkeling set
extra clothes
extra money for emergencies
5. Do not litter and dispose of your garbage properly. Do not throw anything, even organic wastes, to the sea.
6. Keep your sandals, flip-flops, or aqua shoes on to protect your feet from sharp rocks as well as broken glass and other debris that may be hidden under the sand.
Save
Save