I had the privilege of meeting and spending time with Mikey Bustos for quite a bit of his stay in Manila at the end of October and of course I shot some behind the scenes for you, ladies and gents!

  I was blessed enough to have been included in the shoot activities for Mikey's freshly launched Chicharron ni Mang Juan campaign!  "Hey der, Spi-der!"…this is your boy in a barong, Mikey Bustos!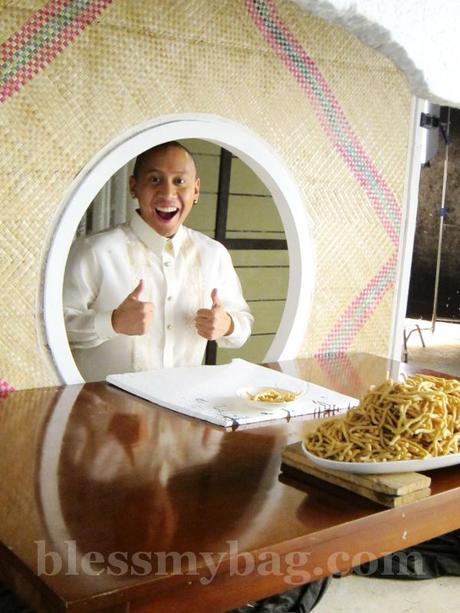 This campaign was shot in haste at an aptly named Studio B.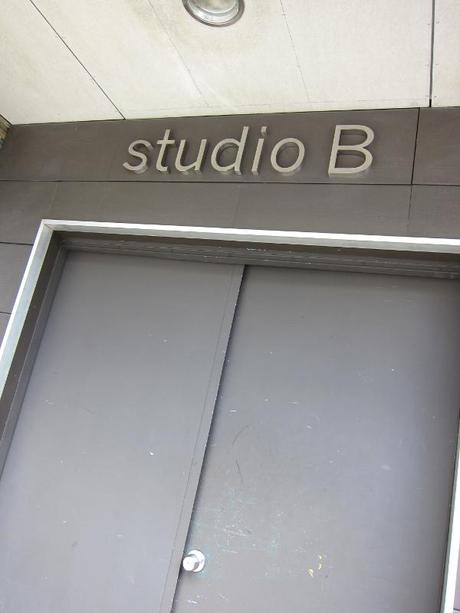 Do you want to see the rest?  There is SOOOOOOOO much more waiting after the jump incuding special karaoke time with MB.  Click Read More to enter Studio B!
Remember, do not judge a book (or a Bustos) by his cover…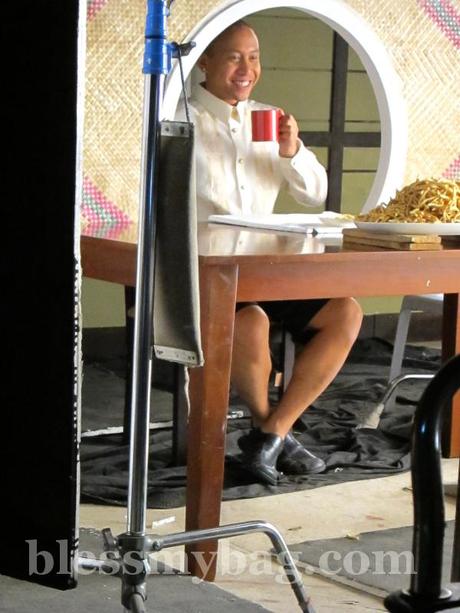 It is  important to be at your best but there is no need always to cover the rest, hihi.  Here the assistant director gives Mikey Bustos a few pointers for the shot.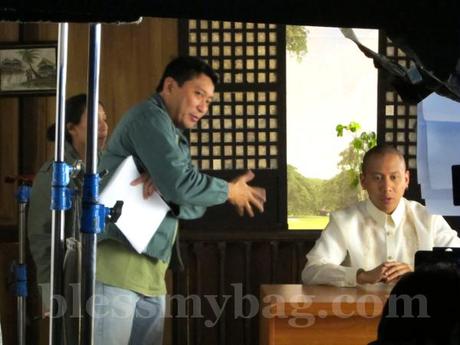 For lunchbreak, Mikey puts on the absolute essentials of  kanto kalye chic, a full mouth, finger-licked hands, and the oh so tambay-trendy basketball jersey.  He blends in as if he didn't mean to.  MB reports that he is having crab and tinola.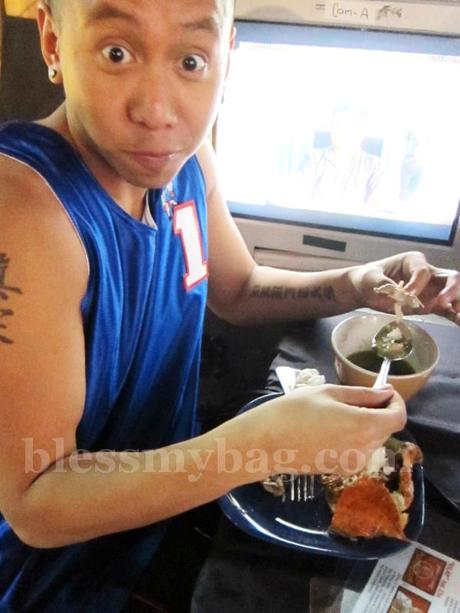 Off camera I hang out with a fluffy part-time partner, a pet pomeranian puppy named Pom-Pom who belongs to one of the production staff.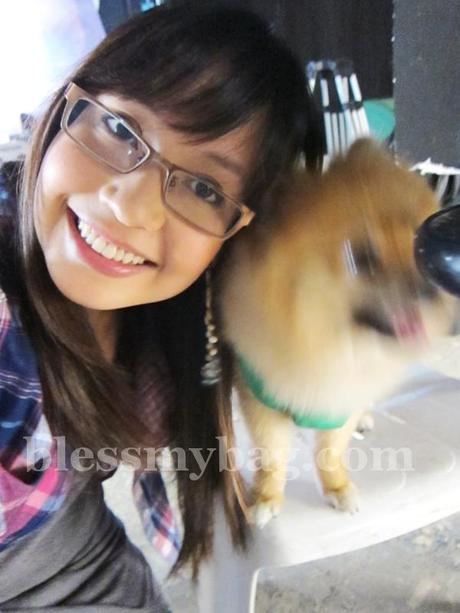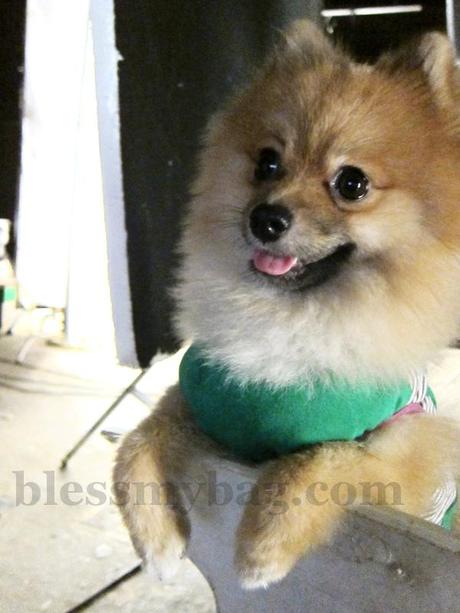 Pom-pom is so attached to his loving owner that even though overall he was perfectly behaved during Mikey's shoot he still  needed constant reassurance that he wouldn't be left behind or taken away.  Here, Director Henry Frejas, Asst. Producer Lei Hosseinzadeh, and MUA Effie Go look on as the shoot progresses…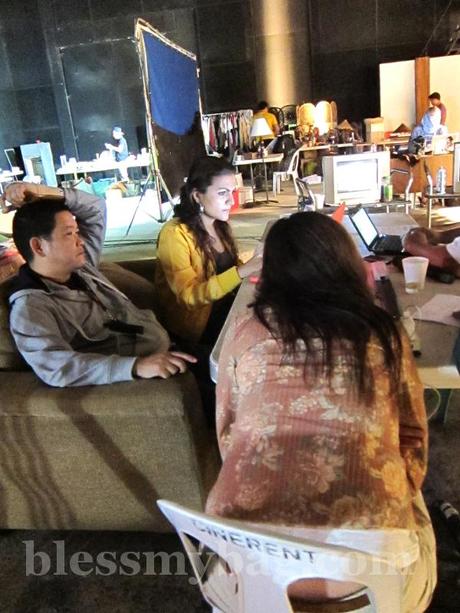 Producer Steve Vesagas keeps on…producing…and happily shows me the storyboard…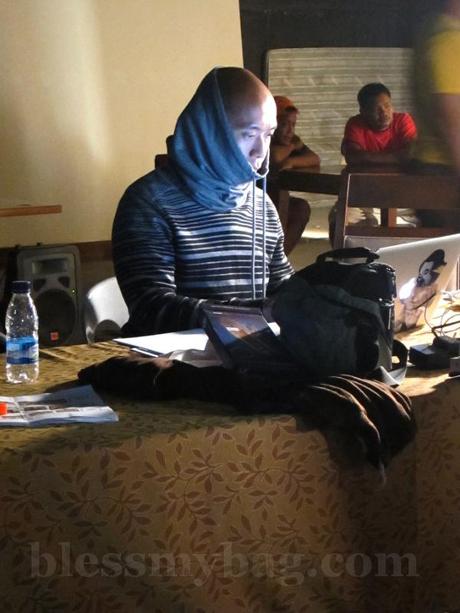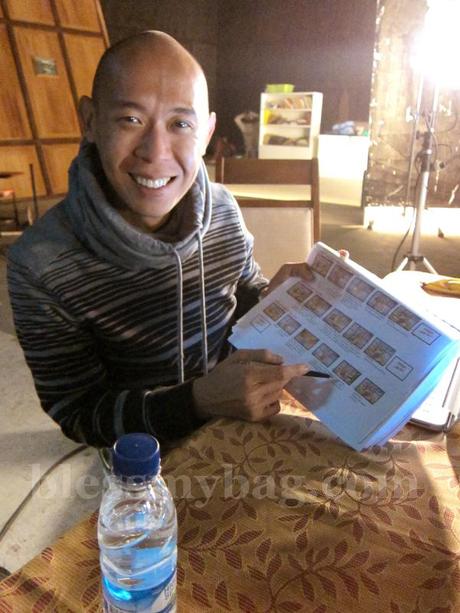 Now, hold on a minute right there!  Come to think of it Steve actually reminds me of somebody…like, A LOT.  Oh, holy smokes, Batman!!! BAM! POW! ZAP!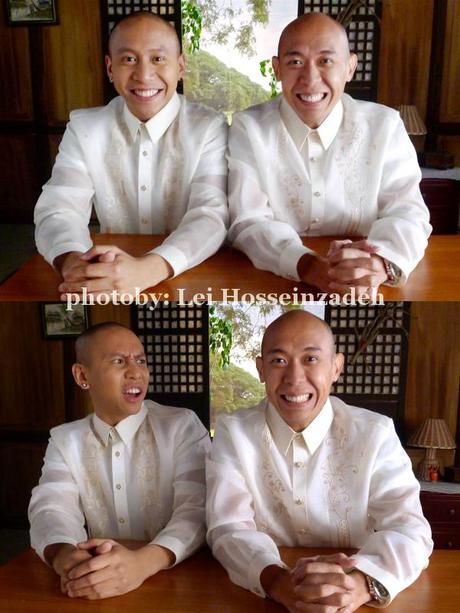 …okay, maybe it was a little too much for Mikey's comfort, but you can imagine how people on the set got a kick out of both of them side by side.  So, in theory perhaps "Hmph who does Steve think he is?  Let's change it up, now, dahrlin?!" thus perhaps the sudden transformation.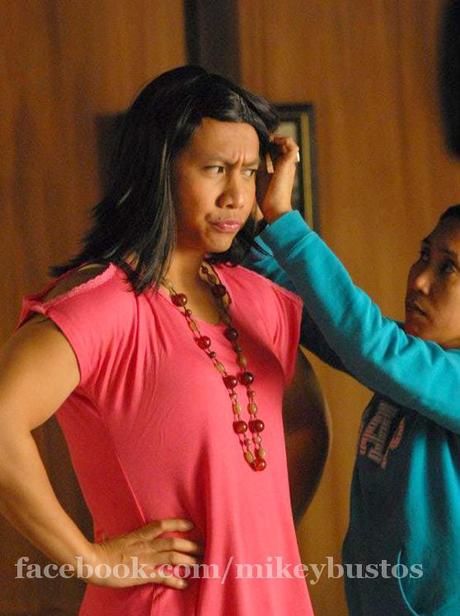 Oh my, may peekaboo shoulders pa.  Of course, that stint with Steve wasn't the real cause, it was just funny to think of it in that order, right Mikey?  Besides, Breast Cancer Awareness month just passed, THINK PINK!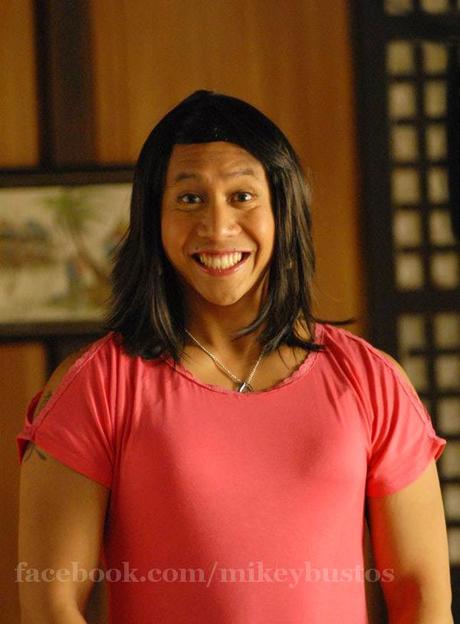 To the side of the studio, the Harrison creative agency peeps do their thang…Harrison's Executive Creative Director, Alex Arellano, wields his razor sharp wit and humor while fine tuning Mikey's scripts.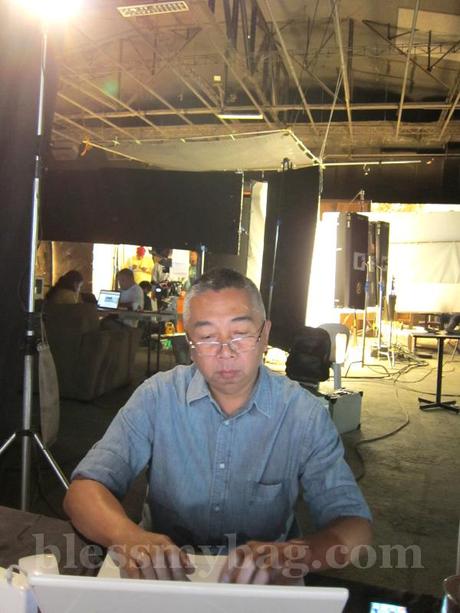 My mommy does her Managing Director duties…she's one of the best ones to follow on Twitter locally because she's a current events junkie who gets the scoop while it's hot, follow her @makilingmiracle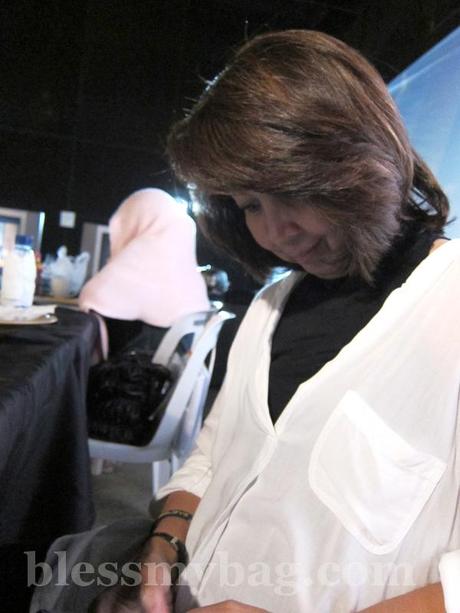 …and well some others after days of shooting are feeling a bit cold like, Steve.  Hi, Noelle,

you remind me of my days trapped frozen in digital post production or someone seriously participating in an ongoing peace talk.  Keep doing good, LOL (lots of lub haha) !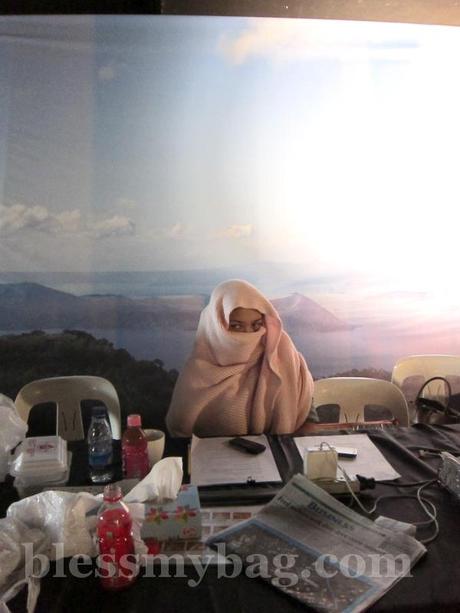 After several takes on set, Mikey asks me to join the rest of them for a night of karaoke the following day to celebrate the shoot's success.  And, Of course I went

  and I brought my brother, too.  The next day we went to Centerstage Makati and sang our hearts out.  With us also were Monday Gonzalez Business Director of the team and her son Kyle and Ms. Malou

Noelle of Harrison and Mikey are absolute pros on the mic, their duets were so soothing to listen to,  it's too bad there wasn't a record button on the karaoke machine.  They actually sang like they'd practiced together for weeks!  And Mikey's brother Joseph and his girlfriend Juju were next to me on the couch.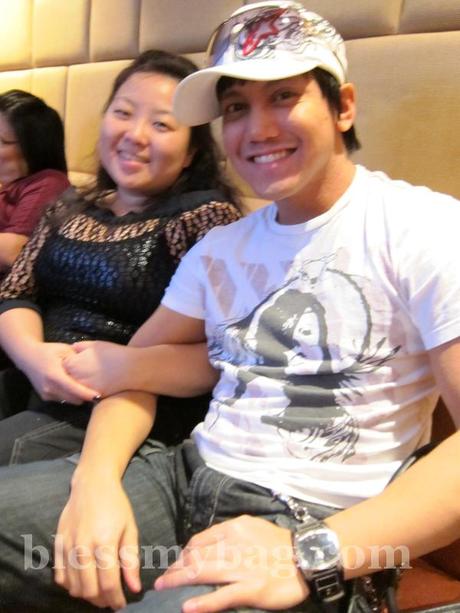 After I sang a few songs (yes, do love to sing but I'm a rusty nail) I was super flattered that Joseph requested me to sing a song or two for him and Juju.  They're such a sweet couple.  Joseph humbly accompanies Mikey on a lot of trips but not many know that this guy is actually a great dancer.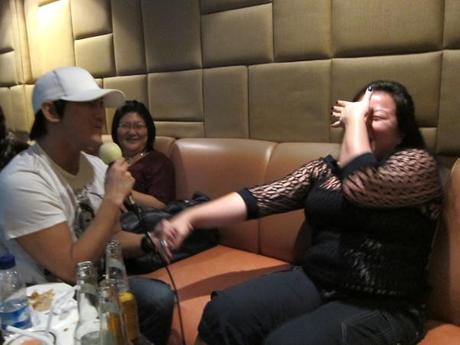 They planted the mic on me when "Bakit Ngayun Ka Lang" came up on screen, whoever put that song up there, sana po couldn't it have been a less dramatic one  (so sad naman kasi the song pero beautiful pa din) hehe, but because of J&J I actually got to sing that duet with Mikey LOL!  "Bakit ngayun ka lang…" I was so like "Arrgh…pressure, singing with a Canadian Idol pro with no practice, uh, where's the rabbit hole?" haha.  It was super duper fun, sorry no photos of me singing along with MB, but I do have this fun video for you guys

a clip of Mikey Bustos singing Backstreet's I WANT IT THAT WAY.  We went nuts LOL, and Juju and Joseph Bustos do a good impression of overwhelmed fanatics at the end which sends us laughing out loud.
Hope you enjoyed all these photos plus this video I shared of  the absolute Mikey Bustos experience.  We're hoping for a repeat when he returns this December!  And I've learned my lesson will be vocalizing, just in case, from now 'til December hehehe.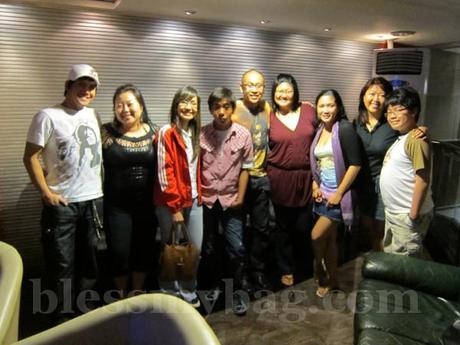 All the best, Mikey, thanks for the ride!  And here it is! my current fave installment from Mikey's Chicharron ni Mang Juan TVC series

  If I'm not mistaken there are many more on their way!  You can click on those links or watch the embedded video below

.