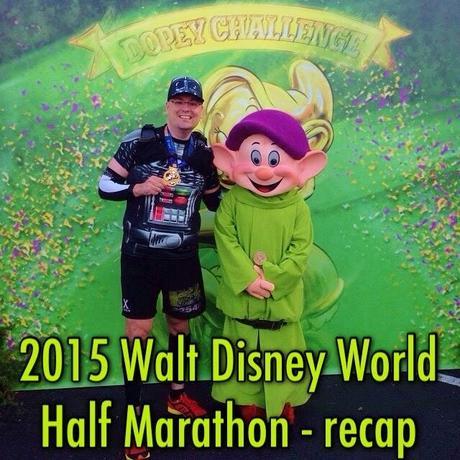 For this race, I would be flying solo.  Since she wasn't running or volunteering, DisneyBride decided to sleep in. Yeah, I know. But I can't blame her - those 2am wakeups are brutal.
Again I decided to catch a later bus.  This time, it almost came back to haunt me.  The driver managed to get lost trying to get out of the Art of Animation parking lot.  If only Disney provided large direction signs to help drivers exit their resorts, oh wait, they do!  He managed to do 2 figure eights before finally making it out of the resort.  A revolt almost broke out on the bus.  We did make it to the starting area, we arrived about 15 minutes later than we should have.  I think I am back to taking the earliest bus.
I wish something could be done to end the long march to the starting corrals for the half marathon.  The lighting was better this year, and they were kind enough to provide a DJ and cheerleaders along the path. I would venture a guess that the walk from bus to the startline adds at least a mile. 
The corrals set off at much shorter intervals than the 5k or 10k.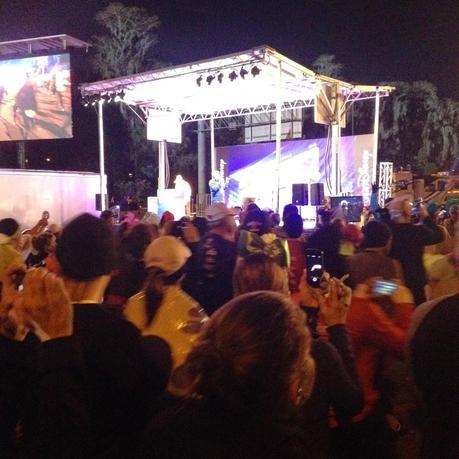 With the highway being the course for about the first 5 miles, crowding wasn't much of an issue.  I am a big fan of the long stretch on the way to the Magic Kingdom.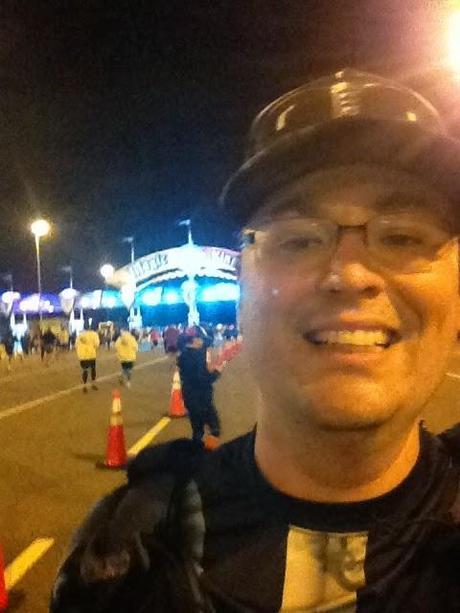 Arriving at these parking gates always reminds me of my first trip to Disney as a kid.  Its also the point that spectators start lining the course (ok - it is a little distance beyond the gates, but hopefully you get my point.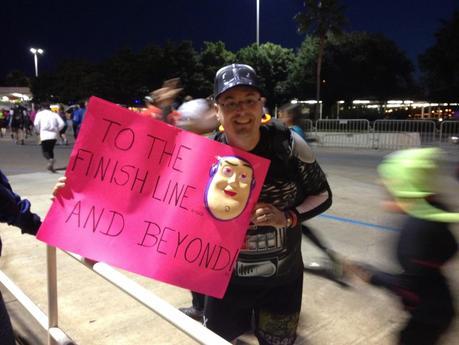 Let me take a minute and compliment all the marching bands that participated during the half and full marathons.  They really stepped up their game this year.  They all seemed to be really into performing and hamming it up with the crowd.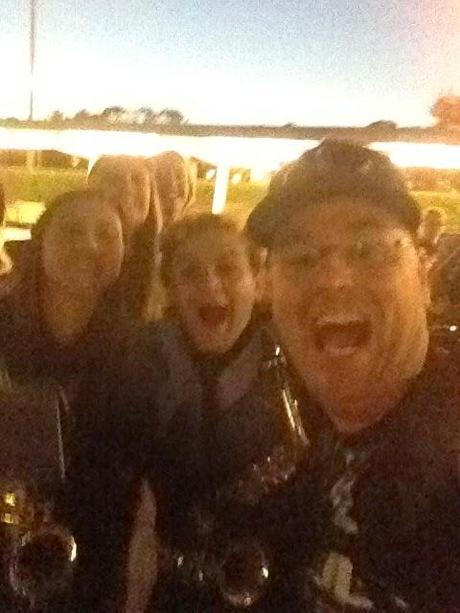 The last thing I was ever going to do in high school was get up before the sun and watch people run.  Thank you all!
I also found the cheerleaders again!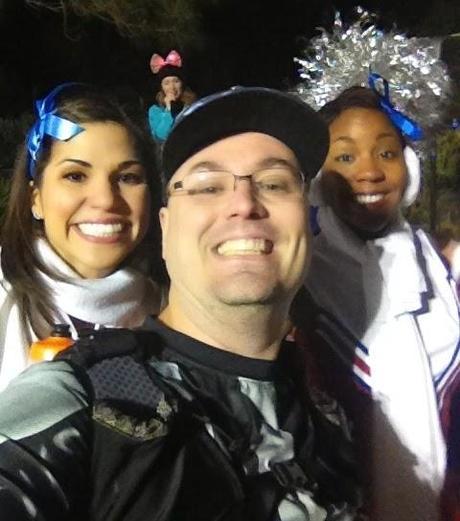 It was nice to see Wreck-it Ralph and Penelope on the course.  I am always happy to see some of the newer characters on the course.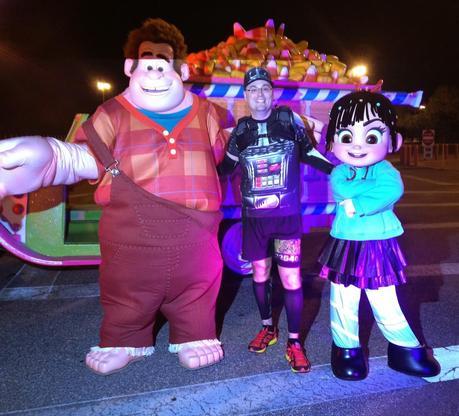 The run onto Main Street is always incredible. Rather than take a selfie, a spectator was nice enough to snap my photo.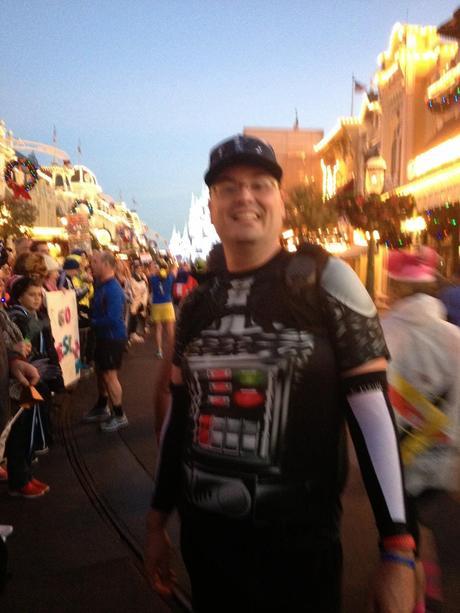 It should come as no surprise that I made a stop in Tomorrow Land.  Buzz Lightyear took a break from Star Command to meet with runners.  He is always gracious, however, he didn't seem to appreciate my Darth Vader costume. He's a hero, I'm a villain - I get it...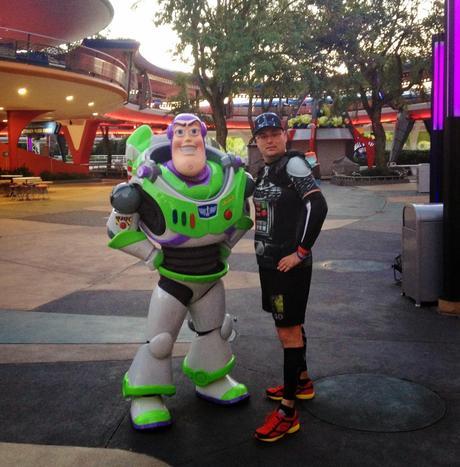 Anna and Elsa welcomed us to the castle this year.  They even had snow.  It wasn't enough that you froze us a couple of days earlier, you had it snow at the castle.  Enough with the Frozen stuff, Let it go!  After I ran through the castle, a spectator took a fantastic castle photo for me.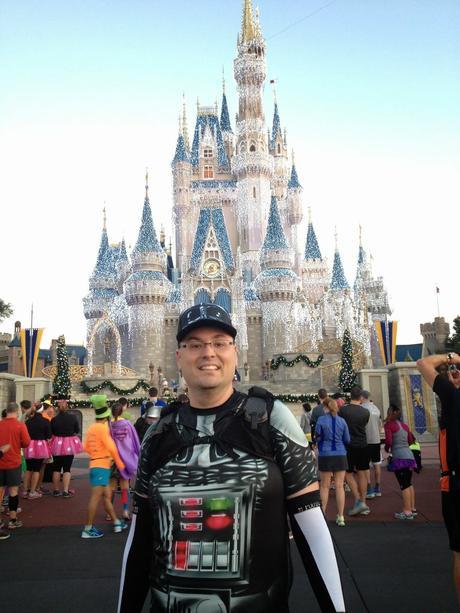 Really excited about this pic - the castle isn't cut off this time!
It's the little things...
Near the Wedding Pavillion, I ran into Disney's alleged 'Disney Grooms'.  Never fear! There can only be one @Disney_Groom.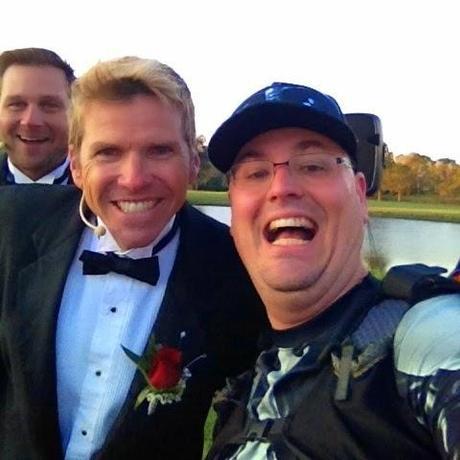 Eventually, runDisney will remove these posers from the course. 
The run to the Finish Line in EPCOT was pretty uneventful.  Characters and entertainment were plentiful, however, I didn't stop for many characters until EPCOT.  Upon my arrival in EPCOT, I did stop for Phineas and Ferb.  I have never stopped for them in the past and no one was in line, a win-win.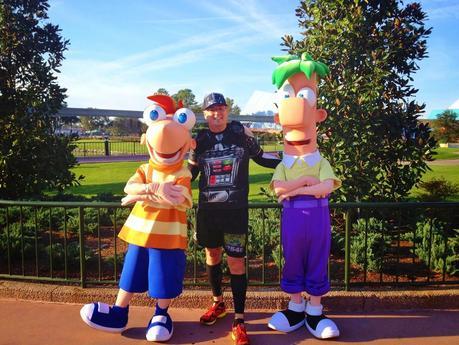 I also managed to get a pretty good shot in front of the Spaceship Earth.  This costume seems to photograph pretty well and might just become a staple at races.  The force is strong with this one. 
Approaching that glorious finish line just never gets old.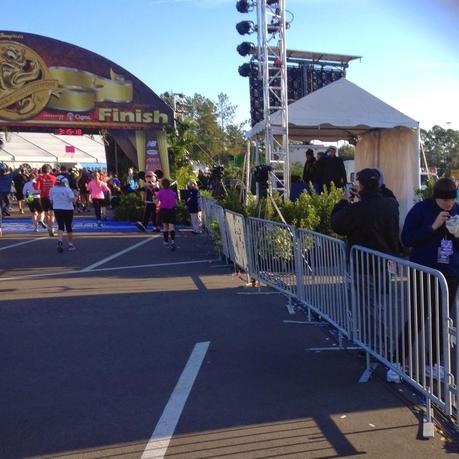 Mickey was even present to welcome us.  I did a very quick, run-by selfie. Don't worry, I checked to make sure no one was running up right behind me.  Unfortunately the sun was right behind us... oh well.  Going to try again at the full.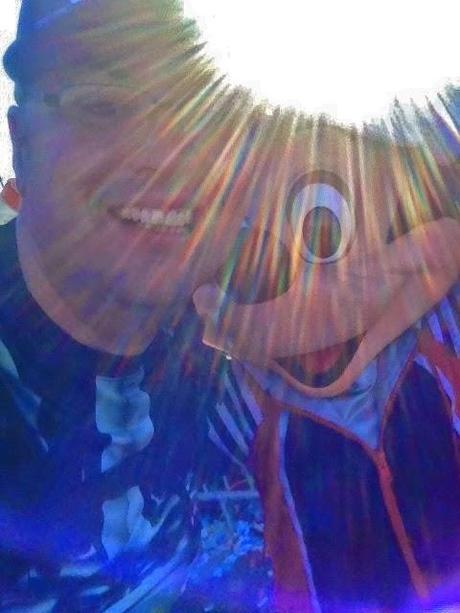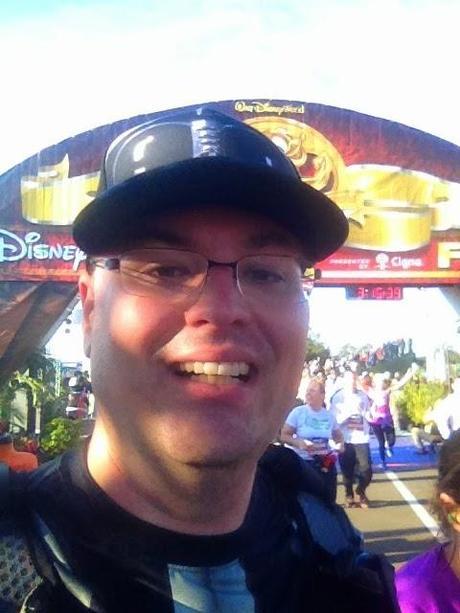 This was my awesome medal volunteer for the Half!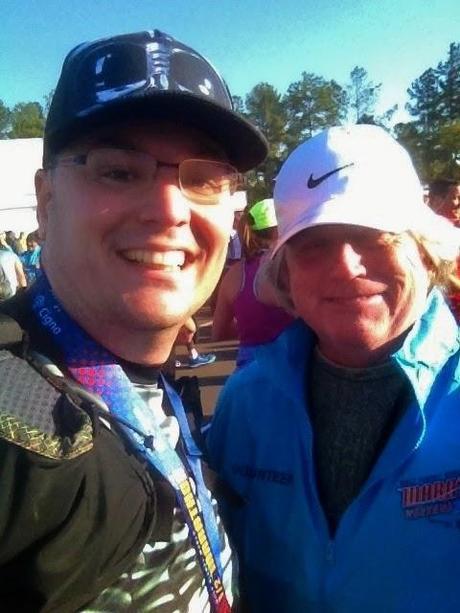 I received my medal, beverages, and box o'food then headed to the bus area.  I had planned on just heading back to the resort.  Upon leaving the finish area, I noticed that Dopey had almost no line.  So I decided to keep the streak alive and grab a Dopey photo.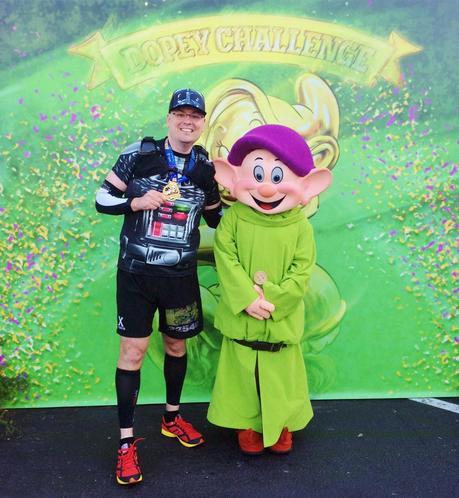 I had a lot of compliments and questions, both on my shorts and my hydration pack that day. My 
shorts are from our awesome sponsor: X RaceWear and my vest is the Orange Mud VP2. 
Both of these served me well on race day (and on training runs).
Leaving the race, I headed back to the hotel to get DisneyBride before heading to Magic Kingdom for lunch.  On the way, we ran into the Mayor and First Lady of Main Street.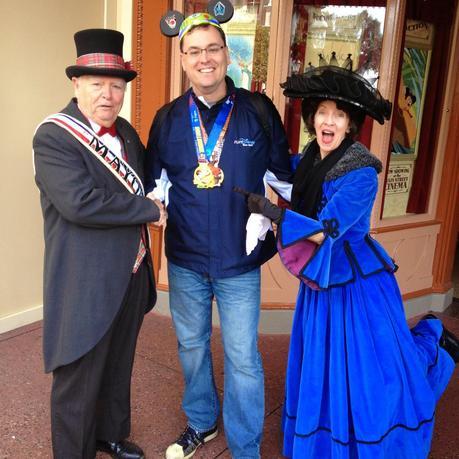 I wished him well with his upcoming campaign (I think he is a lock), and he wished me luck on my marathon.
The Seven Dwarfs Mine Train had a 70 minute wait (the best we've seen all weekend) so we got in line. Sure enough, the ride breaks down while we are in line - causing a 25 minute delay.  We were too close to the front of the queue to give up (hey distance runners are stubborn people... it's who we are) so we waited it out.
We were well rewarded.  The ride was AWESOME!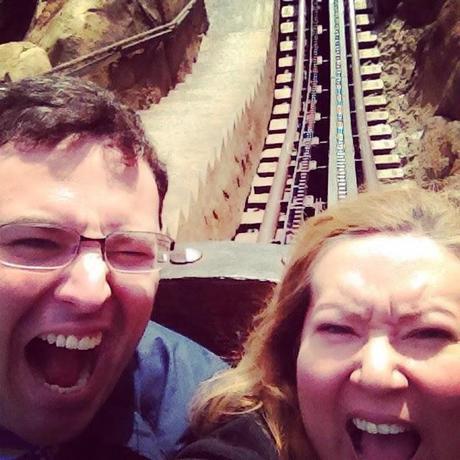 I even found DOPEY!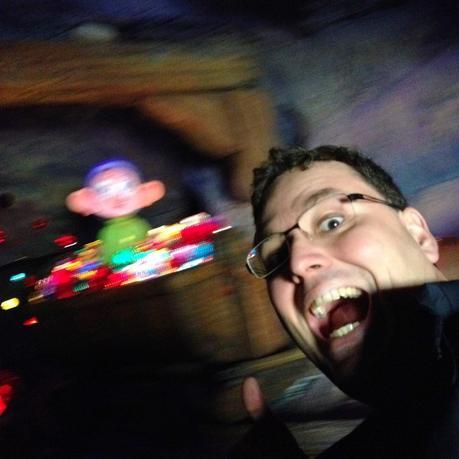 Following lunch, we attended a meetup hosted by Meranda and Lacey of FairyTales and Fitness.  All but one us (Amy) were running bloggers, so it was really cool getting to meet the authors of several of the blogs we follow.  The sparkly skirts seen below were provided by Amy Maust, owner and founder of Rock City Skirts; she was in town to run the Walt Disney World Marathon.
I was offered a sparkle skirt, as was Robert (husband of Lauren of Lauren's Glass Slipper).  We both graciously declined, much to the disappointment of our wives, who did their best to convince us we 'have the legs for it'.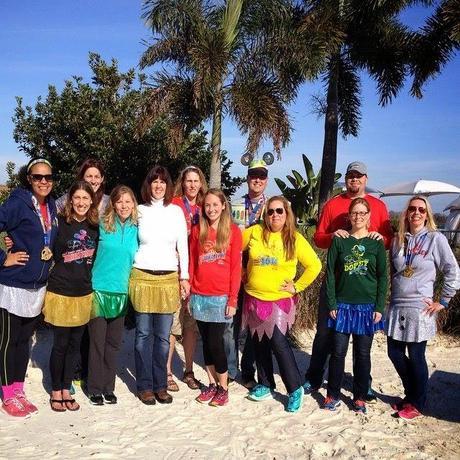 I did however get a different prize, a running journal from Gone For a Run.
Leaving the meet-up, I had to call it quits and head back to the hotel.  It was pretty early - only 4:00ish, but spending more time in the parks would not have been the prudent decision.  It took me about an hour and a half to make it back to the hotel, get dinner, and put the marathon clothes out.  It was not a fun thing to do, however, it was the correct call. 
DisneyBride, ever the party animal - went off to Animal Kingdom to ride the rides, find some dinner, and get as many character photos as she could, until the park closed.
I think I was asleep before 6:30pm - because I wanted at least 6 full hours before the long day that was to come. Just 26.2 miles to go!For my other 2015 Walt Disney World Marathon Weekend recaps see the links below.
Expo Recap
http://www.runninghappilyeverafter.com/2015/01/day-1-disneygrooms-2015-dopeychallenge.html
5k Recap
http://www.runninghappilyeverafter.com/2015/01/day-2-disneygrooms-2015-dopey-challenge.html
10k Recap
http://www.runninghappilyeverafter.com/2015/01/2015WDW10K.html
-DG