I love how dramatic this winged eyeliner+smoky cat-eye is. And though I had tons of help cleaning up using cotton buds, concealer/panstick foundation—I'm proud of my hard work. 
To explain the look, using Miss Yuki's work: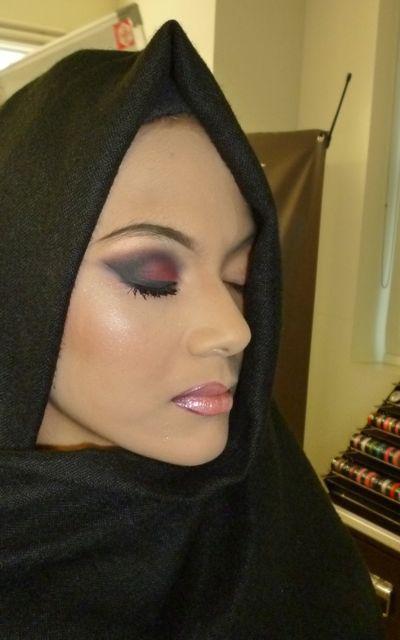 It's a smoky eye that begins with a brightly colored base (jeweled blues, purples, greens, reds and pinks!) It extends upwards (LIFT!!) and out beyond the eye—until the end of the eyebrow. Your medium and dark colors are there to emphasize your crease, but they blend out into the wing. Same thing for the lower lid to a lesser degree. Highlighter further defines the look.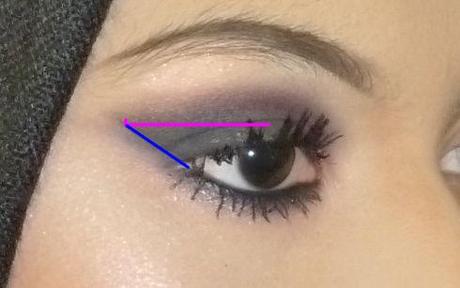 The perfect wing is achieved by drawing a line from the fullest part of the eyeball along the crease outwards (pink line), then drawing a line from the outer corner following the angle of your own eye (blue line.) Where they meet is where you end you wing.
The eyebrow is thin, graphic and solid. Lashes are almost clumpy.
Eyeliner is excessive, tightlining upper and lower lids—then a liquid liner type (shiny, black) on the upper lid that isn't thick but wings out towards the eyeshadow wing.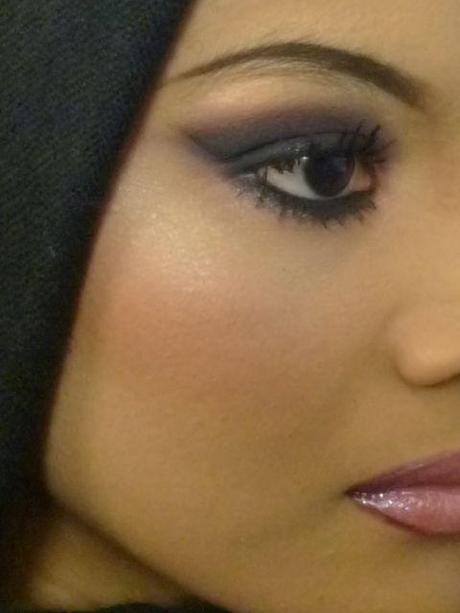 Cheeks are more sculpted, and bright, too.
Contouring is also more obvious (without becoming stripes, please!)
Lips are surprisingly similar to the 90's, with a darker lip liner topped with a lighter lipstick—except in shades of reds, corals and pinks. No browns or nudes.
Foundation is maybe a fourth or a third of a shade lighter, just so that the eyes really are emphasized.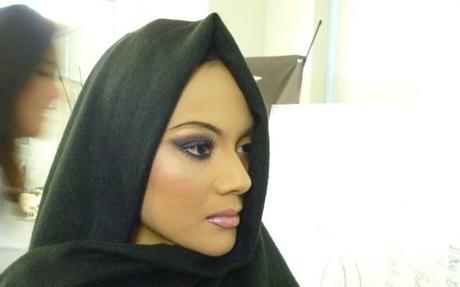 For Middle Eastern and South Asian weddings, the veils and the garments are usually bright colored with elaborate beading. So the addition of the black veil actually makes me think of nomads—as if our bride is being spirited away into the night. (who's been sneaking romance novels?!)
Here was my take on it, the colors may be a bit familiar since you know how much I'm loving the blue's.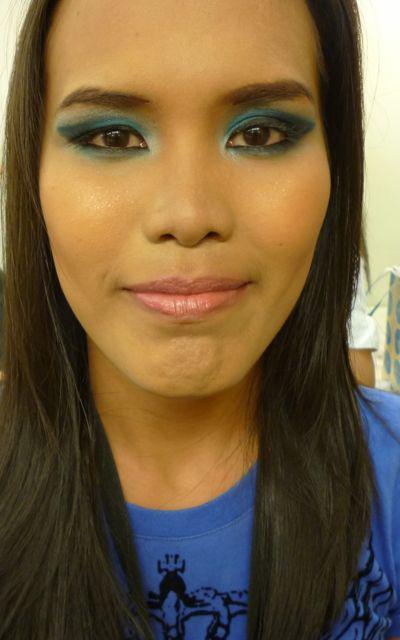 You may recognize Percy from my Maquillage du Jour look. Her eyes are small, deep set and with very minimal space between crease and eyebrow—but it forced me to very clean (or to clean up!) But her lashes were even longer than the falsies, and those cheekbones?!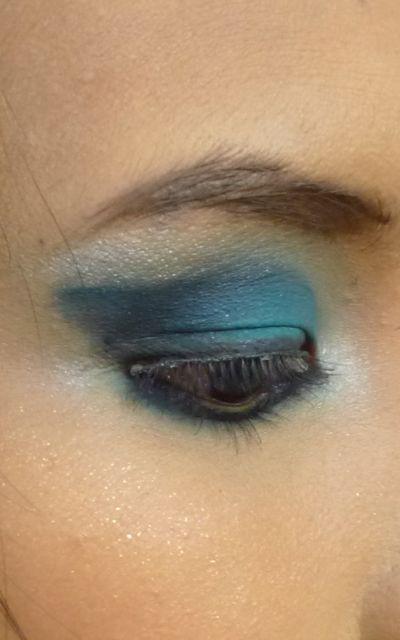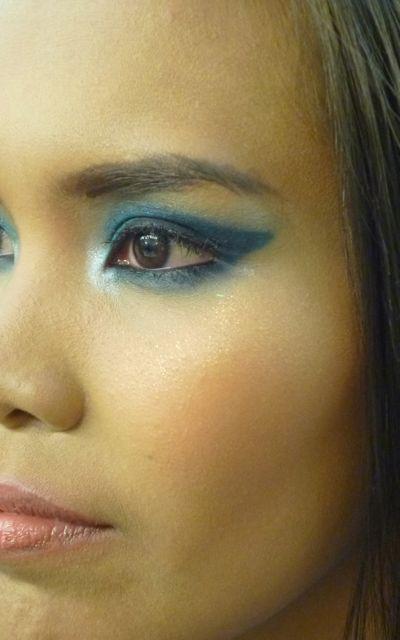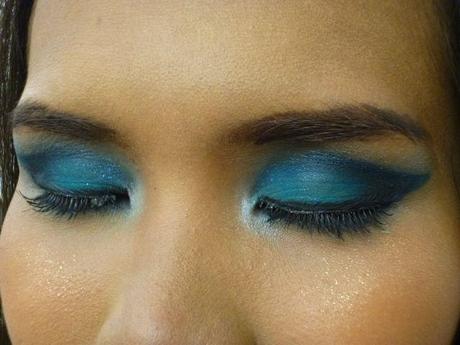 See the full gallery on Posterous
I used my share of products for this look. Star powders, diamond powders, even the uplight (cream highlighters)! Just didn't anticipate how much glitter this uplight had. I also really, really love the HD blushes, this peachy one is responsible for that natural looking flush. It could still definitely be cleaner, especially the eyebrows. But I'm really learning to appreciate the eyebrow correcter, I totally get how it's one of the first things that goes out of stock.
Cream eyeshadows would help make this look longer-lasting. Okay quick tip, use flash color if you're going to be topping it with powder eyeshadow, hoping for some more blending. The aqua creams will set far too quickly to allow for this level of blending, and are therefore best used on their own. (Maybe with some diamond or star powders since you don't really except to blend those out so much.)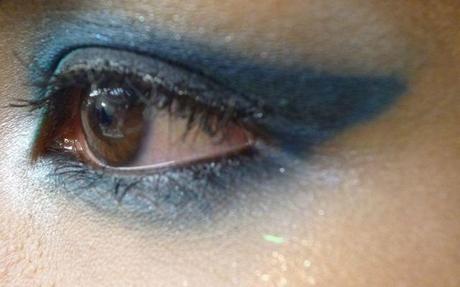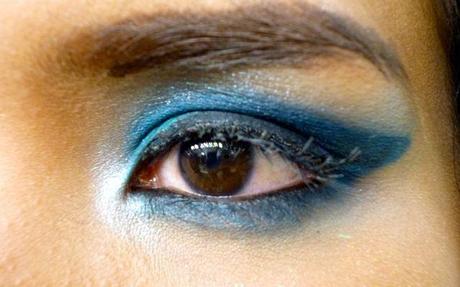 See the full gallery on Posterous Now this eye, I actually used an eyeliner to create the wing which is why it's more defined. It gave the color also more depth. 
One last look: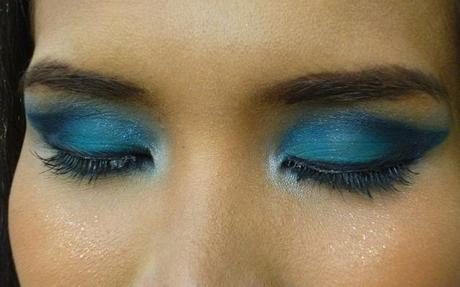 You can be sure I'm going to try this once on myself. Maybe the next time I have to go to the bank or something. Hahaha!
But think of the color combinations! A bright pink with green, orange with teal, a pink and purple, a primary yellow with a navy blue! 
We're doing high fashion looks next! Who wants to sit? 
Permalink | Leave a comment  »