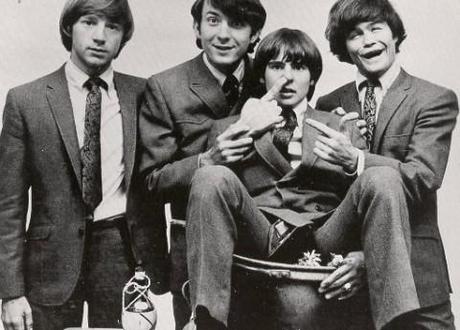 The Monkees: Davy Jones is the little one. Photocredit: http://www.psycho-jello.com/monkees/best.html
Davy Jones, the lead singer of the 1960s band The Monkees has died, at the age of 66, of a heart attack. The band, which was brought together for a television series, consisted of Jones, Micky Dolenz, Michael Nesmith and Peter Tork. They were, said the BBC, noted for their "clean-cut image." In 2008 Jones was voted top teen idol of all time by Yahoo! Music. Jones was the son of a railway fitter, and acted in Coronation Street at the age of 11. After his mother died, he trained as a jockey, but he was persuaded to return to acting and took a role in a West End production of Oliver! His hits included "Daydream Believer".
"It was just some guys having fun. Not in the sort of forced, manufactured way, although many would say they were the first manufactured band. I think there's something infectious about guys looking like that and having fun: The tunes, you can't argue with them," said Ricky Wilson, lead singer of the Kaiser Chiefs, quoted on the BBC.
A time of lost innocence. Just look at the TV show, said Paul Mason on the BBC. "Long hair, kaftan-weirdness, a cool, laconic disdain for authority, spending power; the ubiquity of the picked electric guitar; surf culture." It had anti-establishment undertones. Their music was good. They were American. They seemed like "the real thing", even though they weren't. The show was actually groundbreaking, using "the same kind of cinematography" as "semi-surreal European movies." Davy Jones was a "signifier of modernity." The English kid in America, "the Artful Dodger transported to the land of Marvel Comics." Watch just one episode of the show, and "you will feel just a bit of what it was like before it all went wrong."
Manchester Cowboy. Monkees bassist Peter Tork said in a statement: "It is with great sadness that I reflect on the sudden passing of my long-time friend and fellow-adventurer, David Jones. His talent will be much missed; his gifts will be with us always. My deepest sympathy to Jessica and the rest of his family. Adios, to the Manchester Cowboy."
SpongeBob. Jones was so beloved, said The LA Times, that the Brady Bunch wrote a whole show around him. He even appeard in an episode of SpongeBob SquarePants. The episode was called "Davy Jones Locker."