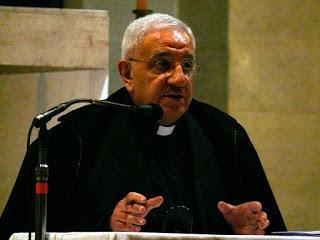 An update as the week ends, on the story of Father Tony Anatrella, about which I've been keeping you posted (and here) as it's discussed in the French media recently: at Religion News Service, David Gibson and Tom Heneghan have just published a report about the Anatrella story with the headline "Prominent French Priest and Vatican Adviser Accused in Sex Scandal." This is the first such report I've seen in the English-speaking media, though, admittedly, I have not been searching carefully for such reports, after I found initially that the French media were reporting on the new Anatrella allegations, while I found no such reports in English-language media.
Here's the opening portion of Gibson and Heneghan's report:
For years, seminaries and monasteries around France sent students and novices to Monsignor Tony Anatrella, a prominent French priest and therapist who has written disparagingly of gays, if their superiors decided the young men were struggling with homosexuality. 
Now Anatrella, who argues that gay men cannot be ordained as priests, is facing mounting allegations that he himself had sex with male clients under his care, a scandal that could have repercussions all the way to the Vatican, where the priest is still regularly consulted on matters of sexuality. 
The reports about Anatrella that have emerged in recent weeks also landed just as the Catholic Church in France has been embroiled in a crisis over charges that senior churchmen shielded priests even after they received reports that the clerics had molested children. 
Anatrella stoked that furor earlier this year when it was revealed that he told new bishops at a Vatican-sponsored course that they are not obligated to report a suspected abuser to authorities even in countries where the law requires such reporting. 
The Vatican quickly said that Anatrella's remarks did not change church policy on reporting, and Boston Cardinal Sean O'Malley, head of Pope Francis' new Commission for the Protection of Minors, issued a statement saying that beyond the requirements of civil law, all members of the church "have a moral and ethical responsibility to report suspected abuse to the civil authorities who are charged with protecting our society." 
Yet the allegations that Anatrella himself has engaged in sexual misconduct – accusations that were first broached a decade ago – pose a much greater threat to the priest.
And then they go on to summarize the recent reports we've discussed previously here, noting that of four men who are, media outlets state, alleging homosexual abuse by Anatrella in "reparative therapy" sessions, only one has made his name public — Daniel Lamarca, who was a 23-year-old seminarian when he went to Anatrella for such therapy. Gibson and Heneghan link to a 29 April report (in Dutch) by journalist Hendro Munsterman, in
Nederlands Dagblad,
who states that Anatrella told him he could rid him of his "pseudo-homosexuality" and performed sex acts on him. 
Lamarca tells
Nederlands Dagblad
,
I know details about Anatrella's body that could only be known to someone who has seen him naked.
As I've previously noted and as the Gibson-Heneghan report states, Lamarca says he reported Anatrella's abuse of him to Paris archbishop Cardinal Jean-Marie Lustiger, who did nothing in response. In 2006, he then told the lay Catholic journal
Golias
 about what Anatrella did to him, and two similar allegations surfaced about Anatrella in that year — and, again, the new archbishop of Paris, Cardinal André Vingt-Trois, did nothing in response to the allegations. Nor did civil officials, claiming that they involved adults and the situation was a he-said, he-said situation.
In fact, according to Gibson and Heneghan, in 2006 Vingt-Trois sent an email to all of his priests stating his support for Anatrella and accusing a "gay lobby" of being out to get the highly-regarded priest. Gibson and Heneghan note that another unnamed accuser has now also come forth recently, stating that Anatrella counseled him for fourteen years from 1997 to 2011 and the "reparative therapy" involved "special sessions" that included mutual masturbation. 
Gibson and Heneghan indicate that it's not known how many of the recent allegations are from the same people who made such accusations in 2006. They also note, as I told you several days ago (see the second link at the head of the posting), that the archdiocese of Paris recently released a statement which acknowledges that Vingt-Trois had gotten a written report in 2014, through the hands of a priest, informing him of Anatrella's sexual violation of patients, and that, again, Vingt-Trois had gotten a similar report from a priest involving several such allegations recently.
As they also state, and as I discussed recently,  

The statement went on to say that "any person who has been a victim of sexual aggression (or their parents in the case of minors)" should personally contact the archdiocese to report it. "They will be received and listened to, counseled on what to do next, and urged to file a complaint with the judicial authorities," it said. 
Any person knowing "facts that justify a complaint or denunciation" should also report them to civil authorities, it added.
Here are some important ramifactions of this story: as Gibson and Heneghan indicate, earlier this year, it came out that Anatrella told new bishops at a Vatican conference that they're not obliged to report suspected abuse of minors by priests to civil authorities even in countries where the law requires such reporting. As Gibson and Heneghan add, right after that, the Vatican countered these reports with statements that such abuse
should
 be reported to civil authorities (and so why is the archdiocese of Paris now telling the public to contact the archdiocese
first
and then the helpful archdiocese will counsel one about what to do next and to file a complaint with judicial authorities, I ask myself?).
I previously discussed the débacle about Anatrella's advice to new bishops that they are not obligated to report sexual abuse of minors to civil officials here and here. And as I reminded you last week, abuse survivors and survivor groups insist strongly that people with knowledge of sexual abuse of minors
should
go to the police and other civil authorities
 with such reports.
Not
to church officials, if the abuse occurred in a church context . . . . 
Another ramification — this is from the end of Gibson and Heneghan's report:
While Anatrella has been a familiar figure for decades in France, his controversial views gained wider attention in 2005 when he reportedly helped the Vatican, then headed by Pope Benedict XVI, a theological conservative, craft guidelines aimed at keeping gay men out of the priesthood. 
Anatrella at the time also wrote a lengthy article in the Vatican daily, L'Osservatore Romano, stating that homosexuality was "like an incompleteness and a profound immaturity of human sexuality.""
According to a report from Catholic News Service, Anatrella wrote that gays are "narcissists" and said homosexuality is "a problem in the psychic organization" of a person's sexuality. He said that for theological reasons the Catholic Church can only ordain "men mature in their masculine identity." 
On a practical level as well, he wrote, many of the sex scandals in the church happened because gay men, even if they vowed to remain sexually chaste, were ordained as priests and could not remain chaste. 
Anatrella also provided a long list of warning signs that should alert seminary staff to the possibility that a seminarian is gay. 
Among the signs he listed were students who had trouble relating to their fathers or who tended to isolate themselves, and those found viewing pornography on the Internet and who often saw themselves as victims.
If
any
 of what is being reported about Anatrella by a growing list of accusers is true,
what in God's name is a man like this doing advising the Vatican on handling gay priests and on the topic of homosexuality?
 He styles himself a psychoanalyst.
But what bona fide psychiatric organization in the developed world today continues to believe the long-exploded myth that gay people are immature narcissists who just haven't grown up and learned to fulfill their erotic fantasies in adult (i.e., heterosexual) ways? What bona fide medical organization imagines any longer that gay folks are stunted, sick, disordered — and need to be "repaired"?
Why is the Catholic church promoting, at its very highest levels, such toxic, anti-scientific nonsense that attacks LGBT human beings in their very nature? And why — if any of the reports about Anatrella are to be believed — is this toxic nonsense being promoted
by people engaging in furtive homosexual encounters themselves?
Third ramification: Gibson and Heneghan write, 
Anatrella remains a consultant to the pontifical councils for the family and for health care ministry; in February, he was the main organizer of a major conference on priestly celibacy at the Pontifical Gregorian University in Rome.
In other words,
though top Catholic officials
have
to have known about the allegations regarding Anatrella when the synod on the family was convoked, he was
still
 invited to that synod as an expert on homosexuality and "gender ideology
."
 And he continues to be given free rein to pontificate about family, gender, and sexuality issues in the Vatican itself — right up to the present.
Though the advice he has given in this year alone about reporting sexual abuse of minors to civil officials directly contradicts what we're being told is Pope Francis's own position on abuse, and undercuts media reports that Francis wants to address the abuse situation in the Catholic church with transparency and accountability . . . . 
What does the willingness of Pope Francis to keep Tony Anatrella front and center in the Vatican itself, advising folks about the family, homosexuality, and gender, say about Pope Francis's
real
 commitment to showing mercy to LGBTQ people? Or about the pope's
real
 commitment to addressing the abuse crisis with transparency and accountability?
As I've said before, there's a tremendous sickness at the very heart of the Roman Catholic church when it comes to issues of human sexuality, and to the issue of homosexuality, in particular. Men living their own hidden, self-hating, closeted gay lives persistently attack openly gay, honest, self-respecting LGBT human beings, mounting those attacks from the very bosom of the Catholic church. And these very same closeted, self-hating, viciously homophobic gay men have sought, from the time the abuse crisis first became public, to pin responsibility for the abuse crisis on gay men.
The sickness I'm describing here is the sickness of
corruption
. It has the stench — to high heaven — of the kind of corruption in which self-protective, morally diseased institutions which put their own self-preservation before any other value in the world will freely and willingly attack vulnerable minority groups to pursue that goal. Such morally corrupt institutions will freely and willingly seek to make the lives of already vulnerable human beings a living hell, while the very people engaging in these ugly attacks to protect their corrupt institution hide their own secrets, hide their own experiential connection to the very people they are attacking.
This is a syndrome about which we have learned much in recent years— for example, from the exposure of Dr. George "Rent Boy" Rekers, another "expert" on reparative therapy who's an ordained Christian minister and psychotherapist, who once had enormous influence in advising political leaders about how to protect children from the gays, and was then found to be consorting with gay male prostitutes. Because of what we have learned story after story about what makes "ex-gay" therapists tick, it did not surprise many of us when "ex-gay" leader John Smid, founder of Love in Action, made public the fact that he had not ever been "cured" himself (and had never met a gay man who had been "cured," though he knew many who
claimed
 to have been cured), and that he was marrying his same-sex partner, having divorced his wife.
These are
old
 stories by now, and it is not to the credit of Catholic leaders — not in the least — that they continue to imagine they can peddle their toxic nonsense about the "disorder" of homosexuality and the need to "repair" gay folks, and about the danger that gay priests pose to children, when we've learned precisely who, in the sphere of religion, is most likely to peddle these myths and to mount vicious attacks on (other) gay people who live open, honest lives as gay people.
The photo of Msgr. Tony Anatrella is by Peter Potrowl and has been uploaded to Wikimedia Commons for sharing online.