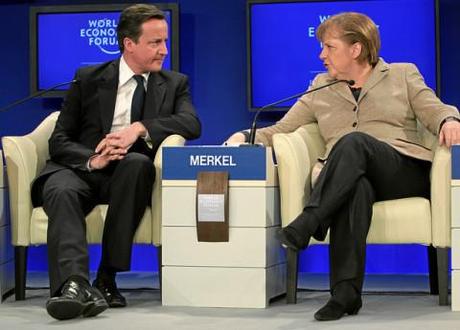 David Cameron and Angel Merkel: At odds. Photo credit: World Economic Forum, http://flic.kr/p/9hcox5
Britain and Germany are on a collision course over the future of the European Union. UK Prime Minister David Cameron said in his annual foreign policy speech that the eurozone crisis was an opportunity for Britain to loosen its political ties with Europe. Cameron's comments came just hours after German Chancellor Angel Merkel called closer political union between EU countries to overcome the debt crisis.
More Europe. Quentin Peel reported for The Financial Times that Merkel described the debt crisis as the "toughest hour since the second world war", and that EU leaders must create political union: "That does not mean more Europe, that means less," she told a Christian Democratic Union (CDU) party conference in Leipzig. Peel pointed out that her speech is reflected in a European strategy resolution the CDU is likely to approve during the conference. Although not binding for Germany's coalition government, Peel suggested the CDU resolution is likely to disquiet Britain and France, as it includes calls for automatic sanctions for countries that fail to rein in spending and a financial transaction tax throughout Europe.
"Through the crisis, Europe is growing closer together ," said German Chancellor Angela Merkel, according to The Guardian.
Look to the US. Writing in The Times (£), David Wighton suggested that Merkel has got it wrong: "Greater integration of tax and spending policy is not the only option," he said. Instead, Wighton argued, Europe should look to the US, where failing states are never bailed out or propped up, and apply the same principle to eurozone countries such as Greece.
Less Europe. In contrast to his German counterpart, Cameron said the European financial crisis was "an opportunity, in Britain's case, for powers to ebb back instead of flow away and for the European Union to focus on what really matters," according to Patrick Wintour in The Guardian.
"We have a right to ask what the European Union should and should not do and change it accordingly," said UK Prime Minister David Cameron, according to the BBC.
Stop blaming Europe. According to a Guardian editorial, Cameron's speech was a subtle echo of Chancellor George Osborne's warning at the weekend that Britain's financial future is under threat from the eurozone crisis. However, the editorial argued that Osborne and Cameron were simply playing the blame game: "The British government's own economic strategy, for which Europe bears no responsibility, is foundering quite effectively all on its own, even though clearly not helped by the convulsions in the eurozone." At the BBC, Nick Robinson took a similar view, describing the European crisis as "politically convenient" for the chancellor as it means he can avoid questions about his economic policy by blaming Europe.
Consensus. Writing in The Independent, Steve Richards argued that for all the "huffing and puffing", there is now a loose political consensus in Britain on Europe: "Both sides now accept that any transfer of powers from the UK to the EU in the future will require a referendum," he said. Richards pointed to recent comments from Shadow Foreign Secretary Douglas Alexander, which show that Labour is now open to the idea of renegotiating Britain's relationship with Europe.