David Beckham was in Madrid for the first time in a year. "I am so happy Biotherm Homme invited me to Madrid, a city I lived in for four years. Today we celebrate a new chapter in the Aquapower success story."
Biotherm Homme Aquapower Gel provides the necessary daily hydration for men's skin in a fresh texture. The brand announced two new products in the Aquapower range: Aquapower Fresh Water Gel a fresh gel formula able to lower the skin temperature by 2ºC, and Aquapower Daily Defense SPF 14 the sun protection necessary to prevent premature aging.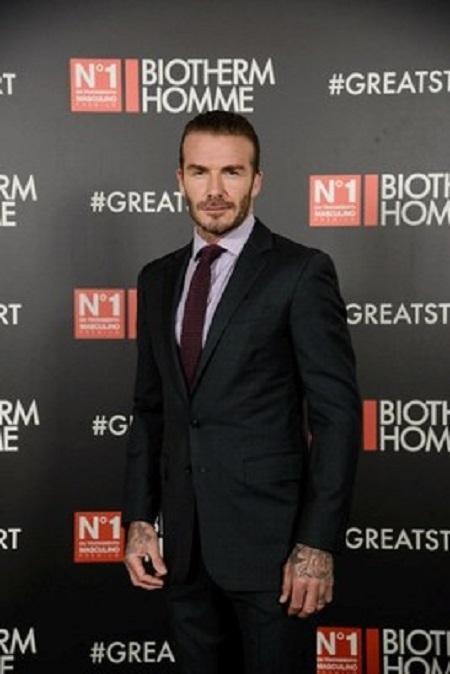 David Beckham in Madrid for new Biotherm Homme Aquapower
"My morning skincare routine is pretty fast – I quickly shower, cleanse, and moisturize my face. Aquapower is great in the morning; it is like a cool splash of water on my face and it is so refreshing. When I use it, I know I have done something good for my skin," said David Beckham.
French luxury skincare brand Biotherm Homme has chosen

Madrid

to celebrate the success of its Aquapower hydration range with brand ambassador

David Beckham

Men skincare product Aquapower Gel sells more than two units per minute
In

Madrid

,

David Beckham

and Biotherm Homme launched the new Aquapower #GreatStart digital campaign with journalists and top influencers
David Beckham is Biotherm Homme first global ambassador. The relationship will continue with several joint projects planned for men's skincare and grooming products, the details of which will be revealed before the end of the year.
David Beckham in Madrid for new Biotherm Homme Aquapower
During his day in Madrid, David Beckham met with actors Alex González and Maxi Iglesias. As well as model and Biotherm Ambassador Ariadne Artiles. Together they launched new Aquapower #GreatStart digital campaign. Inviting men to give their day a great start with Aquapower Gel.