Hello lovelies :) Sorry for the lack of posts; I've been sick and busy, never a good combination. But I'm hoping this week will go a little bit smoother. I actually wrote this post a while ago, hence the snow. But hopefully I still make sense, just woke up from a nap!
Okay here we go..
After temperatures in the 60s last weekend, I expected winter to have gone, but no. On Tuesday, we received about 4 inches of snow. Sigh. I'll have to put those flip flops away for a little longer it looks.
Since the cold weather is back, unfortunately, I figured it wasn't too late to do a low-down of all of the lip balms I have, give you a review on each of them, and give you my final recommendations :)
Which lip balm will win the softest lips award? :D
Here they are: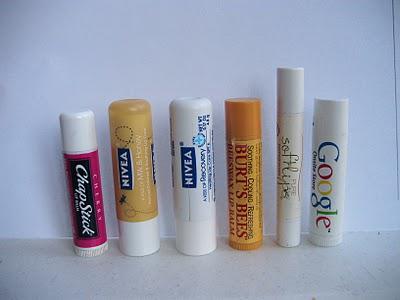 (left to right)Chapstick in Cherry, Nivea a Kiss of Milk and Honey, Nivea a Kiss of Recovery, Burt's Bees Beeswax lip balm, Softlips in Organic Pomegranate, and super duper special Google lip balm.
So how do these lip balms fare against each other?Let's take a look!First off, let me just eliminate 3 from the running. Chapstick in Cherry, Softlips in Organic Pomegranate, and Google's lip balm.Frankly, I'm not a fan of any of those three. 
Chapstick makes my lips feel extremely waxy, and I don't feel like that waxiness is moisturizing my lips. My mom swears by the stuff though, and has been using it for years. Although, to be fair, I don't really think she's tried any other lip balms. And okay, lets be honest here, Softlips, you smell great. Absolutely delectable. But seriously, you don't do a thing for my lips. No moisturizing properties. :( And finally, Google lip balm. Now for those of you wondering where I got this...My brother used to work as an intern for google, and when I went to visit him, we stopped by the gift store. They had a bowl of lip balms you could take, and so I took a couple just for the heck of it.Let's just say, Google, stick to your search engine. While it is organic peppermint, I feel like it doesn't moisturize my lips. Again, very waxy.Ick.
Now moving on to the ones I do like. I'll start with Nivea Kiss of Milk and Honey ($2-$3 at drugstores).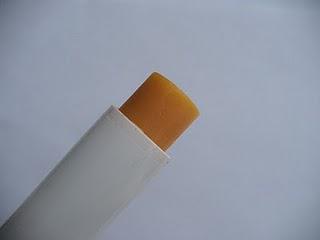 This one is probably my most used out of the bunch and probably my favorite. I mostly use this at night since it doesn't contain SPF. But what I love most about this is that it doesn't feel waxy, and I feel like it actually sinks into my lips. If I put it on before bed, when I wake up, my lips feel soft and smooth. I don't feel like the product is still sitting there dried. (ahem softlips) The smell isn't the best, but it's alright. It's smells somewhat like honey, but just not quite. Not sure how to describe it.
Who would I recommend this for?- Anyone who has dry lips- Anyone who likes a moisturizing lip balm
As for the Nivea Kiss of Recovery ($2-$3 at drugstores)...I like this one also. I haven't used it as much though because it has SPF 6, and I keep telling myself that I don't need the SPF if I'm not staying outside. And since it's winter, I'm not outside a whole lot, and I don't need the SPF. But in the summer, when I'm outside more, I'll probably use this a whole lot more. I think this is really similar to the Kiss of Milk and Honey, but it has a nicer scent. Smells like vanilla almost. I like this one a lot.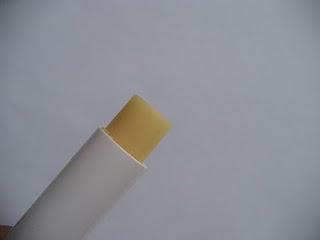 Who would I recommend this one for?- Anyone who likes a bit of SPF in there lip balm- Anyone who has pretty dry lips
And finallllyyy, Burt's Bees. ($3 at Target)This is probably my second favorite. While I don't feel like it's as moisturizing as the Nivea Milk and Honey, it has the lovely peppermint smell and tingle that I loveee. I absolutely love everything minty. It's not as smooth gliding as the other two, but it feels so nice on the lips. I love it.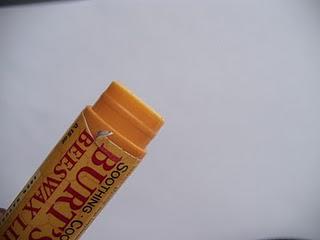 Who would I recommend this for?- Anyone who loves minty lip balms- Anyone who loves that tingly sensation - Anyone who doesn't have extremely dry lips
So that's that then beauties :) Let me know if you have any further questions on these lip balms!
Silly weather and minty lip balms,Belle