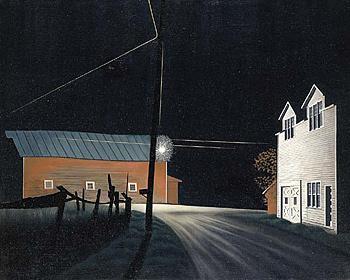 George Ault's Bright Light at Russell's Corners
George Ault didn't very much like the world-at-large, so he left New York City in 1937, and moved about 100 miles north to the village of Woodstock, New York with Louise Jonas, whom he would marry four years later. There, they lived in a small cottage where he painted many of the works that are in the exhibition, To Make a World: George Ault and 1940s America. According to Alexander Nemerov, curator of the exhibition and the Vincent Scully Professor of the History of Art at Yale University, Ault was depressive and must have been a handful to live with at the best of times. With World War II looming, then raging, it sent Ault into fits of despair as he sensed "the disintegration of our times." When the Nazis took Paris, Louise found her husband sobbing on their back porch. Making his own world—his own paintings—helped him negotiate the world, but as Nemerov said in comments the other day, "Ault was such a pained person who felt deeply aggrieved and wounded by the world."
Could any kind of light come out of such darkness? The exhibition features five paintings that Ault made of Russell's Corners, a "lonely intersection" near the artist's home framed by red and white wooden barn structures. Those he painted at night, such as Bright Light at Russell's Corners, are nocturnes that are evocative as they are precise. Nemerov called our attention to their "immaculate sense of order...an order that is recompense for all that is disorder and chaos in the world." All five share the same kind of architecture, the same telephone wires that seem to dissolve into the ether and speak of a fragmented world, and a dangling traffic light. For Nemerov, the light speaks of "faith...redemption...and some kind of deliverance on this road."
Take a look at our slide show with a representative group of works in the show. The exhibition, which also features works by Ault's contemporaries including Edward Hopper and Andrew Wyeth, runs through September 5, 2011.
George Ault, 1940s, World War II, American Art, Smithsonian American Art Museum