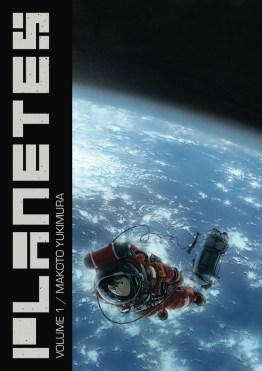 Planetes has been one of those titles that people in manga circles have been hoping would be reprinted and licensed after it was formerly released by TOKYOPOP many years ago. But years end up going by, and well, nothing.
Well, that will end this year.
Planetes, by Makoto Yukimura (creator of Vinland Saga), is a Sci-Fi drama that follows the crew called "Toy Box", whose purpose is preventing space junk from hitting satellites, space stations, and spacecrafts. The manga will be released in December in omnibus form for pretty much anyone who had been waiting for the series to be re-licensed or those interested in Sci-Fi. I sent a few questions over to Dark Horse to get clarification on its release, and its editor, Brendan Wright (Usagi Yojimbo, Mind MGMT, Creepy), answered them.
Organization ASG: How long have you had this title on your license (in this case, to re-license) list?
Brendan Wright: This is a series I first read as TOKYOPOP released it, and it's been a favorite of mine ever since. It was actually just last year that, while sorting books to get rid of, I pulled the books off the shelf and reread them. They were even better than I remembered, so I immediately pitched a new edition to Dark Horse and was delighted to learn that the license was available.
OASG: The volumes will be two omnibuses, correct?
Wright: Yes, volume 1 will include chapters 1–13 and volume 2 will include chapters 14–26 and the extra chapter focusing on lead character Hachimaki's father in his younger days. There are also several four-panel strips, and both volumes will feature many more color pages than the TOKYOPOP editions. They're being relettered using the original digital art files from Japan, so the Dark Horse version will present Planetes at the best visual quality it's ever been in English.
OASG: Who will be working on the title, or that's still being worked out?
Wright: I'm very excited to be the editor on this, as it is my first manga project. I've wanted to take on some manga for years now, and bringing this in meant I finally got the chance. Manga editor Jemiah Jefferson (OreImo, Evangelion: Campus Apocalypse) will be helping me out, so I can't mess up too badly. For the translation, we're sticking with the work Yuki Johnson and Anna Wegner did for TOKYOPOP, which is a smooth adaptation.
OASG: What attracted Dark Horse to try and bring Planetes back to the US?
Wright: After I reread the material and suggested that we reprint it, Carl Horn and our license guru Michael Gombos championed it to our editorial board, but it wasn't a hard sell. Part of Dark Horse's approach to manga has always been to include certain titles that also have crossover appeal to readers of western comics, and Planetes is definitely that, in part because it has such a realistic, hard sci-fi bent, and also because of its international cast of characters. The length was perfect too, since it breaks easily into two substantial books, making it a natural fit for our manga omnibus line. It's a rare opportunity to get to present something as beloved as Planetes that is as hard to come by.
OASG: Finally, can you say why people should consider pre-ordering or considering to buy the title when it comes out?
Wright: Makoto Yukimura is the full package, and for a relatively short series, Planetes really has something for everyone. From such a simple premise—expanded space exploration has led to a dramatic increase in the amount of garbage in orbit, and someone has to clean it up—Yukimura builds a lot of drama and creates a lot of humor, while dropping plenty of science along the way. Anyone who liked Gravity or Interstellar should similarly enjoy the intense level of realism, while fans of more grounded drama will find the characters' struggles moving, and the characters themselves are hilarious, which I appreciate as someone who wishes there were a lot more comedy in comics. If you're a manga fan looking for an ambitious sci-fi story with great characters, this is it, and if you're curious about manga and looking for a starter title, Planetes is as inviting as they come.