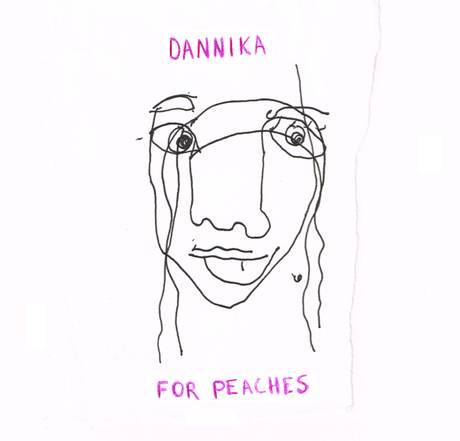 Dannika may describe her sound as "four mates making soft, feminine rock," but to our ears, it sounds like much more. The lo-fi songs from her newest EP, For Peaches, offer sensibilities that go beyond the standard drone of gentle, female-fronted rock. The melodies and instrumentals are simply beautiful at times, and the resulting tracks feel devastating and cathartic all at once. To celebrate the release of the EP, we asked her to put together a playlist of tracks that either inspired the album or are simply some of her  favorites. Listen below, and pick up your copy of Dannika's EP here!
Playlist
Karen O – Ooo
This album is one of my favorites ever. My dear friend (Peaches) leant it to me, and it became the sound track to our friendship. I love the raw lyrics and messiness of it all.
Mac Demarco – Blue Boy
Mac DeMarco has been a favorite of mine for a bloody long time. His music makes you happy even when it's sad. Such beautiful guitar lines, it's just great jangle pop.
Frankie Cosmos – Birthday Song
Liam showed me Frankie Cosmos after I played him "Saint Kilda Sunrise" for the first time. He said he thought I'd like her and like her I did (do). Short and sweet and playing with tempo in a real fun way.
Banoffee – Got It
Banoffee makes you feel pensive but also makes you want to dance at the same time. Her voice is mesmerizing. First time I fell for Banoffee was when I was in Sydney with my family and I went wandering to this album. It was magic.
Carole King – It's Too Late
Carole King was passed down to me from my mom. This album is very special to me, and it makes me so nostalgic. So groovy and soulful. It reminds me of the smell of my first home, sitting on musty couches, burning incense after a big session on the trampoline.
Paul Kelly – To Her Door
This song makes me cry nearly every time but it's not really a crying song.
Paul Kelly
is such a great story teller, you feel like you're sitting in the pub hearing the life story from a guy you just met but you feel like you've known forever.
Good Morning – To Be Won
This has got to be one of my favorite songs ever. Top three for sure. This technically wasn't released when we were making the album but Liam showed it to me ages ago, and it's become so special to me. These boys are my heroes.
Galaxie 500 – Tugboat
One of my teachers introduced me to
Galaxie 500
, and it's probably the best thing I learnt in that class. Drifty and dreamy low-fi messy magic. It's a great song to listen to when you want to have some sort of epiphany.
Dick Diver – On The Bank
Another really great story song. I think we've all been the guy on the bank at some point in our lives. "Should be too hot to shiver but there goes one down my spine." Me too mate.
Destiny's Child – Free
It took a lot of restraint to only have one Beyoncé song on this list (well Destiny's Child). Anyone who knows me knows of my life long dedication to Bey. I love this era of R&B. Chimes aren't used enough these days. This song makes me want to go to a year seven disco.