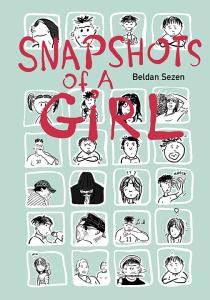 Snapshots of a Girl is a graphic memoir that follows Sezen in her coming out process-to the world at large, to her Turkish family, but mostly to herself. As the title suggests, we get glimpses into different stages in her life, titled things like "The Denial Years" (including "Boy #1" - "Boy #3") and "Coming Out To My Mother" parts 1-3.
I enjoyed the different illustration styles throughout this memoir. They range from metaphorical and vague images to detailed portraits of various people in her life. Although at some points the short sections and varied styles could feel disjointed, I could see how these were the pivotal moments in this story that really didn't need the in-between to support them.
My favourite section is near the beginning and really sets the tone for the story. Sezen is 18 and has fallen in love with an older female coworker. She doesn't dwell on this and instead tells her coworker, unexpectedly finding that this leads to them in bed together. As she is sleeping with a woman for the first time, she gets completely overwhelmed and abruptly gets up, gets dressed, and leaves without really saying anything to the other woman, and then she just doesn't really consider her sexuality again for years. (Thus, "The Denial Years.") It makes for such a comic scene, for her to suddenly backpedal on this whole process, but it's also refreshing for breaking up the usual linear coming out storyline. Sometimes you come out of the closet and then go back in, and sometimes you embrace and identity temporarily and spend years trying to regain it. Coming out-and also growing up-doesn't happen the same way and in the same order for everyone.
This was a quick and interesting read. It reminded me of a zine in style (though it is almost 150 pages long), so if you're a fan of that medium, I think you'll really enjoy this one. Definitely worth picking up for graphic novel/memoir fans!