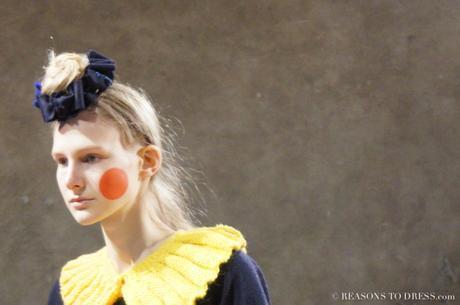 Ok here goes.
This is the point in my fashion career where I start to get mean. Not because I want to, but because I have to. Otherwise, it just wouldn't be right.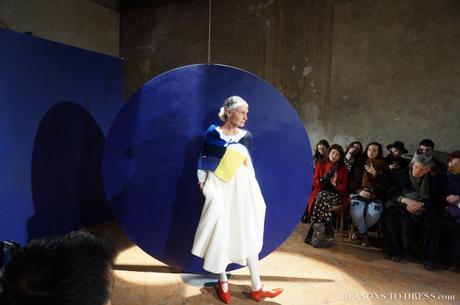 I received an invitation to attend the Daniela Gregis Fashion Show for the AW2016/2017 collection during the Milan Fashion Week, and I was very excited to attend. Fashion Show invites are hard to come by for relatively unknown fashion bloggers and you can read about how to make the most of the Milan Fashion Week for Beginner Bloggers in the article I wrote for the Independent Fashion Bloggers website here.
The experience started off a little odd because I got there early wanting to read the press kit to find out more about the designer and the collection. I tried to do some research online but found literally NOTHING about the brand. A website with little more than a vague, cryptic description of dissonant phrases, plus the brand has NO SOCIAL MEDIA PRESENCE WHAT SO EVER!
None.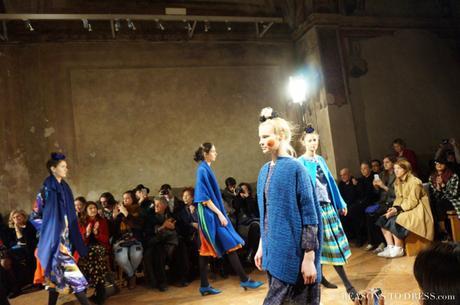 What? In this day and age how can a brand even think about selling with absolutely no social media, and yet this is NORMAL, especially for Italian brands who have already established their distribution channels pre-the internet age.
This is still shocking to me, but as a manager and marketer I get it (I think of it as the coward's way out), but I get it. I even put together some tips on how fashion bloggers can ease brands into social media in this article for the Independent Fashion Bloggers website,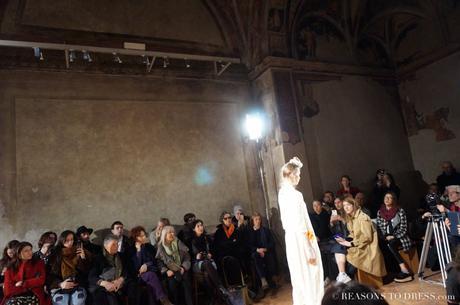 Don't Fear The Negative
In the article I mention above, one of the reasons I presume brands shy away from social media is that they fear the negative publicity that can occur from "online shaming". Negative tweets, Instagram images with too few likes, critical comments on Facebook, they are all possibilities once you put your designs out there for the world to see.
But here's the thing. If you truly stand behind your brand and designs you should be willing to accept the critiques of your followers, buyers and fans along with those of the people who do not buy your brand. I mean, feedback is one of the best aspects of social media.
You don't need to listen to everything being said, but believing enough in your brand and designs to participate in a two-way conversation is part of the fashion game now a days.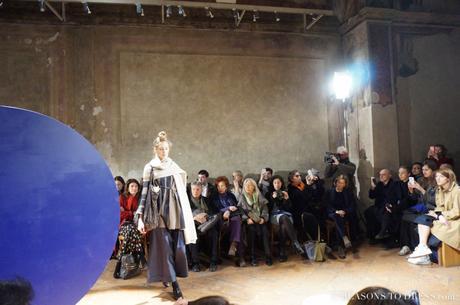 Clothes for Old Ladies Who Want To Look Like Old Ladies
I have nothing against Daniela Gregis, and it would be wrong of you to think that by referring to her designs as "old lady clothes" I am being negative. Actually, quite the contrary. In a world where designers are feverishly making clothes for thin, "Goddess like" women who are all over 5'10" with no hips ...I am getting TIRED OF THE SAME OLD.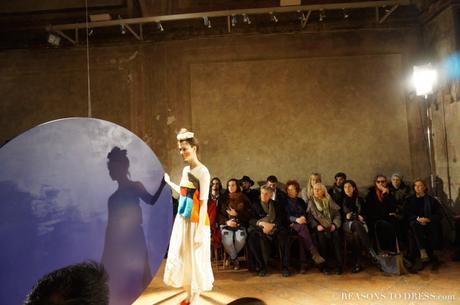 That being said, Daniela Gregis is an "old lady", and by old lady I mean a mature woman well into her 60s if not 70s. It is clear that her collections are targeted to women such as herself, and indeed she furthers this point by actually walking her "catwalk" herself.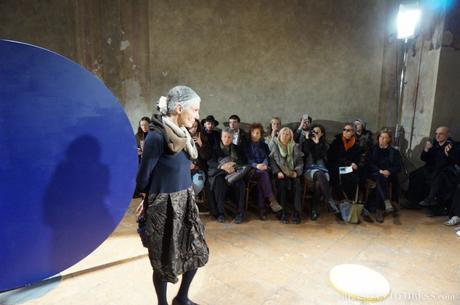 Her designs are a very specific blend of unsewn "rawcut" edges, hand knits, asymmetrical shapes and taffeta mixed with cotton. A very particular style worn by granola eating, hippy Italians (if granola actually existed in Italy), the whole flavor of the collection was "nonna" aka "Grandmother".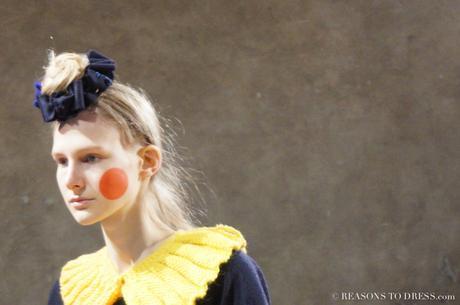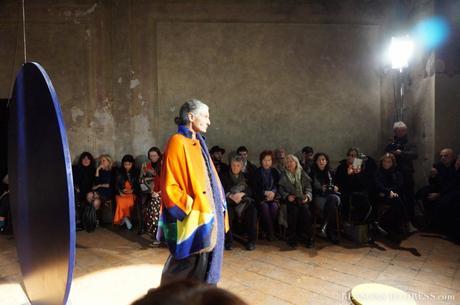 She is surprisingly well distributed in some of the country's more prominent stores and her brand is less of a brand than a reflection of herself and her moods.
The only piece of informative text that was to be found in the press kit was a small blurb in English and Italian that went something like this:
Daniela Gregis laughs, worries, gets angry and has a little present for everyone...friends, relatives, cousins, artists, children, mothers and perfect strangers exchange roles, interact and shape some always new and entertaining creations*creatures...
Although I personally would never wear this style, and find it a little sad when fashion moves toward craft and away from the sartorial roots that Italy should be known for, there are things that I do like about her collection.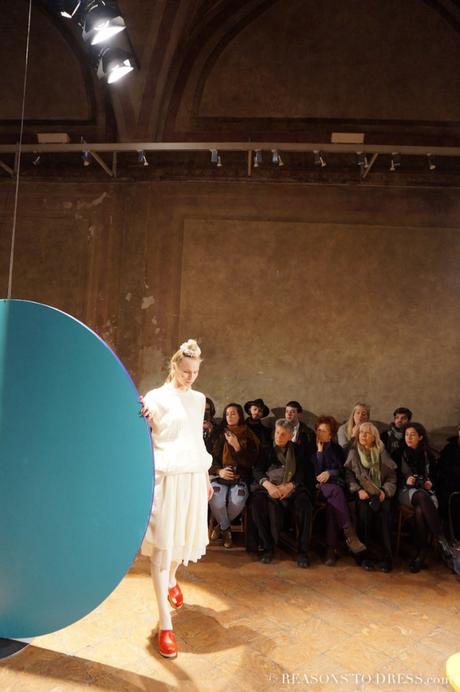 I appreciate how purposefully unsexy all of the shapes are, intended to create voluminous spaces to house the body while not accentuating any particular aspect of its femininity. This could be something I seek out as I enter the second half of my life! Who knows!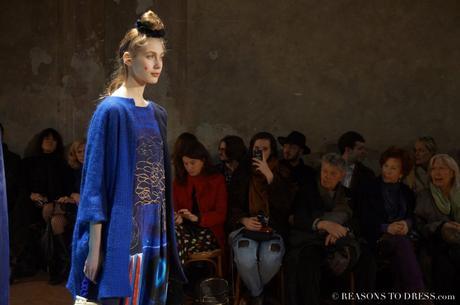 Young and Old In The World Of Fashion
You don't need me to tell you that mature women are making waves in the fashion world. The number of 40+, 50+ and 60+ fashion bloggers is on the rise and for good reason. Surprisingly enough, main stream fashion has not caught on to the trend and only a handful of brands from cosmetics to clothing are really serving and reaching out to this demographic.
A few years ago, I was responsible for putting together a catalogue for one of our luxury exotic leather belt lines. It was a few weeks before our presentation at a fashion fair in Paris and I contacted a 50 year old ballerina to be the model for the catalogue. OH THE CRITICISM I RECEIVED!!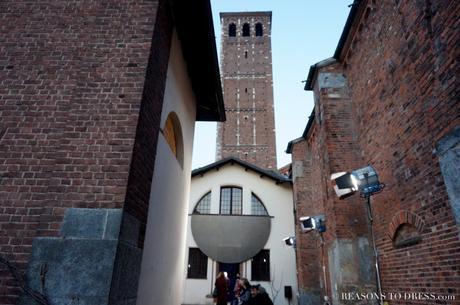 Why did you get such an old model? What did you find so perfect about her? Why didn't you use a regular model?
Let's think about it. How many 17 year olds do you know who can afford 650 euro for an alligator belt? And more importantly, of the 17 year olds in the world that CAN afford our belts, how many of them are interested in spending their money on "classic" designs as opposed to the latest trend that some rap singer is wearing!?
My audience is NOT 17 year old models, why should I use them to speak to the women who are potentially my clients? And yet, this decision was poopoo'd upon. I would like to set the record straight that I am ahead of the times, because the following year, it seemed like beautiful "blue haired" models where in all of the catwalks, a token symbol with little substance of fashion's willingness to represent who they actually sell to.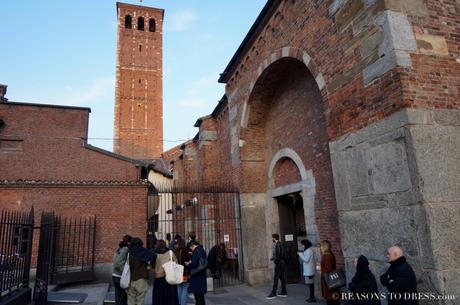 But I digress, Although Daniela Gregis' collection is not my style I applaud the fact that she is creating clothes for the more than "mature" audience and is willing to put herself in the limelight to prove her style's wearability.
Now, if she was on social media she would know about this review! Social Media and "the internet" is not something every over 60 year old has embraced, so I will just assume that her lack of social media presence is part of the technology age gap and less about social media fears.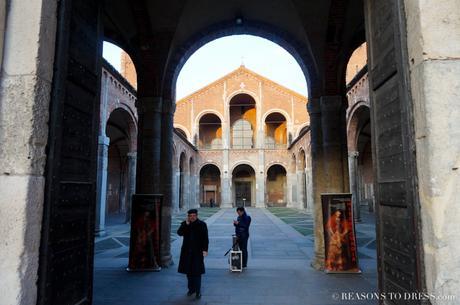 This week I am so proud to share:
Iris AKA Moumous from LA MOUMOUS is a marketing/professional sales person by day and fashion blogger by night. She is also a wife and mother to a sweet little girl named Aubrey. Iris blogs to help other women feel comfortable in their own skin and confident about themselves. Be sure to stop by her blog to introduce yourself today!
In the RTD Magazine I'll feature some great content as well as an interview from Iris and in the meantime you can read her favorite blog post of all time here and don't forget to check out this look with a vintage lace dress that is ABSOLUTELY STUNNING!!
#REASONSTODRESS DRESS TO IMPRESS FASHION BLOGGER LINKUP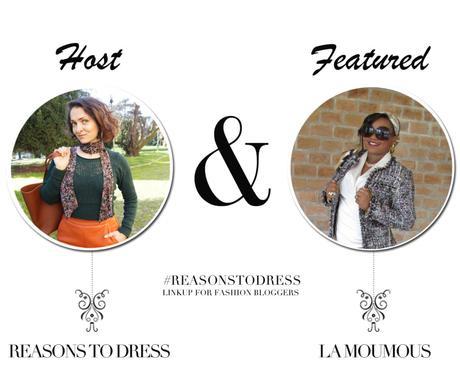 Welcome to the #REASONSTODRESS DRESS TO IMPRESS LINKUP for fashion and style bloggers!
This linkup is hosted by REASONS TO DRESS - An Italian lifestyle blog about an expat-Canadian married to an Italian leather artisan. Part of this new linkup is sharing up and coming style bloggers and we're always looking for fabulous co-hosts who will be interviewed and featured - email [email protected] for info!

SHARE YOUR POST ON TWITTER with the hashtag #REASONSTODRESS & you'll get a retweet from your hosts!
REASONS TO DRESS - An Italian Lifestyle Blog About Fashion, Travel & Life in Italy
LA MOUMOUS - The Lookbook of a Shopaholic!
THIS WEEK'S BANNER / INSTAGRAM IMAGE :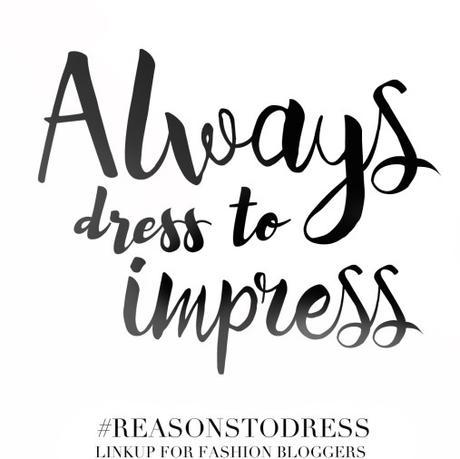 Grab the 200 x 200 version of this banner for your blog post with the code below!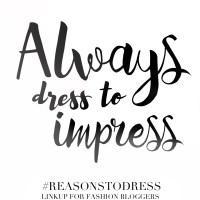 PLEASE : Linkup your STYLE related posts, new and old! Or Linkup a FASHION related picture from Instagram with the hashtag #REASONSTODRESS
PLEASE: Add the badge or a link back to EITHER of the weekly hosts
PLEASE: Follow each host on at least 1 social network , we're friendly, social and generally over-sharers! Let us know that you've followed so that we can share the love!
PLEASE: Please be social and visit a post that interests you. Don't forget to use the #REASONSTODRESS hashtag to let people know how you found them!