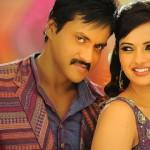 Story:
Buchibabu (Sunil) returns from US due to the family pressure to get married. He has a love at first sight feeling for the first girl he sees in a marriage proposal. But the girl has other plans and a boy friend too. Realizing this, the hero moves out of her life but fate brings them together again. Will they marry each other finally and what happens to the actual planned wedding is what the film is all about.
Performances:
Sunil once again plays a bumbling yet earnest character. But he plays it with so much sincerity that it looks so fake on screen. It looks like he is trying too hard even to be simple and sensible. His dances are repetitive despite the hard work put.
Isha Chawla is a misfit for the character. She tries her best but she is not up-to the mark. Also with the sensibilities of the overall proceedings too changed things look even bad.
Ali gets a role that has something more to it than just comedy for a change. But that portion is very less and the comedian part dominates most of the screen time. He is fine overall.
Vincent gets a good character but he fails to bring depth to it. as a result it appears one dimensional and is rendered ineffective in the end.
Ahuti Prasad, Dharmavarapu Subramanyam, a guy playing the Kerala friend of Ali are all good in their respective roles. We have seen them play these roles many times before but nonetheless they still manage to do well.
Positives:
Few comic sequences
Overall plot of the film
Negatives
Background music
Screenplay
Music
Forced punches in dialogues