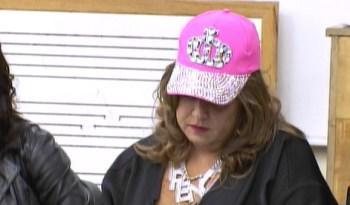 Moms better have my money before TMZ finds out these are real diamonds on my snap-back.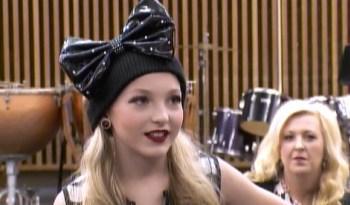 I literally can't even keep my head up. How does she wear this every day and not pass out?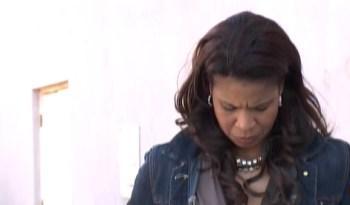 If this is Kanye tryna get in on my mix tape again, I'm not picking up. Lil' Holly only raps solo, yo.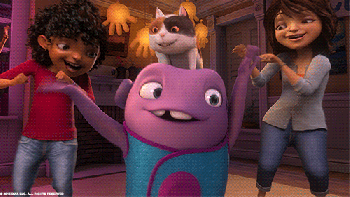 #JustDon'tCare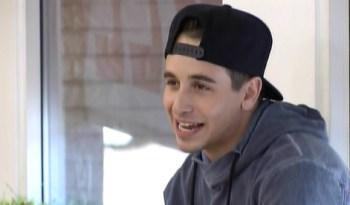 Telling you right now, if everyone's gonna start rockin' big a** bows then we're all going back to name tags.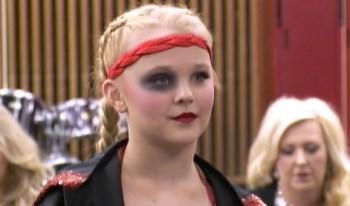 Sure, I got a shiner. But let's just say the other guy won't be stealing my look for awhile. BooYeah.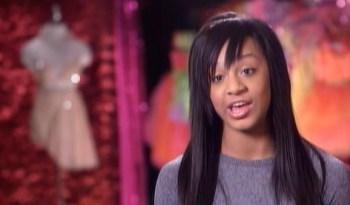 Dat's rite. It's been a week and #BANGS is still trending.  So, ummm…#WINNING.
Sup, homie?
1,2,3 and to the 4.
Swaggy Lee and MackZ is at the door.
And you can quote me and Snoop on that one…
…cuz it ain't nothing but an ALDC Thang up in here this week.
Or at least that's what Abby Lee Miller set out to prove as Dance Moms ditched the Capezios for Yeezys and attempted their first ever hip hop trifecta.
You heard me rite, Dawg.  Three hip hop routines at the same competition.
Spoiler Alert:  These three, maybe.  Nice hat, BTW.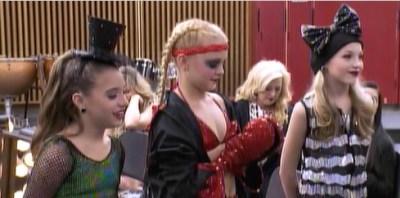 And isn't that gigantic bow on the wrong person?
Sorry.  Can't give it all away yet.
So for now, just put your arms up in the ayah ayah…and your feet up on the couch…and let's do this from the beginning.  Starting in the parking lot.
As all the Moms and ALDC Elites gathered before the Pyramid of Shame, it was clear to all involved that the team really needed a huge win this week to regain some traction on The Road to Nationals.
Q.  That's still a thing, right?  The Road to Nationals?
Because they haven't mentioned it even once this season, unless it's still too early to start that mantra.  Maybe they're saving it for Season 6B.  That could be it.
Which if fine, because honestly, the main topic of conversation for the next 3 weeks is all going to center around the Zieglers leaving the show, anyway.
Because they're leaving the show, you know.  All of them.
Maddie, Mackenzie and Melissa.
In 3 weeks.
Gone.
Official Ziegler Countdown Clock: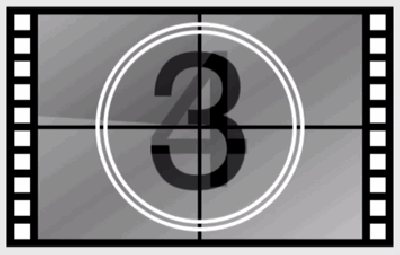 Official Ziegler Countdown Drinking Game: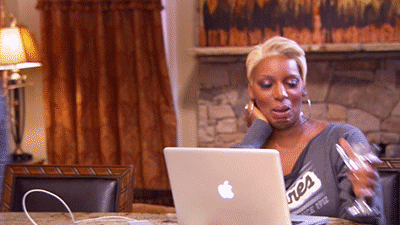 You know what to do by now.
Once everyone made it inside the building, Abby banged out the Pyramid in record time.
Bottom Row:  JoJo, Brynn, Mackenzie and Nia.
Middle Row:  Kendall, Kalani and Maddie.
Top Row:  JoJo again.  Wait.  What?
I think I forgot to mention that when JoJo noted she had been in the basement almost every week this season, Abby snatched her head shot off the mirror and moved it up to the top, no questions asked.  Who knew it was that easy all this time?
Jessalynn made this face…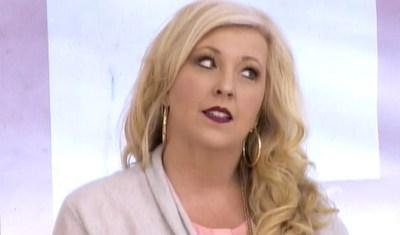 …and noted that Abby was probably just sucking up to both of them since JoJo was most likely next in line for the coveted MaddieSpot in…count 'em…3 weeks.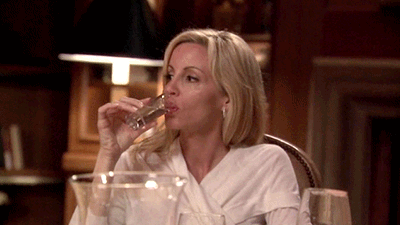 Personally, I think she did it to give Ashlee an aneurism on national television.  Look at her chewing her own lips off so she doesn't go to prison for manslaughter.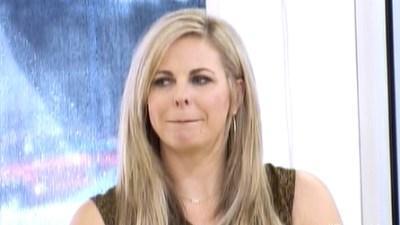 Side note:  I don't even have enough animated drinking gifs on my hard drive to make it through this episode, so you're gonna have to do most of the Ziegler Game on your own.
This week, the gang was headed to Sacramento, CA for another Xpressions Dance Competition.  Everyone seemed pretty excited, because they all clapped.
Fun Fact:  Adrienne Maloof and her overly exasperated husband Paul Nassif from the Real Housewives of Beverly Hills once owned the Sacramento Kings, but now they're divorced and sitting on $535M they pocketed from selling the team.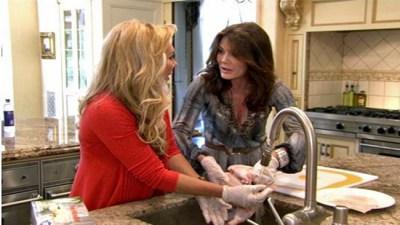 He's a plastic surgeon and she once washed a raw chicken in the sink with actual soap because that's what stupid rich people do when their personal chef has the day off.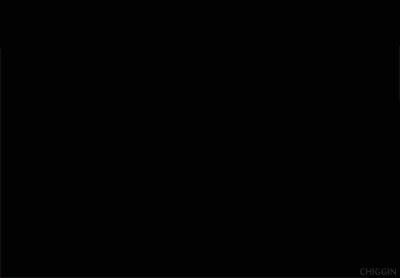 Initially, JoJo and Brynn were handed the only two hip hop solos, while Mackenzie got saddled (…pun absolutely intended…) with yet another
'Hoe Down Showdown'
tumble jumble mess…because Lord knows you can never have enough back bendin', hand stand-in', pig tailin' cowgirl dances in 6 seasons, right?
Full disclosure:  I couldn't find the exact cowgirl clip that I had in mind and was wasting too much time Googling it, so here's Mackenzie patting a bunch of BeDazzled lemons hot glued to her head.  Please do enjoy.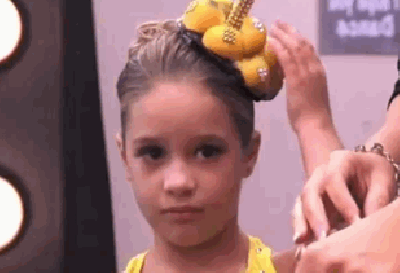 With only 3 weeks left at the ALDC LA, you know MackZ wasn't having any of that cowgirl nonsense.  No, ma'am.  Not having it.
She really wanted to do hip hop.  And all the Moms really wanted her to do hip hop.  And Abby was outnumbered.  And this probably wasn't going to end well at a all.
Sure enough, Abby popped a nutty.
She told the girls to do whatever they wanted and then took off into her office, screaming something about the group routine's 'Broken Dreams' title before slamming the door so hard that half of the scotch tape let go on whatever all that schedule-looking clutter was she had plastered all over the wood.
You see all that?  Buy a bulletin board, maybe.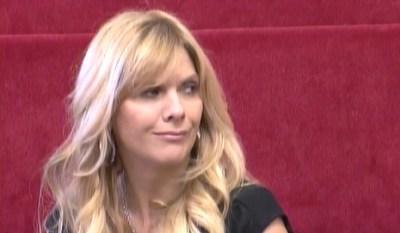 With only 3 weeks left at the ALDC LA, you know Melissa wasn't having any of this, either.
No, ma'am.  If Mackenzie wanted to do hip hop, then she should do hip hop.
And she was going to make that point clear to Abby by busting into the office and confronting her prey face to face.  Just like that lady who climbed into the Toronto Zoo tiger's den this week because her sun bonnet blew over the fence.
What could possibly go wrong?
I dunno.  This maybe.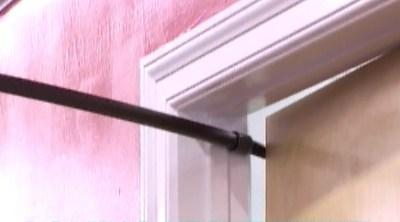 Ouch.  Abby refused to talk to Melissa and tried slamming the door on the microphone guy while his boom stick thingamajig was still inside the office.
One of these things.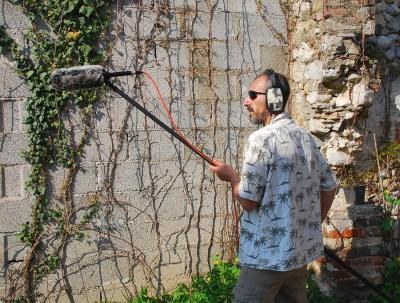 Except that when he finally managed to pull it out of the door frame, the fuzzy part was completely missing.  Like she had chewed it off or something.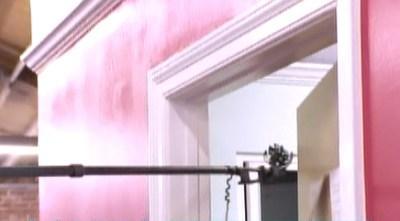 Meat on a stick.
Side note 1:  What exactly happened in there?
Side note 2:  Why do Sound Guys always wear crazy camp shirts?
The next day, Abby was still locked inside the office as Rumer Noel, Guy Amir and some new person named Olga showed up to help choreograph all the routines.
I didn't even know they made short-sleeved hoodies.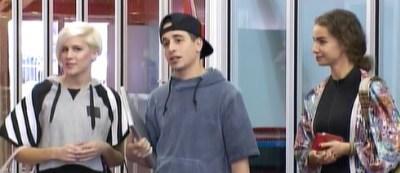 I love Guy.
He has mad moves and a backwards BBoy cap, so you know he's the #RealDeal.
Rumer is a crazy good hip hopper, too, even though I swear they spelled her name 'Rumor' last time.  But that could just be me not paying attention.
Wouldn't be the first time.  Or the last.  This is only Episode #16.
And that new girl Olga seemed nice enough, too, even though she was dressed in a total Debbie Allen knock-off and disappeared as soon as Abby started freaking out again.  Anyone else notice that?  Where'd she even go that fast?
I swear.  Dancers are so light on their feet when they're under duress.
So, yeah.  Abby wouldn't come out of the office again.
Not even when Mystery Producer Man tried to coax her out of the cave with subtitles by reminding her she had previously stated it was ok for all the kids to do hip hop if that's what they wanted.
Remember yesterday, woman?
Wait for it.
Boom.
Next thing you know, Abby stuck her head out the office window all like…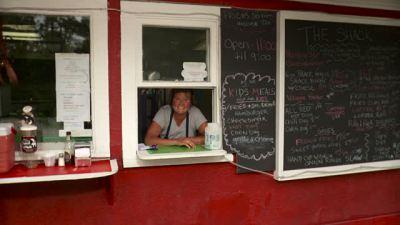 …except that is was more like…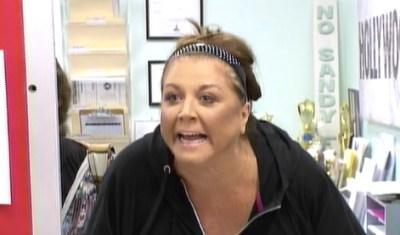 …and probably closer to '"Wazowski, you didn't file your paperwork last night"…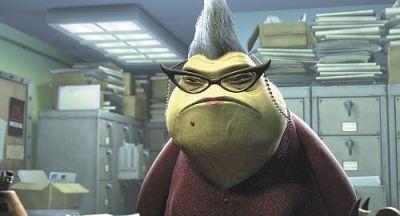 …and started screaming at Mystery Producer Man and anyone else who would listen about how stupid everyone was until she slammed the rolling window shutter down like you do when the Snack Bar runs out of ice cream and it's time to hit the beach.
Which is exactly what Abby did.  Really.
She took off to the beach right in the middle of all the dramzzzz.  Cheers, suckahs.
Side note:  Why are these flowers still in plastic if they're in a vase?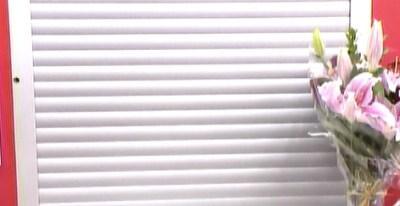 Before Abby could even squeal out of the parking lot, tho, the Moms tried to lay down behind the car to stop her from leaving.
Fail.
She was outta there.
But she did manage to call Holly on her cell from around the corner, since we all know that everyone except me has Holly in their speed dial.
Short version:  Abby was losing it.  And, clearly, she wasn't having any of this today.
And speaking of not having any of this right now.
Look at Gianna trying to focus while that lady is screaming 6 inches from her head.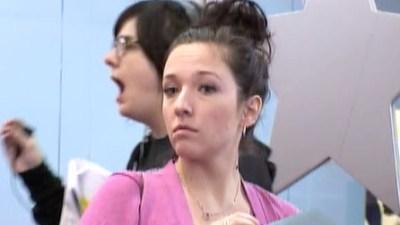 Her headset isn't even covering both ears.  Why is she yelling?
If you can hear us…we can hear you, honey.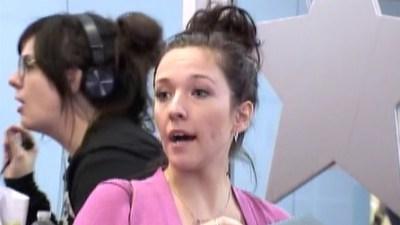 I love how they don't even try to hide camera people anymore.  #Chaos.
While Abby was off somewhere lubing up with spf 75, the rest of the crew was trying their best to prep for the upcoming competition.  It was all hands on deck.
Rumer and Guy were running the hip hop solos while Ashlee and my MomCrush Jill momentarily slid back into their old ways when Ashlee accused the other Moms of not supporting Abby in all her legal issues.
Memo to Ashlee:  Probably not something you want to say to a bunch of Moms who left their husbands and/or assorted children and pets back home to try and keep this big ol' ALDC LA boat afloat, thank you.
Jill wasn't having it.  And neither was Kendall.
I forget when she made these faces, but it pretty much sums up the week.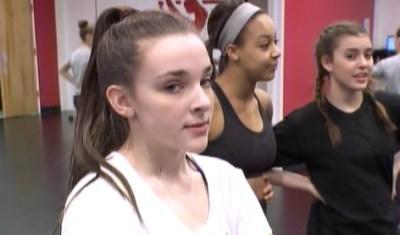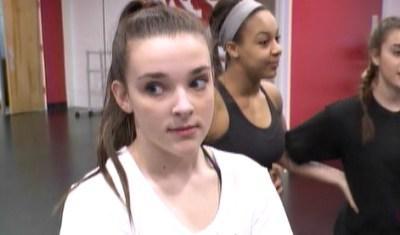 And then it was MackZ's turn to lose it.
She was having a hard time with her hip hop choreography and despite the fact that Guy thought her shoes were really cool, she melted down and ran into yet another one of those bathroom/office situations that seem to be sprinkled all over the studio.  I swear that place has more hidden passageways and secret rooms than a haunted mansion.
Speaking of.  Here's a scene from Dark Shadows where you can actually see the shadow from one of those microphone sticks that Abby shut in the door frame.
See how it all came together?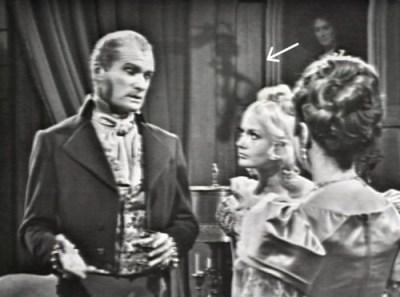 The Circle of Life.
Luckily, it was Holly to the rescue, even though I believe Melissa is the one listed as 'Mother' on the birth certificate.  Not sure how they crossed wires at that moment, but somehow Holly ended up going behind closed doors to check on Mackenzie while Melissa counted backwards from 3, if you know what I mean.
I love how Holly is always the Calming Force.
I also love how she kinda looks like Jordan Sparks with this hair.  Am I right?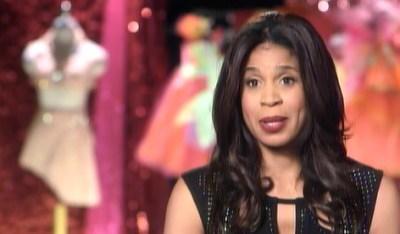 With one day to go, Abby decided to show up again, wearing her soda can hair rollers and carrying one of those
Coke Adds Life
paper cups that always crumple when you try and put the lid on them with one hand.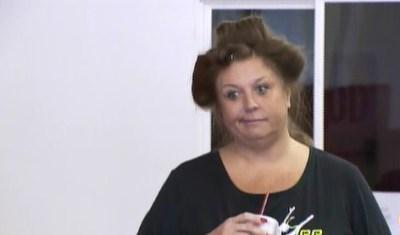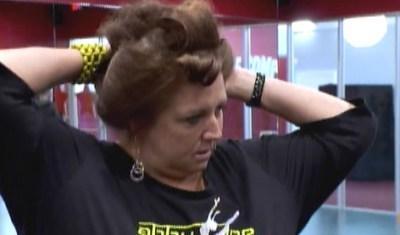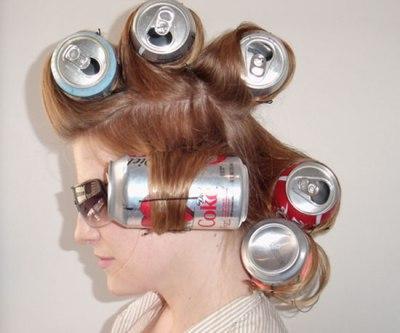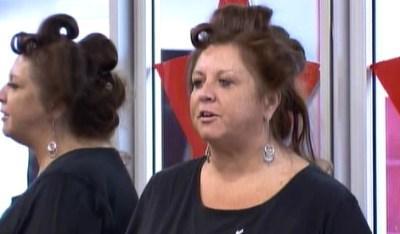 Coming or going, Cosmo says they give you luscious, beachy
Kardashian
waves.
Unfortunately, Abby didn't even have time for a comb-out before she left the studio again.
What the what is her dealio this week?
Finally, it was Showtime!
Backstage, Ashlee didn't want Brynn going onstage looking like a prison inmate, so she somehow made a gigantic hair bow materialize out of thin air and safety pinned it to her kid's beanie.  Like this…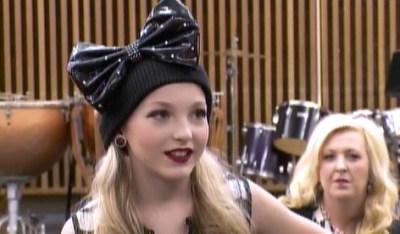 Which reminded Jessalynn of this, without the foot smelling part…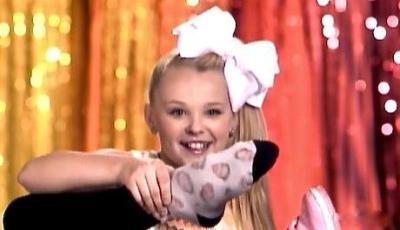 …and resulted in 27 minutes of
'Why You Dressing Up Yo Kid Like My Kid?'
 hilarity.
Oh.  And Swaggy Lee Miller showed up.  Did I forget that part?
Yo.  Sup?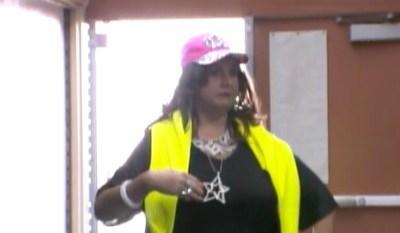 Looking like a cross between those ladies who are always in the live audience for
QVC
's
In The Kitchen With David
and the DOT guy who waves the flag so you don't fall into open man holes while they're paving your school's parking lot, Abby busted down the back door all blinged-out like 
Rihanna
's drunk aunt screaming 
Moms Better Have My Money
 on Karaoke Night.  Cuz they bettah.
I just can't anymore.  And neither could Jill.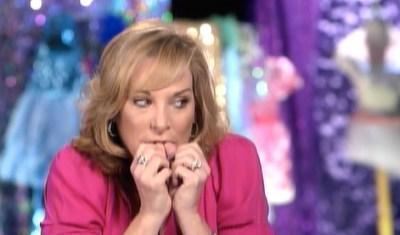 Or MackZ.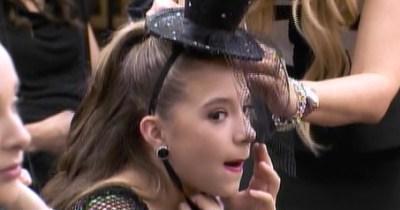 Or Holly.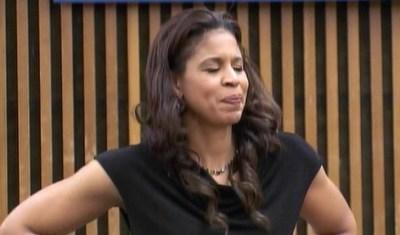 Or Elmo.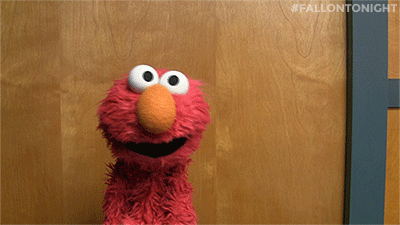 And maybe one more Holly.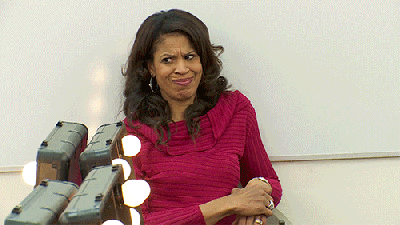 After Swaggy checked her Sidekick and Gia discreetly updated her resume…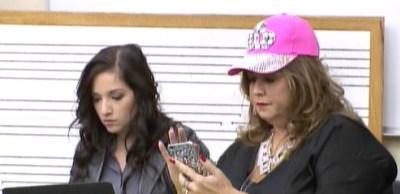 …the soloists hit the floor.
JoJo took a page out of my #BucketList and boxed in glitter gloves and painted on abs.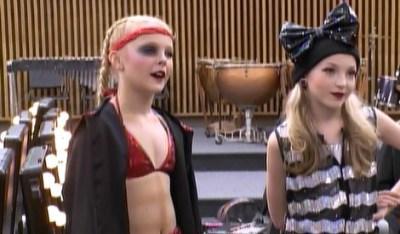 Brynn (…allegedly…) swiped JoJo's headgear, jumpsuit and moves.
Depends who you ask.  But she did great, regardless.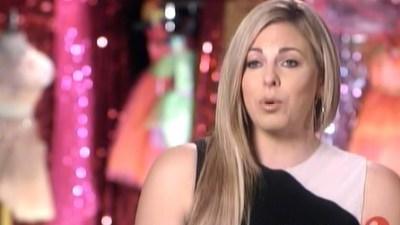 MackZ pounded out what may, or may not, have been her last solo with the ALDC.
And Abby wore these things.  On purpose.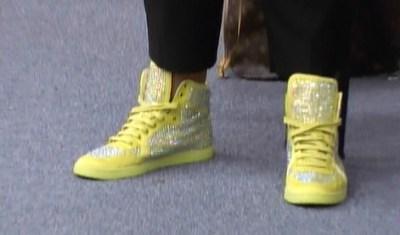 After another one of those seemingly endless Dance Moms Guides To Everything On The Planet (…this time it was FanGirlling and then another one where they talked really fast about BFFs vs. Just Plain Fs…) it was time for the group routine.
After Jessalynn blurted out that it looked like JoJo danced twice, I mean, because…you know…the whole #BowGate thing that had erupted earlier.
Yikes.
Ashlee got up and moved her seat closer to Abby, forgetting to save those tears for her pillow as she got all emotional when asked what was going on between the two of them.
And then it was finally the group number.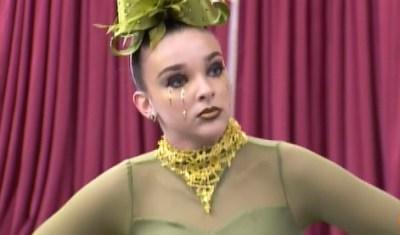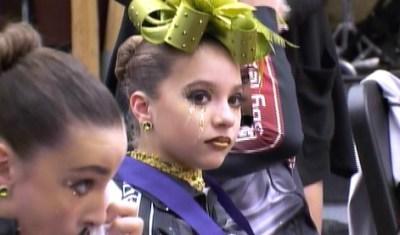 Costumes were cool, right?
And the choreography was pretty elaborate.  Which explains why they won First Place!
As for the rest of the results, JoJo only took Fifth Place for her Rocky number, while Brynn beat her by one and came in Fourth Place.  Which meant that now it was Jessalynn's turn to not be having it this week.
Are you freaking kidding me?  I don't think so.
And MackZ took home First Place for her Tiny Hat Dance.  You, go!!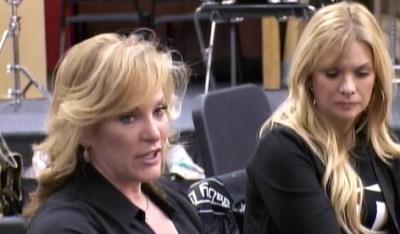 Backstage is where it all fell apart again.
Jessalynn and Ashlee went another 17 rounds about who invented the Big Bow and for some reason, somebody felt it deserved a flashback even though we had just witnessed the scene right before the last commercial.
Look familiar?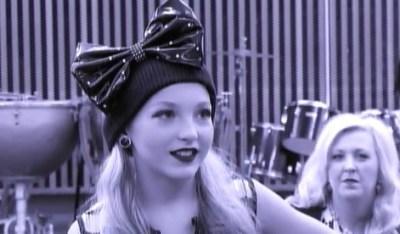 It got a little ugly with the word 'Hypocritical' thrown around a few times.
And then Jessalynn pushed it over the edge by saying something about how if she wanted to dress her kid up like Brynn she would just put her in some boring leotard and a tight bun and stick her right foot up in the air…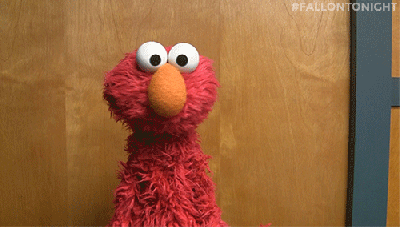 …and wave it 'round like you just don't care.
Well, Holly added that part.  Like the song.
You know.  Where you put your hands up in the air and wave them around like…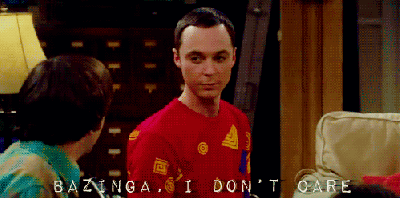 I'm pretty sure she was just trying to lighten the mood and get everyone to finish off the day with a good old fashioned Dance Mama rap, but when she started dropping beats and spitting eight-bars, Ashlee wasn't having it.
Which probably explains why she tore outta there screaming how much she hated Jessalynn while the rest of the Moms started swaying back and forth holding imaginary Bic lighters and getting krunk wid it.
Dance Moms getting krunk.  It was so buck you had to see it to believe it.
And I got nothing after that.
Drop it like it's hot, yo.
Muah.