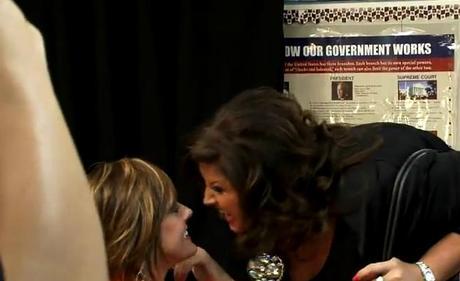 You mind backing that thing up a little? All I smell are Altoids and fried Spam.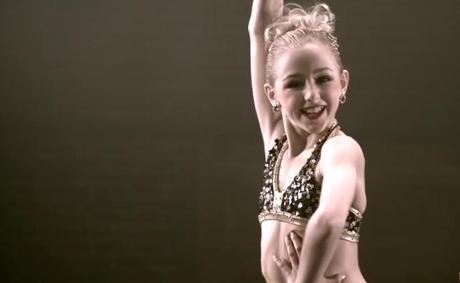 I'm back everyone! I'm spunkier, more confident and 100% Beef Jerky Free!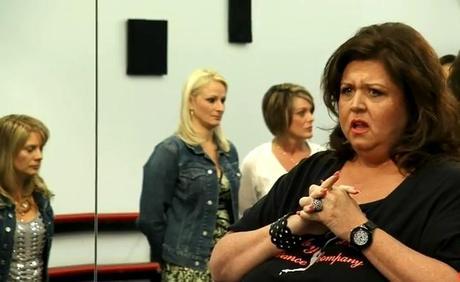 Oh. Hell. No. That skinny thing ain't Maddie. Nope…that ain't happening.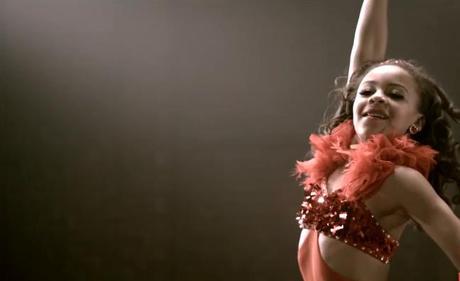 Dat's rite. New weave. Same fierce attitude. Sasha Nia is back, bitches.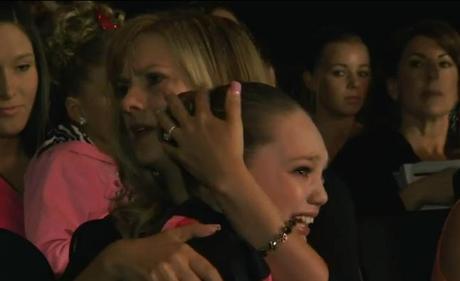 It was horrible. I had a scary dream there was a show called Dance Moms: Miami. Just hold me.
It was kind of like when Dorothy woke up and she was back in Kansas…all disoriented and not sure what the F*** just happened.
Did I go to a place where everything was kinda sorta the same, but different, or did I just dream the whole thing?  I remember lots of bright colors and something that I thought was a Pyramid of Shame.  But it was different.
I checked my head for any bumps, and everything seemed pretty normal.  I could swear I had just been in Oz…or maybe Miami…but when I opened my eyes I was back in Pittsburgh.
Pittsburgh.  Less Fierceness and FreezeIt hair gel.  More screaming and…well…more screaming.
That's right, people.  Dance Moms has returned.
Abby Lee Miller is back to crush the competition…and the self esteem of any young girl who gets in her way.
After a mid-season break so we could all journey to beautiful, sunny Florida to see how the Boyz do it (…sing along if you'd like…) Down in Miami, it was time to get back to business in beautiful, middle of nowhere Pittsburgh.
We picked up pretty much where we had left everyone a few months ago, fresh off a less than stellar showing in Joisey.  The Abby Lee Dance Company had just brought home the trophy for a whopping 10th place showing in New Jersey, which I think was pretty much one of those tiny plastic cups they give you in Junior High when you win Best Chorus Singer or something.
In case you were packing for Miami when it happened, let's just say that Abby was not happy after that award ceremony.  And to pour salt, or Candy Apple syrup, in the open wound…9th place had gone to Chaos Cathy Nesbitt and her dancers.
Yeah.  Them.  The ones from Candy Apples Dance Center.  Sworn arch enemies of the ALDC.
It was right about then that Abby had her first broadcasted breakdown.  I would bet good money that nobody…including Cathy's own whipped Jerky King husband…enjoys coming in under Cathy in anything.
"Nobody Jerks It Like Mike" as they say on TV.
Yup.  It sounded dirty, and I probably meant it to be dirty.  But you'll never know, because this is a family smack talking kind of site.
Anyway.  Abby had ditched everyone in New Jersey after a blubbering, rambling tearful fit.  Something about her reputation being ruined and blah to the blah…and then she took all her toys and went home.
The last few glimpses of Abby that we had seen before the break were big, rubbery back bumpers.  Her own,  as she wiggled it at Holly in defiance, and then the one attached to the cab that drove her off into the sunset.
But that was then.  This is now.
We started out with all the Moms and their dancing kids standing around the studio waiting for Abby to show up.  Nobody had seen or heard from her since the Jersey departure, and they weren't sure what was going to happen this week.
Somebody had obviously gotten there before they arrived, because the Pyramid of Shame was already taped to the mirrors.  Der.
So I had a pretty good feeling that Abby was going to show up at some point.  How they all missed the 6 big pieces of paper stuck on the mirror is beyond me, but they were all running in circles thinking that they'd never see Abby again and they wouldn't be able to get a refund on their Discover card.
Thirty minutes later, Abby decided to show up and start the Big Reveal.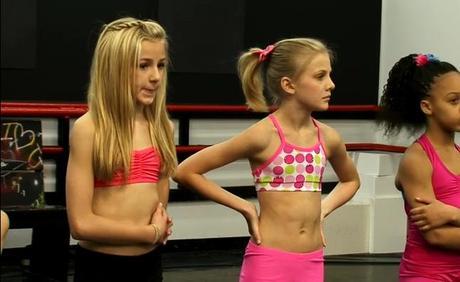 Abby's not big on salad bars, apologies or explanations, so the whole New Jersey thing was kind of brushed over with just a few "you guys sucked last weeks" and one or two disgusted facial twitches.
But the Moms weren't going to let her off so easy this time around.  Before Abby could even get to the Pyramid, they immediately started in with the weekly Maddie Favoritism Speech, which I believe has now been televised more than the I Have A Dream Speech.
In New Jersey, Golden Child Maddie had forgotten her dance almost as soon as she stepped on stage.  Abby had been working her to the bone this season, and the combination of exhaustion and stale Jersey air probably led to her mental blackout.
I mean, look at what a NutWad that Housewife Teresa Giudice is.  Granted, her husband Joe is a Tool, but you tell me there's not something about that state that just ain't right.
Not that I'm an authority, but I'm pretty certain that at some point in their career every dancer spaces out a little.  But only Maddie had reduced Abby to tears.  Let's just say that reaction hadn't gone over too well.
It should also be noted that during Spring Break, Abby apparently took the time to take the bus over to Chico's and pick up some new chunky jewelry.  That eyesore of a pink lip necklace must have been thankfully retired, because Abby was now loaded down in every scene with new simulated gemstones and knock-off versions of stuff like Joan Rivers wears on Fashion Police.
Abby also got herself a whacky new hairdo that she only wore in those Liberace closet confessionals.  It was like you took  a 1960′s Priscilla Presley bouffant and merged it with some Grand Ole Opry Marty Stewart hair and then stuck a Beyoncé fan in front of the whole thing going full speed.
Check it out.  If I'm lyin' I'm dyin'.
This week they were heading to Nexstar National Talent Competition in Los Angeles.  Nobody knew much about it.  The only thing I know about it is that they pretty much ripped off the Star Trek logo and yet somehow got away without paying any court fees.
But nobody is going to the West Coast if they don't get through the Pyramid of Shame.
The bottom spots were held down by Paige, Nia and Brooke.
Paige had kicked around a jailhouse prop on stage and got spanked for it.  Brooke didn't show up at the Joffrey Ballet auditions wearing pointe shoes.  Nia, who also got her hair did over Spring Break and was getting all Diva with her new braided weave, had tugged at her leotard too many times in rehearsal which stuck her on the bottom.
I guess in AbbyLand, it's better to have your pre-teen cookies actually pop out of your tube top if you want to climb the Pyramid.  Modesty doesn't count for much anymore these days.
In the middle was Maddie, who should have been at the bottom, but there wasn't room.
Plus, she's Maddie.
My favorite little Mackenzie was also in the middle, just cuz.
Right then was when Real Time and TV Time got me all flustered.  Even though the show had been gone for a couple of months, I kept forgetting that in TV Time it was only the following Monday after the weekend show.  That would probably explain why I couldn't believe that Mack still had no teeth.
Then I realized that it had only really been two days, and I'm pretty sure that front teeth don't come in that quickly from what I remember.  But I love Mack, and the way she can stick her tongue through every other tooth hole.
Chloe was on top and was going to score the trifecta of dance:  Solo.  Trio.  Group.
As all the kids got their rehearsal groove on, the Moms headed to the Mom Perch to toss some mud around.  Turned out that in New Jersey, Abby had told Melissa she would be leaving early.  Melissa even got her that rubber bumper getaway car.
The thing was, though, that Abby had lied and said she was leaving because her Mother was dying or had fallen and couldn't get up or some other nonsense, and Melissa fell for it like a suckah.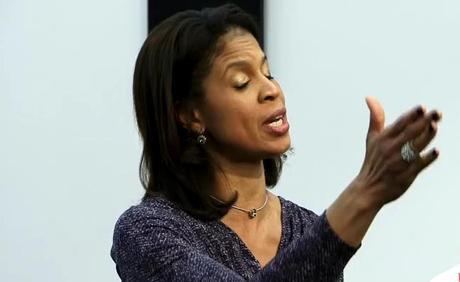 So Abby basically lied to the only Mom who, for the most part, is on her side.  The truth is out.  Abby is a liar.  A big fat liar.
Kelly liked saying that.  Over and over, with emphasis on the "fat" part.  No love there.
As a tease, we got one little blip of Chaos Cathy and her League of Evil Mall Shoppers over in Ohio.  There is no such thing as too much Cathy, even as she tries to grow out that asymmetrical raccoon hair, so I was sad that it was just a quick drive by to watch them celebrate the wobbly return of Taylor, who had doinked her ankle earlier in the season.  (Most likely from always having to hoist spastic Vivi-Anne up over her head in every number.  Am I right?)
Seriously.  Your Mom is a freakin' choreographer.  When are you going to actually learn how to dance?
And psst…you have lipstick on your teeth, honey.
Back in PA, the Moms continued to bully Melissa into confronting Abby.  They even marched her down to the front desk but failed at stirring up any drama.  The desk was still a hot mess of receipts and cardboard pantyhose inserts.  Bookkeeping doesn't seem to be Abby's forte.
It was hard to tell, but you can be sure that one of those receipts was probably for all the new wallpaper borders that Abby had put up around the studio.  Everywhere you looked, it was miles of ballet toes and jazz shoes on those pastel borders you always find in the Home Depot bins with last year's animated movie characters.
Make that Bookkeeping and Home Decor.
Since it was all about the Chloe Show this week, Maddie had plenty of time to sulk and question her own confidence.  Luckily Maddie had Abby to make certain that nobody forgot who was really the best dancer, even if it meant pushing Chloe and Mom Christi to the point of a nervous breakdown.
Abby had Maddie show the Brooke, Paige, Chloe Trio how to do their moves.  Abby had Maddie assist in critiquing Chloe's solo.  Abby had Maddie count out Chloe's moves.
I'm pretty sure that I even saw Abby send Maddie outside to cut the gas line on Christi's car right before a commercial, but I could be mistaken.
During the whole Pyramid presentation Abby had mentioned how Maddie was originally going to be doing a solo but that it was cut until she got her act together.  But then suddenly it was still listed in the program and Abby wanted her to be ready to dance.  Maddie didn't want to because she was suffering from insecurity and the sniffles, which we all know is the deadliest of combinations for a tween dancer.
Since this was the first week back for the show, the drama was just heating up.  Nothing major went down, just a lot of Christi eye rolling and Kelly trucker swearing.
At the competition, Mack wore a shrinky dink version of a lace body suit I swear Jennifer Lopez already wore somewhere.
Bitch stole my look.  MmmHmm.
Poor little thing took a face plant on stage when she slipped on her mini JLo sleeve, and tiny Mack has way less booty to soften the landing.  She cried and never really finished her dance.
They announced Maddie's solo even though she had made the decision to not dance.  That caused some nervous pee and another Maddie melt down.
Now that you mention it, the girl cries a lot lately.
The group number was a stewardess, Jackie O pill box hat looking thing.  Chloe's number was good.  Again, I swear she got taller.
Nobody did very well during awards, which Abby was quick to point out later on in the Green Room.  That discussion immediately erupted into another Kelly vs. Abby chick fight over stale choreography and Plus Size fashions.
I'm starting to think that before each competition they choose which Mom will be the Designated Kid Scooter Outer, because as soon as somebody starts going to battle with Abby, a random Mom scoots the kids out the front door like they're late for the school bus.
Either that or there was a fire alarm going off in the hallway that I didn't hear, because they were outta there so fast it almost caused a drop in cabin pressure.
Yup.  Abby and the gang are back, alright.  And it looks like they're ready to rumble.
And just in time, because my Miami sunburn was starting to peel.
Bring it on, Pittsburgh.