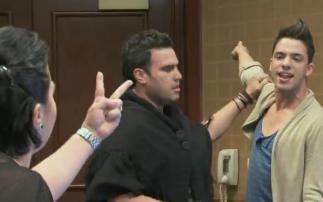 I got two words for you. Stupid. Hair. Yeah…I went there.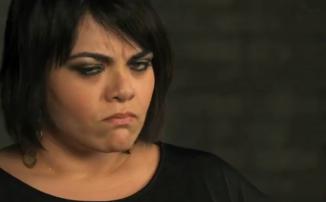 Mia? Whatchoo talkin' 'bout, Willis?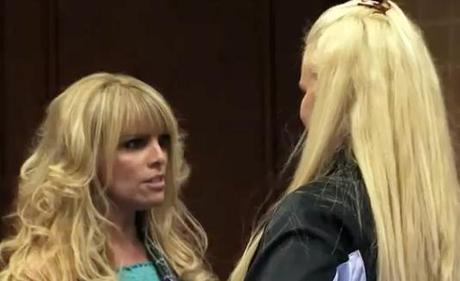 You do not want me to get all Miami Gotti on your a**, blondie.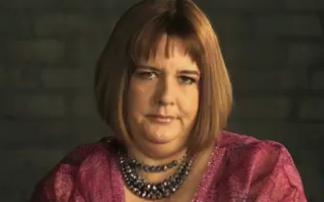 They said never cut your own bangs. But did I listen? No.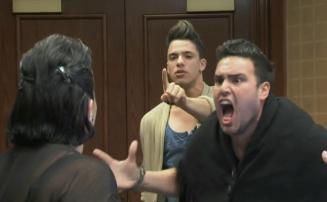 You only get one chance to throw the cookie in his mouth. One chance.
Careful what you wish for.
It took 7 and a half episodes…but we finally got the kind of meltdown that would make even  Abby Lee Miller proud.
That's right.  Dance Moms: Miami finally lived up to its namesake Birth Mother with a veritable meltdown potpourri of screaming, yelling, tantrums, slamming doors, crying children and the kind of telenovela drama usually reserved for recipients of a Daytime Emmy.
And it was over the top.  Season Finale over the top.  Fiercely over the top, in a Season Finale kind of way, bitches.
I think you get my point.
After basically boxing up and bringing home every trophy possible from their most recent competition, Team Stars was back home in their military line up to get this week's work orders.  Even rockstar dancers need a splash of cold reality in their face to keep them grounded, so nothing ever starts without The List.
This time around all the Moms were present, which meant they were once again one chair short.
Seriously? Eight weeks later?  Can someone please get Angel a calculator when you pick up his Rosetta Stone DVDs?
I'll cut Angel some slack and give him the benefit of the doubt this time.  It is possible that the studio was recently robbed, and the burglars only had time to lift one Mom chair and a tube of Victor's FreezeItUp hair gel.
Did you see Ms. Smalley's 'do?  What was that all about?  All that finally sculpted Closer to Jesus hair had collapsed and was flopping all over the place.  Shameless, I tell you.
An insult to choreographers everywhere.
After dramatically brushing hair off his forehead like a dog that just won at Westminster, Victor got rite down 2 bidnezz.
Topless Lucas was at the top again.  He had taken 1st Place in his category and a stash of special awards last week,  so that got our little one legger prime seating on The List.
Lucas was psyched, and said it made him feel like "Hell on Wheels."  It also made him rip his shirt off like a 65 pound Incredible Hulk and do that Club MTV shoulder swagger thing he always does.
Cutting back on carbs paid off for Hannah, and she found herself in the second spot.
As we've already discussed, the Boys are not big on math, so they made it clear that Hannah was in second place because…duh…she got 2nd at the competition.  That made it easy to figure out, and Angel didn't risk getting his third ice cream headache of the day.
Sammy nailed her solo last time, and really improved on her artistry.  Victor flashed his Addam's Family manicure and confirmed that she was indeed stunning last week.  But she had to be in the third hole because the first two were already filled and he had used that kind of foam tape that really sticks to the mirror.
So like any good girl, Sammy stopped at third base.
Slurpy Kimmy was next to the bottom in fourth place.  Luckily a couple of jiggly mess ups in the group number won't adversely effect her Mensa score, so it will still all work out in the end.
But Kimmy and Mom Ani tend to put the O in OCD, so they immediately made plans to use this as a lesson in humility that they would both discuss in depth tomorrow at 4am while Kimmy downs her 3rd cup of Joe and completes the footnotes on her Molecular  Dynamics thesis.
I love Kimmy.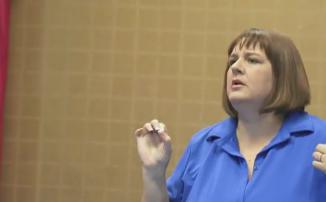 Speaking of hot coffee…Susan's pot was just about to boil over when Jessi landed at the bottom again.  Jessi had touched the floor during her off balance extension, which is not cool.  You either cover up your wobble like a pro, or crack your head open and learn from your mistakes, missy.
Susan was destined to set off the building sprinklers today, you could just tell.  Someone was overheating her engine block, and it was only a matter of time.
Based on The List, Lucas and Kimmy were dueting again, while Sammy and Hannah were doing solos.
Jessi?  Well, thank for playing.  If you leave now you won't miss the bus.  According to my finely honed psychic powers, this just ain't gonna be her week.
But this is the week for Tulsa, Oklahoma…and the iHollywood Dance Competition.  Yippee I Ay, I guess.
When I saw it spelled like that, with the little "i" and the big "H" I got all excited thinking that Apple had their own dance competition where everyone wins iPads or iPhones or iPods, but no such luck.  Turned out it was just another normal competition with frames and trophies.  Wah.  Wah.
But this week there was a surprise! A surprise for all!  Drumroll, please.
In came Star's 10 year old Elite Dancer Extraordinaire Mia Diaz!
Insert the patented Dance Moms HyperSpaz here: ________________!
The kids went completely Nutella and got their group hugs on while the Moms all ground their back teeth into chalk dust.
If you follow the activities of young children anywhere outside of the NBC Dateline Internet Chat Rooms, then you know that Mia is a big dealio in the dance world.  She brings with her years of experience, years of trophies and years of being a mini-celebrity in the competition industry.
She also brings with her a mother who I swear is Victoria Gotti from Celebrity Apprentice.  Or at the very least, her DNA cloned Miami replica.
Even if she's not previously married to the mob, she will cut you.
It was clear the second that Susan unleashed her laser beam stare and Brigette swallowed her gum that there was no love in the room for Leo as she hustled in behind her daughter.  You would think she was an iHollywood handler making sure her SuperStar client got to speak with Ryan Seacrest on the Red Carpet they way she shoved Mia into the crowd.
It was that kind of entrance.
As all the Moms were herded into their cage, the kids got to rehearsing.  Leo sized each Mom up and down like she had an infrared x-ray spy scanner implanted in her skull while Ani teared up.
Since Kimmy and Ani are the only two people in the studio who can do math in their head, they had both already figured out that one of the kids was probably going to get cut now that Mia had arrived.
Ani left the room to commiserate with crazy Mayra, who was rocking some seriously new hair from the Jaclyn Smith Wig Collection.  And who says you can't get a good curl with synthetics?
Leaving Stars Dance Studio for a few minutes, we got a chance to meet Brigette's family for the first time and spy on her her home life, which was not pretty.
Lucas's brothers, Lex and Logan, not only have two of the coolest comic book names evah but completely support their dancing sibling, as long as it doesn't conflict with Dad's football plans.  Brigette's husband, or at least the top of his head that was buried in the Sports Section of some Miami rag, wasn't really feeling the whole dance thing and it's taking a toll on their marriage.
You could have turned off your television right here and been able to figure out how that is all going to work out in the end.  Sad.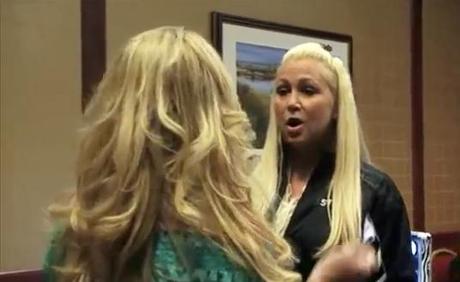 As the competition grew closer, everyone was pretty much a hot mess in rehearsals.  Having Mia breathing down their necks was taking a toll on their focus, and Victor was not happy.
He was definitely happy that he had found his missing gel and gotten his hair mojo back, but the kids were another story.
To get the party started, he gave Mia a solo on the spot and sent Mayra into the cage to let Gotti know she needed to pay for the spot in competition.  Debi and Abby were not going to stand for that, and stormed out to have a meeting with whoever they could snag in the lobby.
I love when Moms storm out and take their purses with them.  After all these years of dance they still think that the other Moms are going to go through their stuff and steal chapstick or something.  I get great joy out of those moments for some reason.
To rub more salt in the wound, the duet was now a trio as Mia moved in on that turf as well.  Lucas loves his ladies, so he wasn't too upset, but Kimmy gets some janky nerves when she's put up against another dancer.  Victor made note of that fact that Kimmy has trouble with anything Fierce, and then spent the rest of the episode fully demonstrating his own skills.
Snap.  Pivot.  Work It.  Own It.  Learn from the Master, bitch.
Hannah's solo rehearsals were about the only thing going well.  She managed to represent for the Big Girls again, and had amazing focus considering the uncomfortable manner in which Angel kept grabbing the front of his plaid Gap shorts.  Take it outside, dude.
The pressures of Dance 24/7 were starting to wear on the Moms as well.  Abby had taken to sleeping with one eye open since she had known Gotti for some time.  Debi had a tearful one on one with Hannah while Brigette finally cracked over her impending divorce to the Sports Section Guy.  Susan clinked and rattled to the point where you knew it would only be a matter of time before those pipes burst and everyone got scalded while Ani worried about…well…pretty much everything.  O to the C to the D.
Finally it was iShow time.
This competition must be a bigger deal than some of the others, because they had invested in an actual backdrop instead of rolling hotel tarp.  Keeping with the Hollywood theme, there was a gigantic Old Time movie projector graphic in the middle of the Dance Dance Xbox 360 artwork, but all I could think of was the Muppet Beaker and his beady bug eyes.  Rewind and check it out when they were giving out awards.  It was like Beaker had fallen into a vat of nuclear goo and gotten really, really big and now he was watching all of us over the MC's shoulders.
The group number was all about Celebrity (…better known as Let's All Dance Around Mia!…) and didn't turn out so well.  Jessi fell out of her turn and Lucas had no shirt on again.
Blah.  Blah.  The dancing isn't really important.  It's the After Party where it got good.
Backstage, the whole Mia thing was out of control.  I missed who scooted all the kids out of the room, but luckily they were in the Safe Room when it all went down.  Brigette and Leo got all up in each other's grill, chest to chest screaming about who is jealous of who.  (Whom?  I never get that right.)
When Gotti turned away with one of those Jersey Talk to the Hand flips, Brigette grabbed it like a dog grabbing a bone which snapped Angel into action.  Somehow he swooped down at her, almost knocking her to the ground like a crazy homeless woman.
In eight episodes, I can honestly say that was the fastest I have ever seen the guy move.  That knit poncho/cape button-up contraption he was wearing made Angel pretty aerodynamic.
Nobody lays a hand on nobody, though, and Victor kicked Brigette out of the room…and potentially out of Stars.
Just like any good DayCare, when one baby cries they all cry.  Susan started in on the Boys about favoritism and Mia and Leo being a bitch and the next thing you knew, she was kicked out of the room by Angel who momentarily morphed into some bats*** crazy gay Phantom of the Opera.  I don't know how else to describe it.
Victor was picking them off like ducks at the State Fair.  Who's Next?  Who's Next?
There was so much fierce drama that I expected RuPaul to burst through the door and tell them all to just shut the f*** up and sashay away.
Susan walked a sobbing Jessi out of the building, vowing that she was done with Stars.
Brigette hugged a sobbing Lucas as he begged her to not tear him from his Stars family.  (Now is probably not the time to mention that you're leaving Daddy.  Just saying.)
Everyone was clutching their pearls and fanning themselves like a hot July in Miami, child.
It was like the season finale of Dance Moms: Oprah.
You get to cry!  You get to cry!  You all get to cry!
No doubt about it.  Abby Lee Miller would be proud.