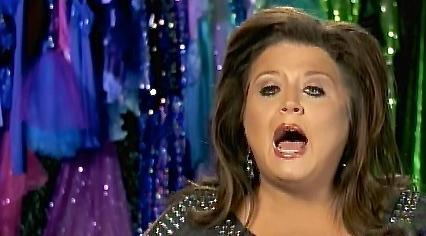 Then I told Leslie to save those tears for her pillow and to return that Walmart dress. Girl, please.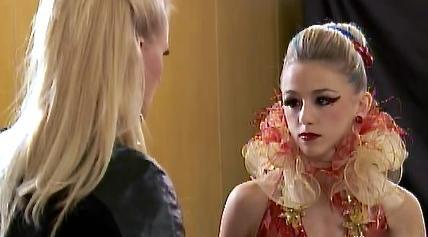 Shake the nerves or I'm taking your pink iPhone and you'll be waiting overnight in a tent at the Apple Store for a new one.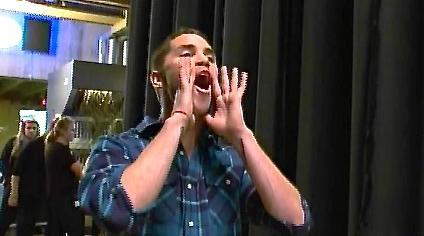 Yo! Frazier! Over here! Lovin' the new weave! Woot Woot! You werk it, Gurrrl!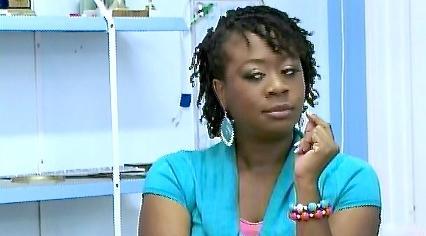 MmmMmm. Dang, that McGrath boy is a fine piece o' sweet candy. Mama Kaya's kinda liking all that.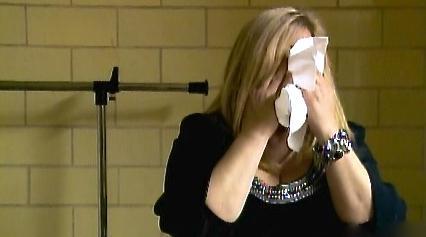 Honk.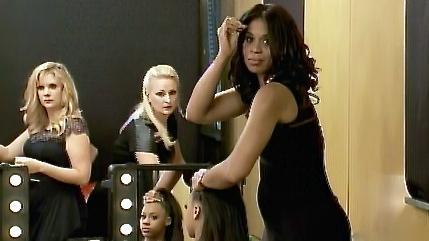 Ok, Baby. Tell me if they're still looking. I know those bitches be hatin' on my new Dr. Beyoncé look.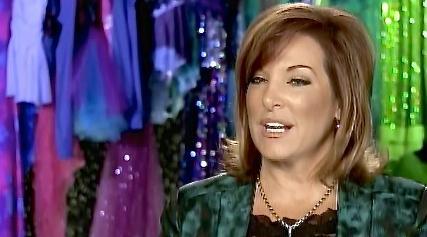 Yeah. I think I'm all set with hearing about this damn makeover. We get it. She bought hot rollers. Call CNN.
Game On.
Hope you packed your bags and your milking stools, kids.
Dance Moms is heading to Ohio this week…and you know what that means.
After a short summer break to soak their feet and tighten some orthodontics, the ALDC girls are finally back in business for another competition season and ready to do whatever it takes to retain their National Champion status.  Especially when they cross state lines into Candy Apples territory.
The tiny dancers may have lost some of their baby teeth during their time off, but they didn't lose their hunger to be Number One.  Even that awkward soap opera growth spurt that a few of them encountered between seasons (…I really thought that at least one of the girls was going to be played by a new, older actress like they do on General Hospital when the producers warp speed a kid through 12 birthdays during a commercial break…) wasn't going to stop them from their goal of Dance Supremacy.
Unfortunately, their first showing of the new season hadn't really been anything to write home about.  Last week's Third Place trophy wasn't sitting well with Abby Lee Miller as they all rolled into the studio for the second Pyramid of Shame.
Clearly, the kids were a little nervous.
And clearly, Abby was now making up for years and years of pre-Dance Moms anonymity by never leaving the house without a full coat of celebrity makeup and hairspray.
(Is it just me?  Remember Season One? Who was that woman with the flat hair and the plastic headband?  Save those tears…and that foundation…for your pillow, honey.)
This week everyone was headed back to Ohio for another face to face meeting with Chaos Cathy Nesbitt-Stein and her revolving door dance team.
As Abby once again messed with the girls heads by pointing out that any of the upcoming Open Auditions could potentially deliver replacements for the current team before their little bodies were even cold, we were treated to a few more Best Of Cathy flashbacks to bring us all up to speed.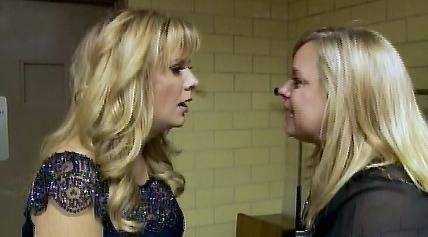 You know the ones.
The infamous Water Bottle/Purse Swing to the Head.  The unruly Mob in the Hall when Kaya From The Block pushed Jill From The 'Burb's nose so hard that Botox almost squirted out both ears.
Seriously.  How much do you love Jill when she goes all Grocery Store Gangsta?  Love.
But first…The Pyramid.  Always The Pyramid.
Bottom row this time around was filled with Payton, Brooke, Nia and Mackenzie.
Brooke had botched a few moves in the group routine last time, which Abby somehow managed to blame on the country music industry.  Nia had done a really good dance, but hadn't even placed during the awards ceremony.  That made me sad and also made me want to go on a rant about how lame the Sheer Talent backdrop was last week.
But I won't, because I'm sure that someone spent a lot of time and effort stretching a queen-sized bed sheet out on four clothespins and then lining up a film projector logo.
Diss my Nia?  I don't think so.
Payton had completely lost her noodle over a tight hair bow.  And despite Mackenzie's new "My Milkshake Brings All The Boys To The Teeter Totter" glamour shot, she proved that she was still a little girl on the inside by screwing around in the makeup room all day.
I also think that was her only scene this week, because I don't even remember her being in the rest of the show.  She must have gone home to do another youtube makeup video.
The mezzanine level was home to Paige, Kendall and Chloe, which was basically done in order to free up the top spot for Maddie.  Again.
Maddie is Numero Uno.  We get that part by now.  But who is Numero Dos?
Good question.  And one that could only be answered by giving both Chloe and Kendall 'Battle of  the Pop Stars' solos in Ohio.
Chloe would be Katy Perry.  Kendall would be Lady Gaga.  Really.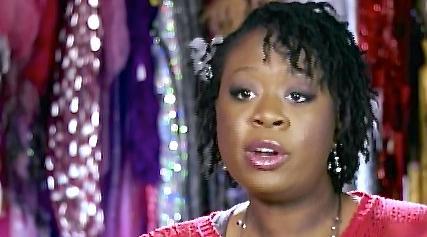 As we digested that one, the hilarity shifted to Ohio and the Evil Dance Lair, where we found the Candy Apple brigade all busting out the same sit ups they make felons do in prison exercise yards.  Cathy's prisoners just weren't visibly shackled, from what I could tell.  At least I don't think they were.
Bad a** choreographer Blake McGrath was back again, still getting it done with his bad a** neck tattoo and bad a** East Village t-shirt.  You can tell all the Moms get giggly around him when he dirty dances in his Diesel skinny jeans.
Except for maybe Kaya that is, who instead got all Good In Da 'Hood on Blake's bad a** as soon as he gave the week's solo to Lady Killer Lucas Triana instead of her daughter Nicaya.  OhHellNo.
In Kaya's defense, Cathy did dangle the dance in front of them both for a few seconds before yanking it back like a Twinkie on a string.  That was kinda mean.  And in hindsight, that's probably what made Kaya go off like one of those molotov cocktails you always see people throw through a Best Buy window during a city blackout when she accused Lucas' Mom Brigette of partying the lonely nights away with Blake.
Whaaa-?  Whoa.  Hello.  Gurrrl, I need the deets on that one.
Cuz I love Brigette and her smiley face and her smiley kids.  And she's always putting all these fluffy motivational blurbs on Twitter.  But did you see that Side Eye she gave Kaya?
Oh, snap.
I don't care how many times Brigette quotes Maya Angelou.  I bet Mama Triana could let 100% of the air out of both your front tires before the light even turns green and still make it to her first real estate showing on time.  She's from Miami, you know.
Back at the ALDC, rehearsals were in full swing as the Moms went a few rounds up in the MomPerch.
Turns out that Kendall had scored a 30 minute private with choreographer Gianna over the weekend and now…suddenly…the solo that Kendall was performing in Ohio was the same one that she had practiced on Sunday.
If we're being completely honest, I don't accomplish much of anything in 30 minutes, so I'm not really sure why Christi made such a big deal about the private attention.  But I guess it's a Dance Mom thing.  Privates must give you some kind of magical leg up on the competition from what I can tell.
It also meant that Christi and Jill sparred for more than 30 minutes about 30 minutes of their lives they'll never get back before Jill got up to go buy another 30.
For a total of 90.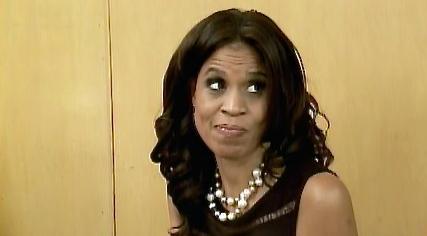 So there.
And why is the parking lot always wet?  Always.  Anyone?
Zipping back up to Ohio one more time before the competition, we got a glimpse of the group routine that Blake had (…allegedly, according to Kaya…) over choreographed.  Too much stuff.  Too elaborate.  And too much for Kaya, who stormed out of the room when Blake asked if she would like it dumbed down to her level.
OhNoHeDin't.  That's twice if you're counting.
Hopefully she was going back to that vandalized Best Buy to pick up some better microphones for the Candy Apples studio, because they all sound like they're being recorded on a Kindle when compared to the ALDC sound checks.  Really.  Go back and listen again.  Echo, much?
And why is that?  Anyone?  So many unanswered questions this week.
Not to be outdone, Abby was putting her girls through their group routine as well.  Entitled "Just Another Number," it was a sci-fi looking kind of thing about cloning sheep.  Or something.
Holly went back to her academic roots and tried to explain to Leslie what cloning was all about, but Leslie was starting a slow boil over her kid's height again and Holly's hair was still so fresh and tight that I got really distracted.  So all I remember is something about sheep and robots and those barcodes that never scan correctly on your cell phone app.
Finally, it was Showtime!
The Candy Apples Crew pulled up to the bumper in one of those shiny black Evil Villain town car/bus contraptions that they always use on Real Housewives of Atlanta.
I immediately wondered if there was a stripper pole inside, cuz that's kind of a Bravo thing.
Luckily I was pretty easily distracted by Cathy's crazy animal print dress and the sight of sniffling Vivi-Anne stumbling off the bus behind her Mom carrying a gigantic shopping bag full of travel snacks.
Seriously.  How does this kid not have her own spin-off show yet?  I'm not talking anything expensive.  Just stick her in front of a green screen and let her eat ice cream all day.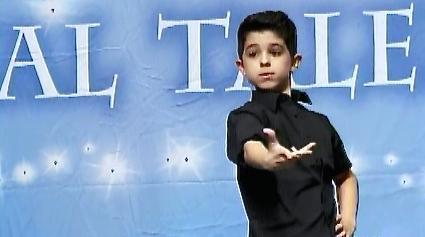 By the time the Candy Apples hit the pavement, the crowd was already bazoinkers.  Needless to say, they completely lost their shizz when the shiny white Good Guy ALDC bus reared ended the black bus from Ohio.  I swear it was louder than when the Beatles landed at the airport.
Inside, it was the usual stress filled pre-game show.
Christi threatened Chloe to either shake off her nerves or Mama would take her iPhone away, which I thought was a little extreme.  Seeing's how it might actually be easier to pry raw meat out of a pit bull's mouth than to get a cell phone away from a tweenager, I kind of envisioned Christi sitting in the audience flipping through the program with a broken arm for the rest of the season.
Abby then threatened Kendall to either hold in those tears or she would replace her with Maddie doing improv.  I got kind of excited to hear Maddie's comedy shtick until I realized I was thinking about the wrong kind of improv.  I bet Maddie would have been funny, though.  They should totally add it to next week's group number.
And put her in Groucho glasses, because those always make me laugh.
Holly kind of sat this one out, choosing instead to continue giving us another week of Michelle Obama Sleeveless Realness and tossing her hair around like the Herbal Essence Shampoo lady.  Protect that investment, sistah.
I swear, if she doesn't bring one of those Mariah Carey floor fans into the MomPerch next week to keep that new 'do blowing around for the full hour I'll buy you lunch.
Lucas was first up with his solo.  One leg straight up in the air and some fake Enrique Iglesias Spanish soundtrack about making girls swoon and throw Hello Kitty underoos up on stage.  Check out his HowYouDoin' eyebrow lift.  Dude is a Playground Playa.
And my hero.
Next up was Kendall's solo, event though the program said she was going last.  There was some sketchiness in the audience as Jill tried to figure out what was going on.  Christi somehow knew that Chloe and Kendall's spots were reversed but wasn't really clear on where she scored that informational update.
I'll give it to my girl Jill.  She still can't figure out what to do with her bangs, but she knows that you don't change the order of the horses in a race at the last minute unless someone loses a shoe or breaks a leg.  Something's up.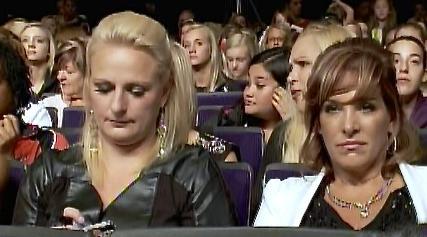 Caught a bit off guard, Kendall's first spin was a little wonky and she fell out of the move a bit, which got the whole row of Moms talking.  Was the floor wet?  Was it slippery?  Was it sticky?  Shut Up, Leslie.
That last one kind of came out nowhere and it was all downhill from there.
Chloe did her thing.  And then Leslie had a 15 Kleenex meltdown out back.  Mad, ugly crying.  Even Melissa couldn't calm her down.
And then both groups performed.
The solos didn't score that well.  Chloe did better than Kendall, which kind of made her the Numero Dos dancer.  But only by default.
The ALDC group took First Place.  The Candy Apples group not so much.  Could Kaya have been right all along?
But all the really good stuff was out back.
Leslie blew a nutty at Abby for telling her to shut up in front of the entire auditorium.  One of those major league nutties that you only see when someone cuts in front of you at Costco on a rainy Sunday afternoon. Git out m'way, beeotch.
Boom.
You Shut Up No You Shut Up No You Shut Up.
They kept repeating that over and over as the credits rolled.
Nothing like another relaxing trip to Ohio, I always say.
Vivi-Anne.  Gimme some of them Cheetos.  I'm stressing out.
And get me outta here.  Now.
Who's excited to go back to Pittsburgh?
Jill?