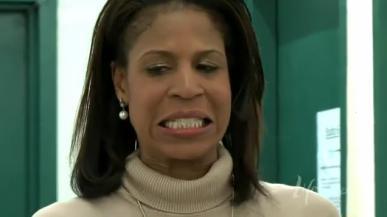 I really thought I could make it two full seasons without popping off on that bitch. Dang.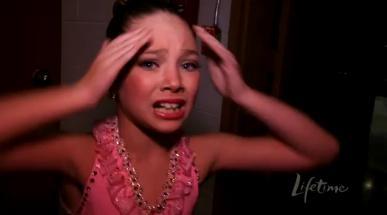 I know, Peanut. It's called Real Life for a reason. I'm not a big fan either.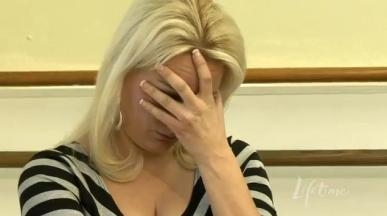 When I get the Bloomingdale's bill for this trip I am sooo dead meat.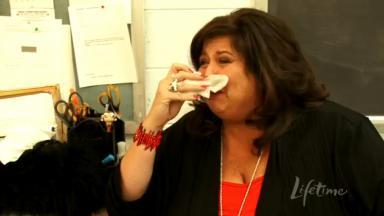 You mean I came all this way for some Carnegie Deli cheesecake and we can't even go?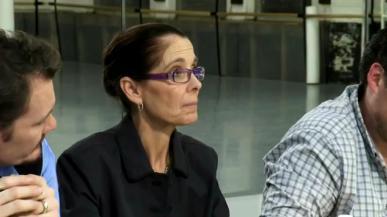 Psst. Dawg. We were promised Jennifer Lopez would be the third judge.
Poor New York City.
It's not like they don't already have to deal with up to one million people in foam Nivea top hats every year during the annual Times Square New Year's Eve Ryan Seacrest Love Fest, right?
It's loud, chaotic and borderline uncontrollable, with the potential to do serious damage to the infrastructure of one of the country's foremost metropolitan cities.
Just imagine the clean up.
Trust me.  That is nothing compared to the devastation that was just left behind by the unexplainable, unnatural, unpredictable phenomenon known as Abbeygeddon.
Loud.  Chaotic.  And completely uncontrollable.
As a matter of fact, I wouldn't be the least bit surprised if Google Maps now shows a smoking sink hole at the former location of the Joffrey Ballet School.
The Season Finale was super-sized, so I'm doing the same.  You might need some fluids if you don't break this thing up into a couple of readings.
Abby Lee Miller and her Dance Moms hit the Big Apple this week for the open auditions for the Joffrey Ballet's Summer Intensive Program.
The brochure says it's an amazing opportunity for a small group of students weaned from over 20,000 applicants to experience NYC and all it offers.  It gives students who might never otherwise have the chance, to see how professionally they do things in the Big City.
It also apparently gives Abby and her Mom posse a chance to return the favor and show NYC how loudly they do things in Pittsburgh.
Seriously.  My ears.  People, please.
From the first second the  Abby Lee Dance Company landed on the East Coast, not even those jackhammers doing that seemingly never ending 24/7 construction on 42nd Street could drown them out.
The rehearsal studio that Abby (…or Lifetime…you know they make a ton of bank off those Jane Seymour movies…) had rented was text book NYC, full of shattered dreams, broken hearts and lead paint.  For every light in Times Square…blah to the blah to the blah.
Totally the pee wee version of Kids from Fame as Abby's little nugget dancers formed their assembly line.
No joke.  At any second I expected Debbie Allen to walk in with all her crazy jewelry and strong Nubian Princess finger snapping to show Abby how it's done…after she got done lunching with Maya Angelou, of course.
"You want Fame?  Well, Fame costs.  And right here is where you start paying…with sweat.  Five.  Six.  Seven.  Eight."
But even in NYC nothing can get accomplished without the Pyramid of Shame, and Abby had packed her flash cards and scotch tape so it was time to get the ball rolling.
There was a lot of work to get done this week, so Abby had to pick up the pace a little as she unveiled the So What Do You Think The Bookies Down In Little Italy Are Giving For Odds That Maddie Will Be On Top Again? Pyramid.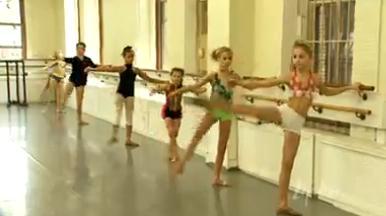 Paige and her new too-old-for-that-little-head sassy haircut were on the bottom, because of some arm drama and the fact that she's on her cell phone too much. Probably searching Bing for new dance teachers, but whatever.
MacNugget Mackenzie was on the bottom as well, basically because she's a little kid and dances like one.  Go figure.  Abby wants her to improve even faster, which probably isn't going to happen unless Mom Melissa sets aside some of her Top Secret Wedding Fund for a Time Machine, shoves her inside it and sends Mack to So You Think You Can Dance 2019 auditions.  She's a kid.  At her age I was still eating paste.  Relax.
Chloe finished up the trifecta because she forgot her routine last week.  It happens.  She got taller again this week and her eyes seemed even closer together.  Team Chloe.  We love her.
Nia and Brooke were on the second tier, just 'cause.
And…oh…look.  Maddie was on the top.  I knew I should have put some money down when I was at the track.
Pushing the limits of stress fractures and Child Labor laws, Abby had filled their plates with solos, group numbers and yet another trip to Starbound Dance Competition the minute they finished Flashdancing at the Joffrey.  All the Moms were a little concerned about the amount of practicing that the girls were going to have to endure.  But they're troopers.  And there were a lot of stores on Fifth Avenue that they needed to check out.
Kelly apparently already hit Soho before the first rehearsal, because she was working it for the studio mirrors in some Rowan & Martin's Laugh-In 1960s pop art dress.  Can't get that shizzle in PA, haters.
Unfortunately, since they dance all day & night and don't get to sit in the Mom Perch reading Cosmo, the girls weren't as hip to the trends as they should have been and got called out for wearing their Pittsburgh Galleria Limited Too workout wear.  Nobody bothered to tell the Moms that every dancer is NYC is required to wear black just in case a scout from the Wilbur Theatre drops by to use the restroom.  You never know, Abby pointed out.
As Abby sent the Moms off to track down age appropriate dance wear for young girls playing convicts behind bars…did I forget to mention the group number?…you could almost smell the tension.
But the stench wasn't as strong as the cow cud and jerky up in Ohio.
Chaos Cathy and her Avon Moms Gone Wild were also headed to NYC to compete against Abby in both the auditions and Starbound Competion, so the Evil Dance Lair was buzzing with their Master Plans.
Cathy's expectations for her Candy Apples were nearly as high as Jill's poof, if that was even possible.
I mean…did you see that thing?  Girlfriend's hairdresser must be taking night courses in engineering, because she had built that BumpIt up to the point where it could almost impair someone's vision if they were walking behind her at night.  That thing could cut off your light source.  Safety hazard, I tell you.
Jill's goal was to pimp out Kendall when they got to NYC.  Make her a star.  Then go buy more faux fur and feathers.  And maybe more eyeliner if there's a gift with purchase at the counter.
And you totally know that Jill is going to keep that Saks bag and use it for lunch every day until it falls apart just so all those Ohio Walmart greeters can see it and get jealous.
Poser.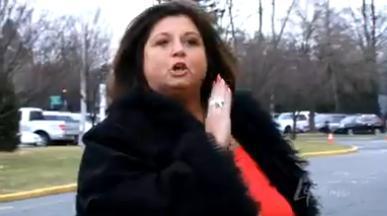 How everyone got jet lag just going from Pittsburgh to NYC I'll never know, but everyone did.  And everyone was kranky with a K.
Maddie and MacNugget had forgotten their Dance Bags at the hotel which made them cry, and made Melissa start percolating.  Melissa was not in the mood today.  At all.
Needless to say, the auditions were a little awkward.
Cathy and her League of Coupon Clippers Gone Bad all showed up and had to be crammed into the same tight hallway that Abby and about 200 other random, nameless dancers were located.  Imagine being in a bunker during War time with someone from the enemy side and not being able to blow their brains out with your Uzi.  It was like that.
Now imagine the enemy brought pizza and wouldn't let you have any.
Seriously.  Who noshes on a slice of pepperoni during auditions at the Joffrey?
One.  Where did Cathy find a slice in a ballet school?
Two.  Her whipped husband can get her all the free jerky she wants.  Why pay for your meat, woman?  Stick some in a Hefty before you leave the house.
Now I've never been to a ballet audition, or a cattle auction, but I think they are both structured around the same format.  From what I witnessed this evening that's what I believe, and I'm going with that train of thought from now on.
Start them out in a long, overcrowded hallway.  Walk them in.  Look at them.  Line them up at a barre.  Check out their flanks and poke your finger in their backs.  Except for the fact that I've only ever seen one cow wearing a halter top, I would have thought that I was watching one of those farm shows on that Rural TV Network.
Don't ask.
While the girls were inside being weighed and getting their ears tagged, outside in the hallway Abby and the Moms were throwing down with Chaos Cathy.  So much so that the Joffrey Cow Guy had to come out and bitch slap a few Moms until they shut up.
Don't piss off a ballet dude.  Just don't.
I've been patiently waiting, and this was my last chance this season to see that red haired bad a** Candy Apple Mom lose it…but she didn't.  Hopefully the DVD will have some unseen footage where she just goes bat s*** Ninja on someone.
After the auditions everyone left their empties and pizza boxes in the hallway and headed to Starbound.  The bullet points so we can wrap this thing up:
While Nia was getting her hair did and weave tightened up (…one of my new favorite TV moments, right up there with Lucy & The Chocolate Factory…) and Maddie was creating an impromptu six pack with her Maybelline brush (…check me out at the gym tomorrow with all these new ideas…) the Candy Apples were next door doing the same.
Rewind if you can and catch a glimpse of that freckly little red haired kid watching all the girls.  He is totally at that Girls are Gross age, and when he realizes that he could still be sleeping in the hotel while they are putting on their war paint he just shakes his head and realizes that this is his life now.  Gah.  Chicks.
The Jail Bird group number goes ok.  Holly isn't a big fan.
The Candy Apples group number is some angelic kind of thing that once again allows Cathy's daughter Vivi-Anne to not only stand in place, but take a load off and lay down for awhile.  Has anyone seen her actually dance in two seasons?  With all the cold meds that she has in her system I was afraid she would doze off down there, but luckily one of the over age dancers scooped her up like uncut jerky and hoisted her off stage.
Sign me up for that gig.  Lay around and have people carry you to where you need to be.  I'm in.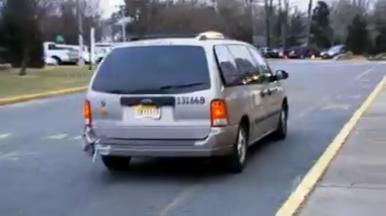 Then it just fell apart, in that good Reality TV fall apart kind of way.
Kendall couldn't breath or move in her costume, because it was too tight.  Everything Jill wears is too tight, so she didn't really see what the problem was and basically told her to suck it in and suck it up.
Maddie forgot her solo and ran off stage, crying like a little kid.  Oh wait.  She is a little kid.  Does anyone else on the show remember that?
Abby cried because Maddie forgot her stuff.  But Paige forgot her stuff once.  And so did Nia and Chloe at different times.  But Abby never cried for them.
I'll do the math for you, to speed things up.  It equals favoritism.  And that made Holly pop off.  Melissa tracked down Maddie and popped off, too.  Why not?  Everyone's doing it.
Let's be honest.  By now, the exact order of everything doesn't really matter.  Abby's group came in 10th place.
I'll do that math for you as well.  That's 9 below First Place.
One point above their score was the Vivi-Anne Laying Down Dance.  Abby cried some more…or maybe that was the first time. I forget.  But they got 9th place.  One better than 10th.
Backstage, Cathy and the MeanMoms came looking for more pizza and humiliation.  Cathy made Abby cry again…or maybe it was leftover from the other cry.  Who knows.
It was chaos, I tell you.
Holly got into it with Abby again, who turned her backside to Holly and wiggled her…substantial…butt in anticipation of either a spanking or a kiss.  Regardless of what she was hoping for, there was so much black in my face that I thought my television shut off for a second.
Then Abby bolted out the door, raspily screeching "See you on the flip side," which Melissa explained was code for "I'm a sore loser and taking my toys and going home.  Find your own ride to the airport, bitches."
And she did.
Crying…again…Abby claimed she needed a break, got into the van and rode off into the sunset.  Kind of dramatically, actually.  Like you would do if you had an incurable disease on a soap opera and you were being written off the show and you were leaving Port Charles to die a slow painful death off camera.
Except she ain't dying.  And I think the van had a sticker that said "Honk if you love Jazz Hands."
Something tells me we haven't seen the last of Abby.