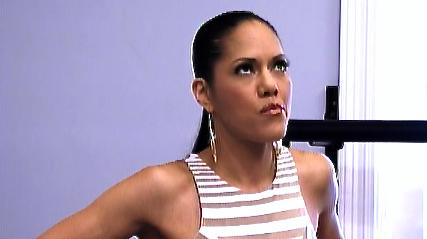 Gimme strength, cuz Imma 'bout ready to take my shoes off and back that damn chick's s*** up with one hand. F'real.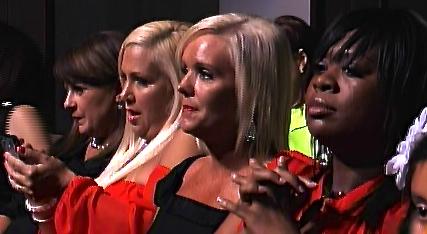 Yo. Just got a text that it's going down hard in the French Quarter and Leslie needs back up. You crazy bitches in?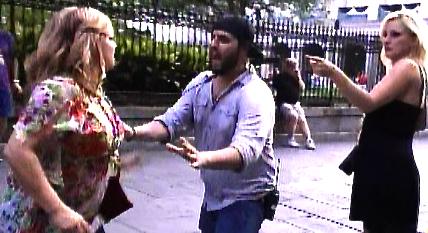 Stop…Stop…Stop! Lady, they don't pay me enough to touch those boobs, so I need you to chillax.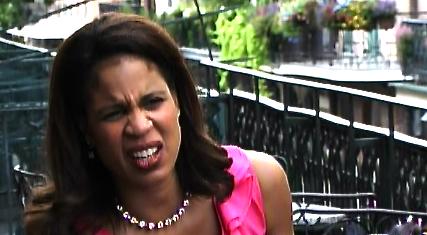 Wha-? Why is Melissa hanging them jiggly, saggy half empty water balloons over the balcony? White people are crazy.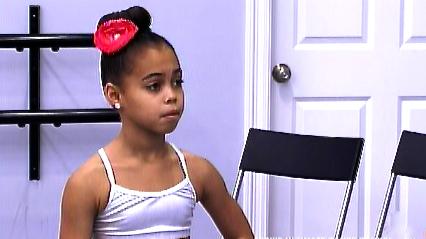 So you're saying I'm gonna have to leave Pittsburgh and go back to LA to star in movies and music videos? Hmmph. Gimme a minute…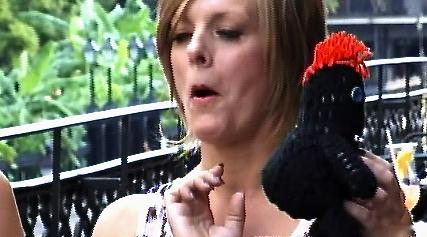 Oh, yeah. Mama likes big butts, and she cannot lie.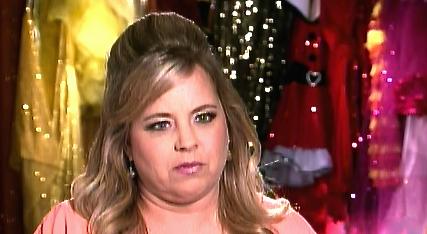 Hey, Vertes. I see your Bump-It and I raise you three feet. Game over, honey.

That NutWad is so lucky I don't know how to swear, cuz I'm coming down from about 6 Diet Cokes right now, and I am NOT in the mood for this.
What?
Nationals?  Already?
No way.  Really?  Who knew?
Umm.  Maybe everybody.
Unless you watch Dance Moms with the volume off (…which would actually make for a pretty HIGHlarious drinking game if you wanted to give all the Moms funny voices while they lip sync a fight scene…) you probably noticed that over the last few weeks every other word out of Abby Lee Miller's mouth had subtly hinted at something about the upcoming Nationals.
We're going back to Nationals as the reigning National Champions in an attempt to retain our status as National Champions at the upcoming Nationals which are coming up soon.   And it 's my name, and my reputation on the line as we head to Nationals as the reigning National Champions.  At Nationals.
Rinse and Repeat.
It was like that.  But more often, with brighter jewelry and a scratchy voice.
Now finally, after all the reminders and subliminal references…
Wait for it.
Nationals!
In N'awlins, Louisiana.  The Big Easy.
And there was a lot to do and a lot of decisions to make, so Abby didn't waste any time in getting right down to bidnezz, starting with the Pyramid of Shame.
(Note to self:  Always pack your hot rollers and head shots when traveling, because you never know when you might need to knock a kid down a peg or two.)
Since they were on the road, there was no grand studio entrance with all the little dancers filing into place.  They were just kind of there already.  All of them.
Including Payton and her slightly boisterous Mom Leslie.
Yeah.  Those two.
Attention Walmart Shoppers.  My kid is on the freakin' team.  At Nationals.  So suck it.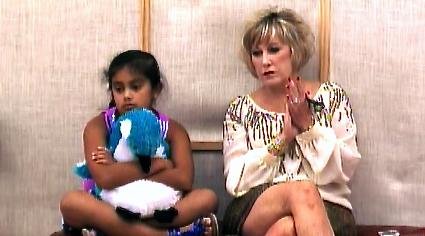 Bottom row of the collage was reserved for Paige, Nia, Brooke, Kendall and Payton. Little crowded down there this week.
Paige had some kind of knee thing happen last week.  Nia's feet didn't do what they were supposed to on some kind of side sumthin sumthin.  (Oh, please.  If you wanted technical dance talk, I'm pretty sure you wouldn't be reading this mess.) Brooke's headpiece had fallen off (…what is it with the ALDC and headgear?…) and Abby still hated her mother.
Kendall scored really well last time but still ended up in the basement with Payton, who pulled a glossy photo right out of Mom's plastic Costco bag and slapped it up on the mirror.  Nationals, bitches.
Second row was less crowded with only Chloe, Asia and Mackenzie looking up at Maddie still hanging in the top spot.
Abby claimed that Chloe was a better dancer two years ago, back when she used to spend more time in Canton's Best beef jerky costume and less time signing autographs, while MackAttack got slapped for pulling a face plant in the middle of that 20 minute handstand walkover thing she was supposed to do last week.
Asia had won First Place in the Mini Diva Sassy Face category yet again last week, but Abby felt she totally boned the group routine and stuck her on the Pyramid Mezzanine.
Plus, Maddie was already taped to the top.  So you know.
The group routine this week (…at Nationals, in case you're having trouble keeping up…) was going to be a tribute to all that the people of New Orleans have endured since Hurricane Katrina.
Abby had not yet decided who would be doing solos, so to keep everyone on their pointe toes she teamed the girls up and had everyone learn a routine.  Just in case.
That way, when she finally made the cuts, some dancers would have well prepared solos and the rest would have learned a nifty new routine for their Food Court Meet & Greets in front of Cinnabon.
It was pretty clear even before they got to rehearsing anything who would be getting what…but even at Nationals a few mind games never hurt anyone.
Needless to say, the Moms didn't feel that any of the pairings set the girls up on a level playing field.  Holly felt that it wasn't really fair and I felt that I needed to know where they buy those cell phone batteries that never seem to run out of juice.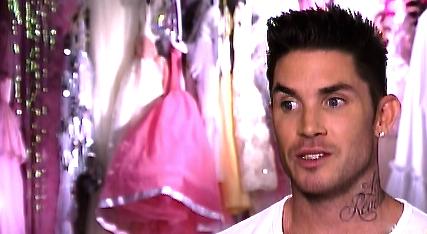 (Pet Peeve Side note:  When we all hang out at the bar, just us girls, you look at me when I'm talking to you, woman.  Yeah…you.  You know who you are.)
And then suddenly, the Candy Apples were there.  With no bovine warning or nuthin.
Chaos Cathy Nesbitt-Stein and her revolving door of choreographers were also in N'awlins for Nationals, so we missed out on my favorite transitional scene with that ear tagged cow warning us about any Apple Cores in the vicinity.
So it caught me by surprise.
It also caught me by surprise that the Candy Apples were even there at Nationals.  Don't you actually have to win something once in awhile to go to Nationals?  You do on Glee.
Since Anthony Burrell had recently gotten his low hanging hip hop undies in a bunch and jumped ship back to Abby's Ultimate Dance Competition (…the second most repeated phrase this year after "Nationals"…) Cathy had brought in yet another choreographer to work with her troupe.
This time it was Blake McGrath, who strutted in all bad a** with his sleeveless flag shirt and neck tattoo.  You wish you were that cool.
Sounding like he just toked on a Cuban before he hit the rehearsal hall, Blake was all gruff and Boom Boom Pop and dropping names like it was hot.  He's danced with a lot of famous people and immediately felt the need to let us all know that he has gotten closer to Madonna than you ever will, losers.
(Note to self:  Start name dropping more.)
Kristie Ray hasn't put a restraining order out on me yet.  Does that count?
The Candy Apples group routine was going to be a dark Voodoo number.  One, because they like that edgy shiz.  And two, because Chaos Cathy clearly has enough black eyeliner in-house to make sure they kids can be seen from the cheap seats.
I was already looking forward to my boy Lucas Triana casting a one leg up in the air voodoo spell on all the ladies.
As both camps got down to rehearsing, the ALDC Moms got down to complaining.
As they bickered back and forth about the solo test pairings and the fact that Leslie was still hogging a seat in the room, Asia's Mama was running out of patience.
Not attitude.  Just patience.  JLo was Over.  It.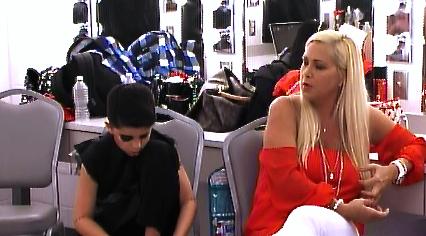 During the Asia/MackSplat pairing, Abby asked them to improv a few bars, which was like telling Miss Monet Ray if she wanted to take a breath.  Needless to say, Miss Thang shot off like a bottle rocket while Kenzie stood there hit by some invisible cosmic Flash Gordon freeze ray.
Not gonna lie.  Watching Mom Melissa have a complete meltdown screaming at her kid to Dance Dance Dance You Do It At Home and then yanking her down into a folding chair was pretty much worth the price of admission.
For future reference, Melissa…losing your nutty doesn't help when you're trying to make a puppy pee on a newspaper or when your kid is blinded by the smoke coming off another dancer's booty pops.  It's just not gonna happen.
Then I sat on my remote and the TV switched to the opening credits of Mob Wives.
Or at least that's what I thought happened when I saw all the Dance Moms walking down Bourbon Street like they were putting a Staten Island hit out on somebody.
JLo werked it in those stilettos.  Leslie kinda waddled a little like she had forgotten something in Aisle 7 and was holding up a cash register line somewhere.  The original recipe Moms were giving Kohl's catalog realness, except for Holly, who was wearing Anthropologie.
(See…I do read your tweets.)
The Moms were all heading out for some cocktails.  What could possibly go wrong?
No sooner had I asked that question then I sat on my remote a second time and was suddenly watching MTV's Real World: New Orleans.
Already traumatized by JLo's surprise announcement that this would be Asia's last dance competition, I was clearly not emotionally prepared for Melissa to whip out the goods and flash some poor tourists from Ohio innocently strolling under the restaurant's balcony.
Hasn't New Orleans suffered enough, Melissa?  Put your top back on.
And then it all went down in the streets, y'all.
Dance Moms meets Real World meets Mob Wives style.  All courtesy of whoever invented tequila shooters and stretch pants.
I don't even know what really happened, but all of the sudden Christi smacked Leslie's Slush Puppy right out of her hand and it was on.
Chick Fight!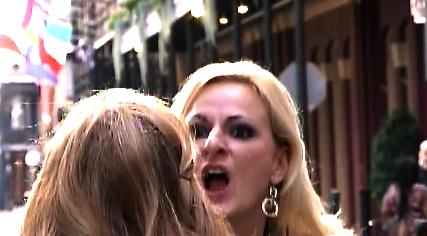 If you're gonna be a drunk, be a sloppy one I always say.
Holy youtube in the Target parking lot, Batman.
There was stuff flying and jiggling and splashing everywhere.  Some poor production schmo even had to race into the camera shot to make sure Leslie didn't pummel the bleach right out of Christi's hair.
You could tell he was a production guy because his baseball hat was on backwards.  It's a thing they like to do on the set.
While Leslie stampeded like a bull, Christi froze in place and just pointed at something for quite awhile.  Not sure what that was all about.
(And props to all the other Moms who evacuated the dance floor so fast that I figured they had gone to buy souvenir t-shirts or something.  You're on your own, Lukasiak, I haven't even paid for these Louboutins yet.)
Finally, a second production guy came out and scooted Christi to safety.  At least I think he was a production guy.  He had an earpiece stuck in his head, but he was also wearing a Back to School backpack that made him look like he was just asking her for directions to the nearest youth hostel.
So I dunno.
All I do know is that the next day, Kristie Ray quit the show (…without running it by me first, I might add…) and I'm not really sure if I need to pay for Comcast cable anymore.
That's right.  JLo left the building.
It all happened during yet another one of Christi's slightly skewed retellings of her throw down with Leslie.
Leslie was off some where buying in bulk and was therefore not in the room to defend herself as Christi started another round of trash talk.  And JLo don't play that.
Let's just say you better be able to back up your (bleep) if you start throwing shade around Kristie Ray.  Haven't you people learned anything yet?
JLo picked up her stuff, called them all crazy pants and said she was taking Asia back to Los Angeles to be a star.  Thanks for the snacks.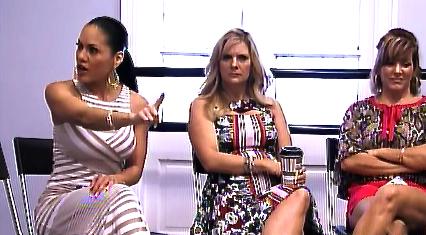 Right when I assumed that Kristie was about to shoot me a text and let me know she had just quit, Abby walked in and got the bad news.  And just one day before Nationals.
Because it's Nationals, you know.
Turns out that Abby don't play either and she sent Christie and Leslie back home just for being thugs.  Go be gangstah on your home turf.
A day before Nationals, and Abby was down three dancers.
But somehow they persevered and made it to Showtime!
Since there was hardly anybody left, all the girls that you would expect to get solos…got solos.  And they did just fine.  You can Google all the results.  Reliving the whole Kristie quitting thing again has me a little distracted.
Almost as distracted as I was by the appearance of a strange nameless ALDC dancer who was caught by the camera sitting up on stage during the awards.
In one 4 second snippet she became the stuff of urban legend.  She didn't dance in the group routine, but she was wearing the group costume.  Were there two group routines staged?  What kind of government conspiracy is this madness?
Girrrrl.  Somebody is gonna get busted for that goof.
As the season finale wound down (…Spoiler Alert: Yes, they retained their National status…) Abby tearfully let the girls know that she wasn't certain that there would even be another dance season for the ALDC since her mother was ill and she may or may not have already put down a deposit on some Hollywood real estate.
What?  No more Dance Moms?
Luckily, the same person who allowed that mystery girl to sit on stage was probably the same person who tweeted that the next season begins taping in a few weeks.
So, yes.  Somebody is gonna get fired for that one, too.  But Dance Moms will live on.
Just without Jlo and Asia.
Seriously.  I might need a moment.
Think they'll miss all those crazy moms?
Meh.