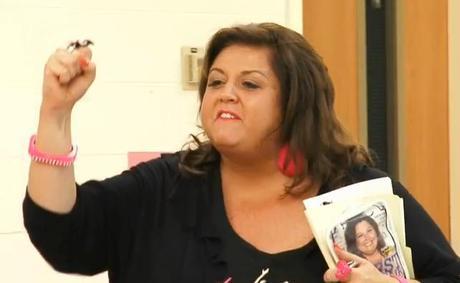 We're gonna rid this town of every Candy Apple in existence, even if I have to eat them all myself!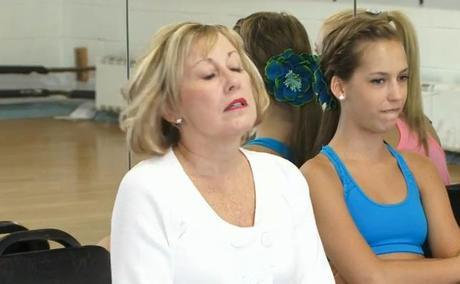 Please. When I open my eyes, Vivi-Anne is suddenly a mean dancing machine. Is that really asking too much, Lord?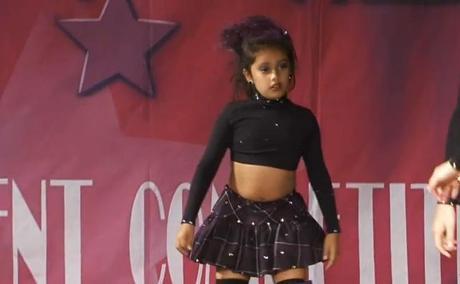 Umm. Hellooo? My Mom said there'd be M&Ms on stage…? And shouldn't someone be picking me up by now?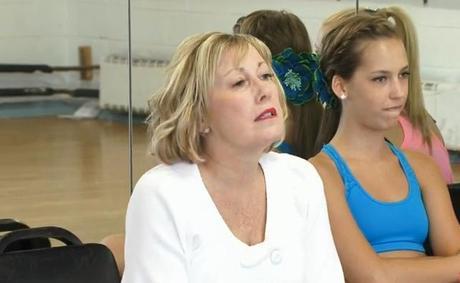 Sweet Jeezis. This really is my life.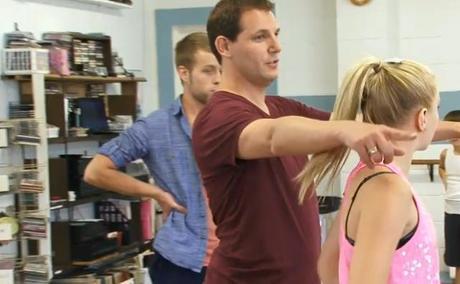 You go there. And honey, you go there. Now just pretend to be as Fierce as we are…and good luck with that, bitches.
This week's Dance Moms DVR Drinking Game?
Take a shot every time Abby Lee Miller said "Clean Sweep."
Just be sure to program your Comcast box to keep the recording for a future viewing before the festivities begin, because the first time around it's pretty much a guarantee you'll miss approximately 55 minutes of the show due to blacking out from alcohol poisoning before the first commercial break.
It's true.  Abby wanted a Clean Sweep this week when she went up against her Evil Nemesis Chaos Cathy Nesbitt and all those rotten to the core Candy Apples dancers.
And she made certain that we all knew it.
Over.  And over.  And over again.
After wiping the dance floor with most of the other studios at last week's event, Abby was looking to continue the winning streak as the ALDC headed to Myrtle Beach for what I believe was their 4,386th trip to a Starbound National Talent Competition.
Though the trophies and bragging rights are always a nice touch, this trip to Starbound was not going to be complete unless Abby could return with Cathy's head securely mounted to one of those Things Remembered mall plaques that they always give out with that folded t-shirt during the award ceremony.
(See…and you didn't think I paid attention during the last five minutes of the show.)
But even plotting the downfall of an adversary has to wait until the Pyramid of Shame is revealed, so in pranced all Abby's little dancers.  All the little dancers except for Paige that is, who did more of a Budweiser Clydesdale kind of clomp due to her left foot still being strapped inside that walking boot.  The injury from her backwards somersault belly flop onto concrete seemed to be healing nicely, but it was definitely cutting into her dance routine and sort of slowing down the cafeteria line as well.
But they all made it in eventually, and Abby immediately started ripping off the photo covers like an exceptionally sturdy Price Is Right girl.
Bottom row was made up of Brooke, Paige and Mackenzie.  No real shockerzzz.
Brooke was in the basement because her back was still sore from slouching and moping around about boys.  Anyone who ever got dissed at a Junior High cafetorium dance can relate to her teen sourpuss face, so I won't get all up in her grill just yet.
Been there.  Done that.  Just knock it off before Graduation Day.
Paige was right there next to Brooke because of the whole concrete face plant fiasco.  If you don't dance, there ain't many spots available, so she was ok with her third place status.
MacAttack was bringing up the rear because she cried like a little kid.  Which is what she is.  But for reasons that escape me, that logic doesn't fly in the Dance World.
Second row was all about Maddie and Chloe.
Now even though Maddie had basically taken every trophy off the lobby display table last time and still somehow found the time to clog my television screen with 57 commercials for Drop Dead Diva, she had actually only won her title by 6 1/2 points…and Abby wanted 20.  So hang on the second row and see how that one feels, missy.
Chloe needed more intensity.  And she also needed to get her a** out of the way because Sasha Nia was coming through, beeotch.
Dat's rite.  Girlfriend made it to the top, thanks to her channeling RuPaul's Drag Race and getting all LaQuifa Part II on the judges.
Mom Holly chest bumped a few of the other Moms and almost went into her Arsenio Dawg Pound impersonation she was so excited.
I love when Holly puts the Doctorate back in her purse and goes all VH1 on people.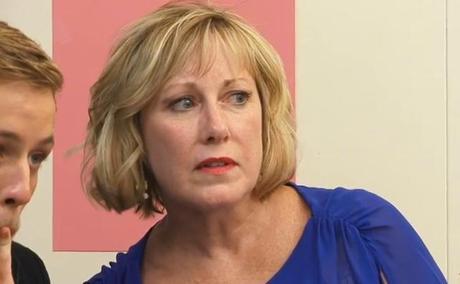 Since Kendall still fell under Abby's "guest" status, and Mom Jill was still having some pretty serious styling issues with her new haircut, they both got nothing but attitude.
Sorry.  No room at the Pyramid Inn.
Besides being top o' the heap, Nia was also named Dance Captain, which I honestly thought was a title only given out on Gay Cruise Boats.  But I was mistaken.
As she explained her duties, I was so distracted by her headpiece that I missed most of the deets.
Now I love me some Nia.  It's well documented.  But WTF was that thing on her head?
Seriously.  If that wasn't a BeDazzled Maxi-Pad I'm quitting my blogging job.
As the Moms all trotted up to the Perch, everyone got down to rehearsing.  The group number was another one of Abby's poorly veiled salutes to Maddie's superiority, this time disguised as a Children of the Corn Cult thing where the other mediocre girls try and bring Maddie down to their level by tying a funeral bonnet on her head.
Christi smelled that one coming, and quickly jumped right up Melissa's skirt and down her throat at the same time.
Now I watch a lot of Bravo TV.  Probably too much.  But let me tell you, a few Jersey Housewives could take a page out of Melissa's Flip Out Book, because somehow a discussion on Amish headwear suddenly turned into a full on BitchFest.
You're a Bitch.  You're a Bitch.  And you're a Bitch.  No, you're a Bitch. Oprah says you're all Bitches and here's your present!
I lost track of what happened about midway through the argument.
But trust me, I was paying full attention when Christi accused Melissa of living with a married man.  And by the time Melissa shrieked that she did NOT have an affair with her boss, I expected Andy Cohen to burst through the glass doors and push Teresa back down in her chair.
Say it with me:  Prostitution Whore.
It was like all my worlds were colliding.  If I smoked I would have gone out on the fire escape to regroup.
The next day, needless to say, Melissa and the girls were a no-show, much to Abby's chagrin.  Do the math.  They were now short two dancers.
As the Great White known as Jill once again began circling the blood in the water, we jumped on the tractor and headed to Ohio and the Evil Dance Lair, where Chaos Cathy was unveiling her plan to bring down the ALDC.  Again.
Noticeably missing was my favorite bad a** red haired Mom, who must have been getting her roots done or the Harley detailed.
Love.  Her.
Luckily, though, she was replaced by one of those women you always see in country music videos standing on the porch with a baby on her hip, waiting for her cheatin' no good man to come home smelling like restroom perfume.
No clue who this Mom was, but she needed to get a better grip on that infant, because he looked like he was slipping off the burp rag on her shoulder.  Being blessed myself with a substantial noggin, I know how hard it is to maintain an upright position after a warm bottle.
To guarantee a win at Starbound, Cathy had brought back everyone's favorite plain and peanut M&Ms, Mitchell and Michael, to choreograph the Candy Apples dance numbers and to just generally wander around the Jerky Store being fabulous.
Knowing that male DNA almost always ensures a higher judge's score, Cathy had also snagged some stray boy that she found dancing down at the General Store and was pairing him up with that little ginger kid Justice in a Mad Men kind of office routine.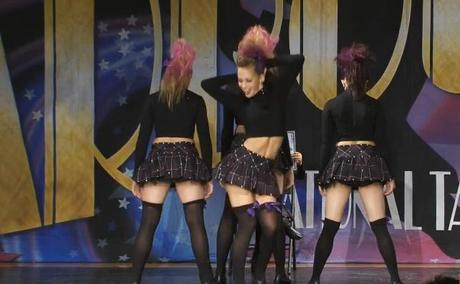 Cathy and the M&Ms wanted to give Justice a…"male friend"…which sounded a little too Dance Captain for my liking, considering that the kid doesn't even own a hair comb yet.
Inappropriate Skee Ball on the Lido Deck, anyone?
Back in civilization, Nia had finally tracked down the MIA Maddie and everyone got back to bidnezz.
After chastising Maddie for being born into a family where the parents still decided what the kids can and cannot do, Abby received a top secret call on the BatPhone from a Starbound snitch who filled her in on all the Candy Apples dirt.  When she realized that Cathy had put an Apple into every category that the ALDC was signed up for, she made a bee line to Melissa and tried to get Maddie an overnight solo routine.
Since Melissa was still peeved about the whole sleeping with her Boss thing, she refused.  Insert more drama here _____________.
Two totally unrelated points before we hit the actual competition…
What is in that big, fat envelope that Melissa always carries around with her?  Is it a coupon thing or something?  It kind of reminds me of the envelopes that New York City vagrants always carry that are stuffed full of every lost or stolen bank card they find still sticking out of the ATM slot.  I just need to know for some reason.
And secondly, did you see Mackenzie's Snookie hair?
You tell me that Jill didn't have Bump-It envy.  I don't know how that little tyke even sat up straight for that camera shot.  It was the Über Snookie.
Finally it was Showtime.
It was hard to make the usual windblown Desperate Housewives entrance that Abby always likes to make into the hotel lobby, given that this shindig was being held at a high school.  Getting there is usually half the fun for Abby, so I could tell she was a little disappointed in the venue.
The Candy Apples have apparently adopted one of those fraternity type rituals, much like the Olympic athletes who all get matching tattoos.  But since none of the Moms would sign the waver for getting inked, all the kids showed up with one lone curler in their hair.
I know, right?  Say it wasn't just me that saw that.
I swear even Justice was styling his carrot top with a foam roller.  The cheap kind that Monique would pop into your weave down at that salon next to the Target store.
I won't lie.  Sometimes my attention to insignificant details tends to keep me up at night.
There was no actual high rise stage for this competition, much like the last hotel ballroom set up.  But instead of that rogue housekeeping cart I obsessed about last week, this time I was waiting for one of those AV Club rolling TV stands to wobble half way across the gym floor and then come to a stop right in front of Vivi-Anne.
Oooh.  Cartoons!
At least that would have finally given her something to do on stage, since Cathy has yet to figure out any significant purpose for her daughter being out there once the music starts.  Sooner or later there is going to be a number that does not require hoisting spacey Vivi-Anne up like a bag of Columbian coffee, and Cathy is gonna be screwed.
Chloe did a good job on her Leave the Lights On solo.  I think it would have been funnier to have her dressed in a Motel 6 chambermaid outfit, unless you don't live near a Motel 6 and have never heard their "We'll Leave The Light On" radio commercials.  Then it wouldn't be as funny.
Justice came out with no shirt and lifted one leg up a lot.
Sorry dude.  That's Dance Moms: Miami territory.  And you're no Lucas.
Plus it was a little creepy given all that Dance Captain innuendo.
The ALDC Amish Corn Kids number went well.  Brooke managed to tie Maddie's gray bonnet on without cutting off her oxygen supply, so that was a good thing.
Right when the Candy Apples were going to lug Vivi-Anne onto the dance floor Cathy realized that the prop was missing from center stage.  Screaming from the audience was a nice touch.
One of the M&Ms flitted around like a Pride Parade grand marshall, grabbed a Staples folding office chair and flung it onto the stage.  Crisis averted.
I'm not sure if he was the plain or peanut M&M, but there was definitely some hard candy shell going on down there during the whole process.
Then some kids won some stuff.
Backstage, as usual, the whole thing deteriorated into Cathy vs. anyone and everyone.
Honestly, if it wasn't for Jill's weekly hair style updates, I would swear I've been watching the same episode for two years.  Do you think Lifetime is just messing with us?
Screaming.  Yelling.  Cathy suggesting that the ALDC kids never go to school.
Needless to say, Melissa was just having an all around bad week and therefore had no problem laying into Cathy, which resulted in more screaming and yelling.
Someone get Andy Cohen on standby, because it was almost Bravo-worthy.
Almost.