Kirsten and Neal were inspired to cre­ate a vin­tage wed­ding with pale pink and blue details. Kirsten's ankle length Ian Stu­art gown (is there noth­ing this man can't do to per­fec­tion, I ask you?!) is divine! And Neal looks pretty damn good in his tai­lor made suit by A Suit That Fits — let's just say the pair of them are amaz­ing together!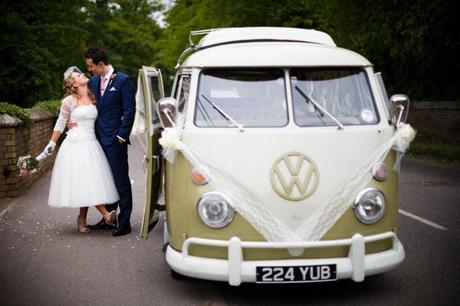 The wed­ding was at Mad­in­g­ley Hall, just four miles from the cen­tre of Cam­bridge and a mag­nif­i­cent venue — Wikipedia tells me it's a for­mer royal res­i­dence and dates back to the 16th cen­tury — the pho­tographs are fab­u­lous and will show you so much more of this impres­sive Eng­lish wed­ding venue. Huge thanks go to Lon­don wed­ding pho­tog­ra­pher Paul Rogers for sub­mit­ting such a bril­liant wed­ding to share with us all today! I hope you love it as much as I do. Every­one — enjoy. Claire x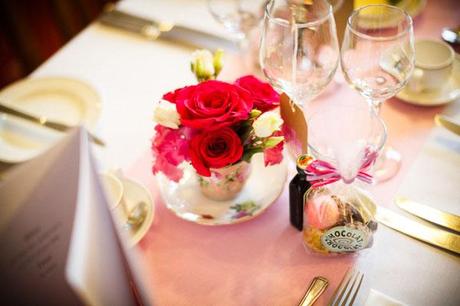 Neal and Kirsten — a fab­u­lously vin­tage Cam­bridgeshire wed­ding blog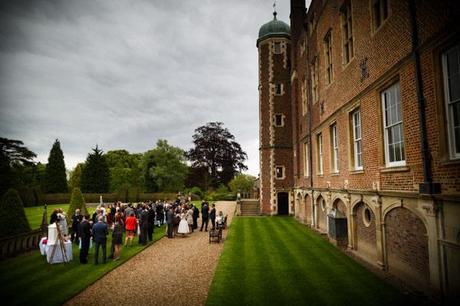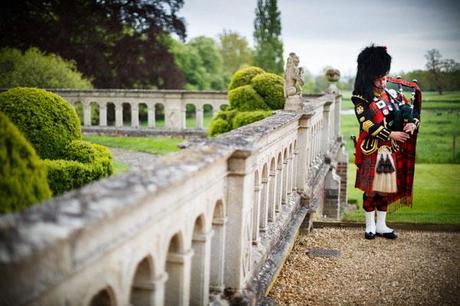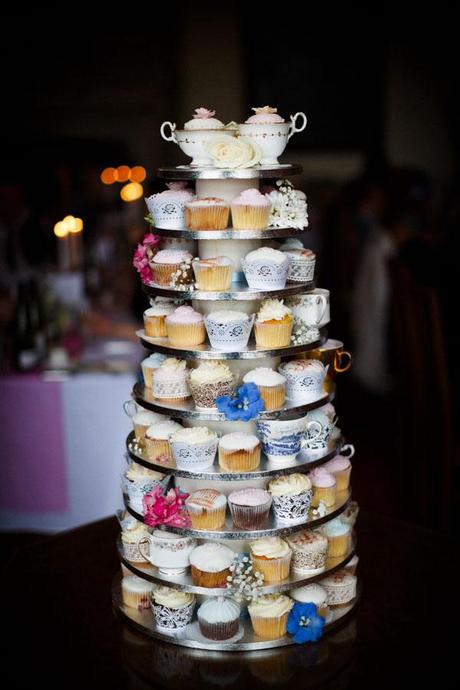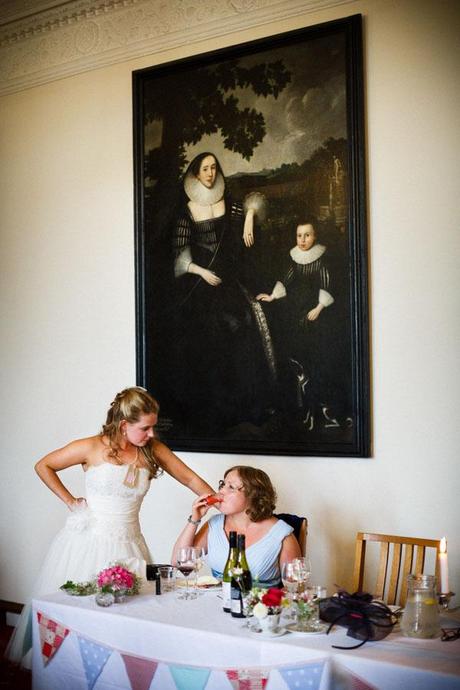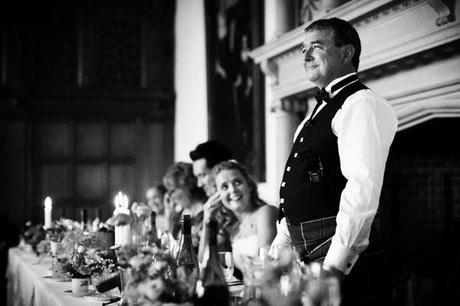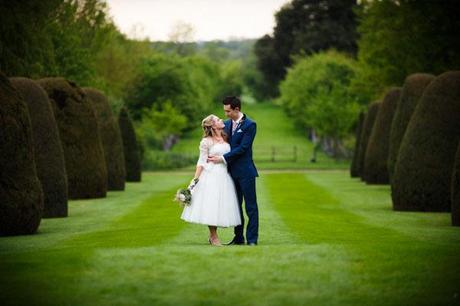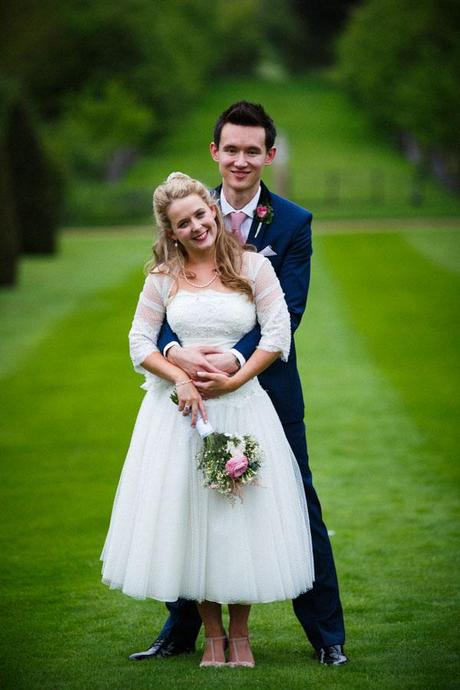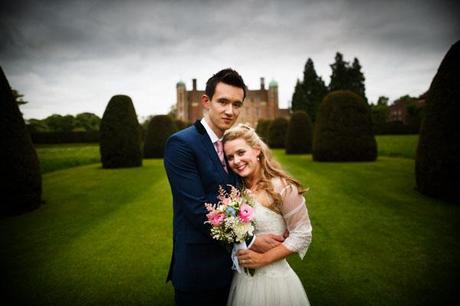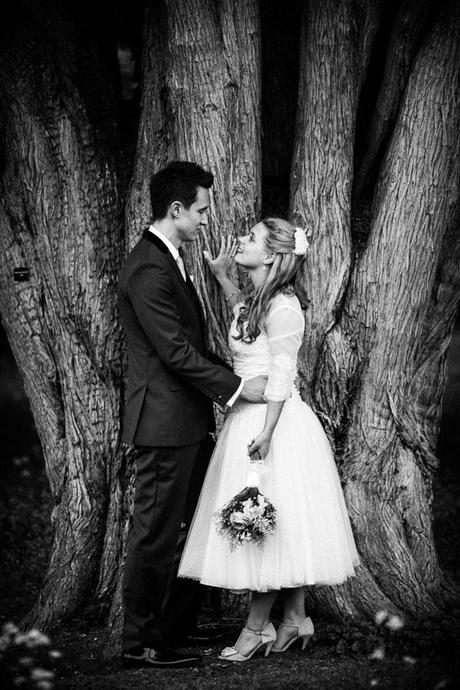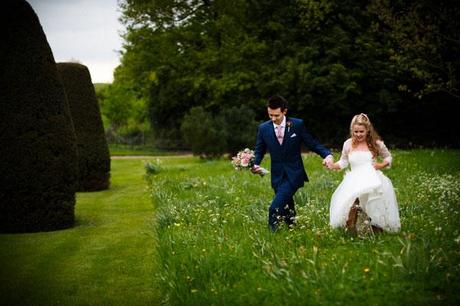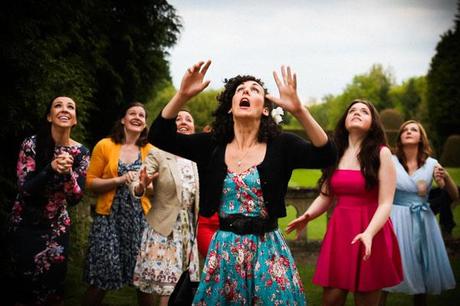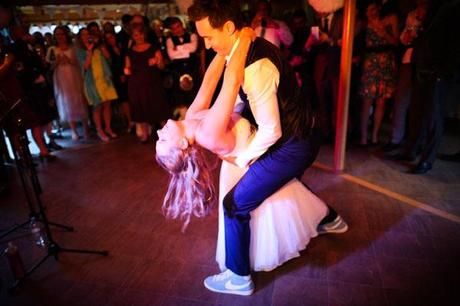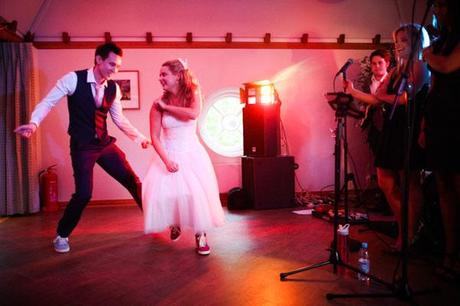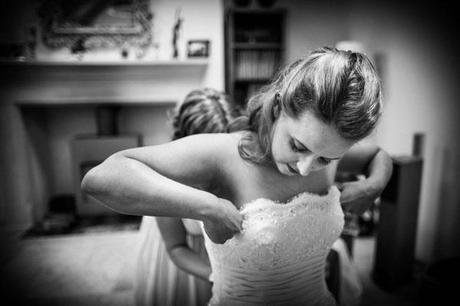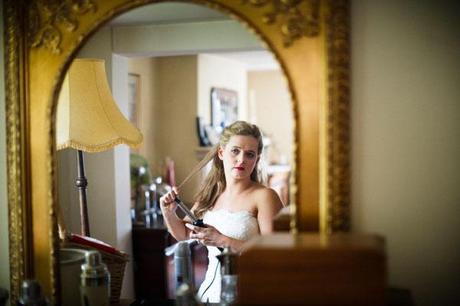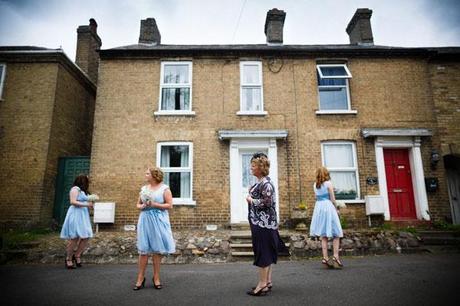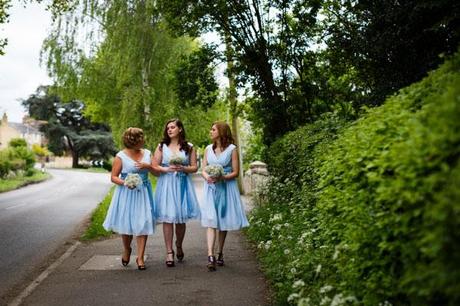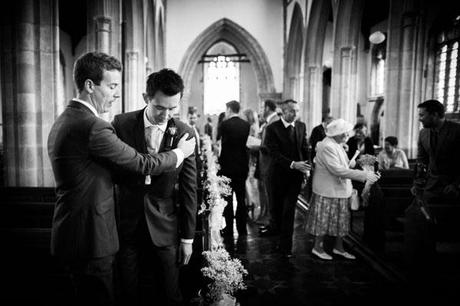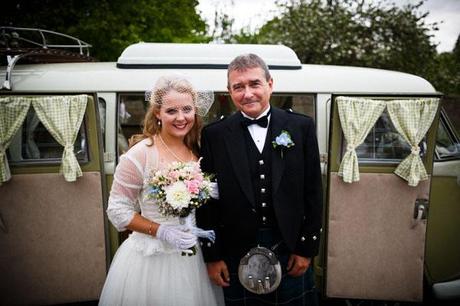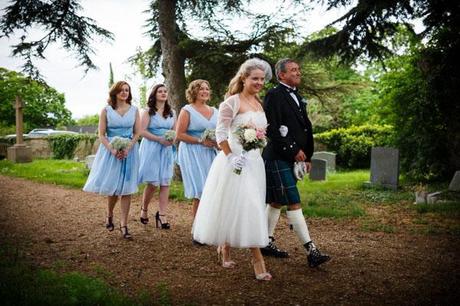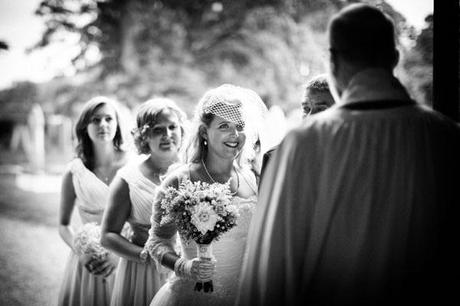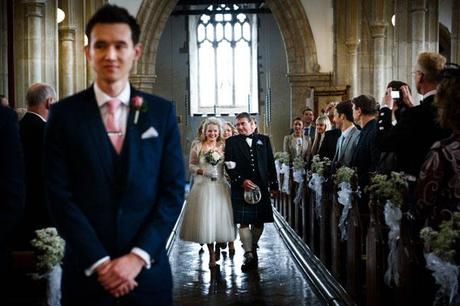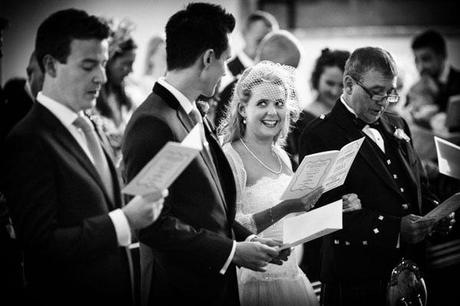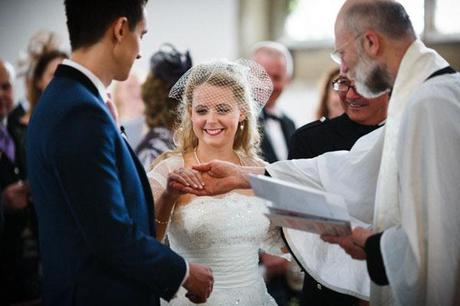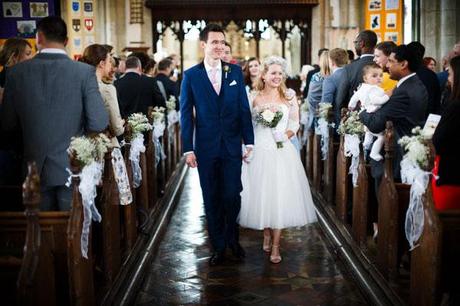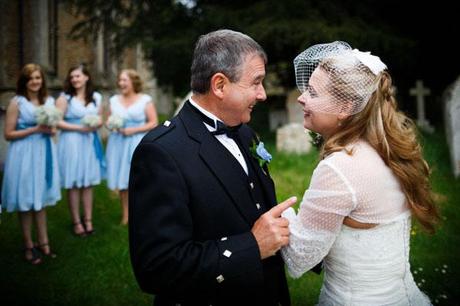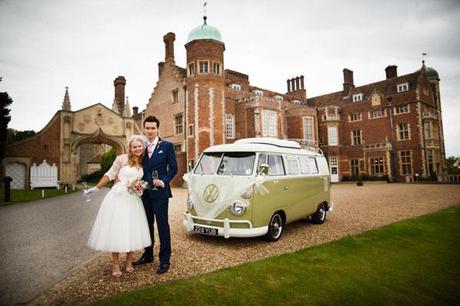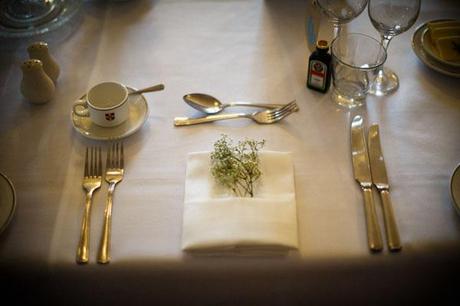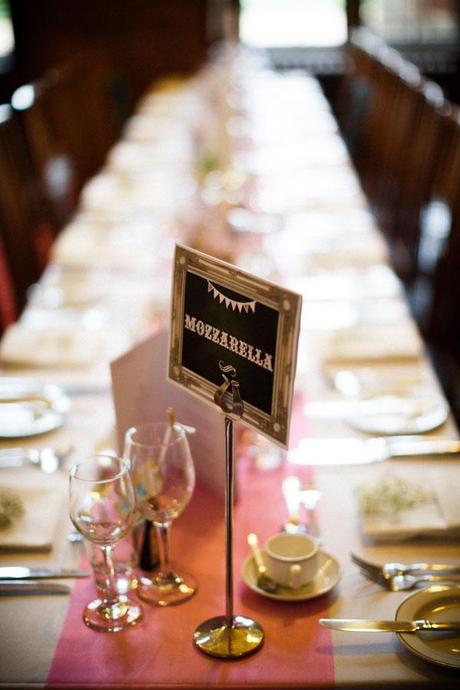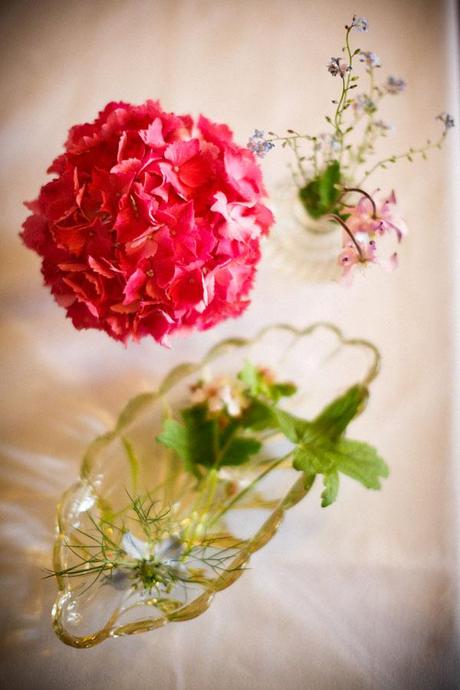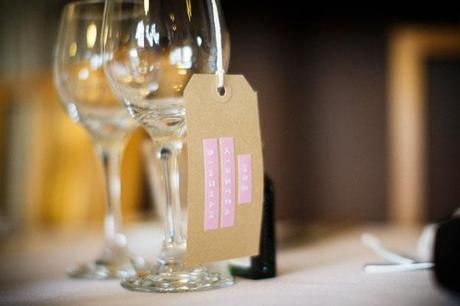 Wed­ding venue:
Mad­in­g­ley Hall, Mad­in­g­ley, Cambridgeshire
Wed­ding photographer:
Paul Rogers
How would you describe your wed­ding style?
The over­all style was quite vin­tage, pri­mar­ily 50s, with a pale blue and pale pink color scheme. We also tried to add in some light-hearted touches, to make the day seem less for­mal. For exam­ple our table favours were minia­ture bot­tles of Jager­meis­ter, which Neal invited every­one to down dur­ing his speech as an alter­na­tive to the tra­di­tional toast.
Our wed­ding car was a VW camper­van. And we both love cheese (and jokes about cheese!), so there was a bit of a cheese theme run­ning through the day, such as table names based on cheeses, and 7 tiers of cheese instead of a tra­di­tional cake.
Invi­ta­tions and recep­tion stationery:
Neal designed the sta­tionery him­self using Adobe Illus­tra­tor. We tried to make them quite infor­mal and again these were vintage-inspired, using a mish-mash of fonts. To cut down on the amount of printed infor­ma­tion we'd need to send out, we also had a web­site (via GettingMarried.co.uk) in a sim­i­lar style to the invitations.
What did you both wear?
Kirsten wore an above ankle-style net strap­less dress with scal­loped front and lace bolero, by Ian Stu­art. This was worn with white lace gloves, a bird­cage veil and a pearl neck­lace and ear­rings. Shoes were pink bow heels. Pink lip­stick – is a must!
Neal wore a bespoke three-piece navy blue suit with nar­row lapels and black vel­vet col­lar from A Suit That Fits, together with a white shirt, pale pink knit­ted tie, white polka dot pocket square and black patent leather shoes from Dune.
A lit­tle about the wed­ding ceremony:
We had a tra­di­tional cer­e­mony in Swavesey, Cam­bridge — the vil­lage Kirsten grew up in. The church was St Andrew's, where Kirsten's brother also got mar­ried. Kirsten was given away by her dad who wore his tra­di­tional Scot­tish attire. We had around 100 guests at the church. We went for a tra­di­tional read­ing from the bible that we liked (Song of Solomon 8 v6,7) fol­lowed by a beau­ti­ful poem called 'The Son­net of the Moon' by Charles Best. Our final read­ing was some­thing a bit more light-hearted, called 'How Falling in Love is Like Own­ing a Dog', by Tay­lor Mali – this was deliv­ered bril­liantly by our friend Cris and got a lot of laughs!
Tell us a lit­tle about your wed­ding venue styling and details:
We car­ried the 50s pink/blue styling through to the dec­o­ra­tions. The flow­ers were designed by Claire Kendon, Kirsten's sister-in-law's mother, and were in a quite whim­si­cal style – arranged in var­i­ous retro teacups, saucers and teapots, with some big­ger arrange­ments in wooden wine boxes.
For our table name cards we used manila lug­gage tags clipped to the wine glasses with mini clothes-pegs, and we stamped out guests' names with a Dymo label writer – blue for boys, pink for girls! The nap­kins had a lit­tle piece of gyp­sophila tucked in.
Metres upon metres of bunting was lov­ingly hand­made by Kirsten, and used to dec­o­rate the bar area and the top table, and we also used white tis­sue pom­poms for the bar area, made by Kirsten, her mom Shirley and brother Ally. We also had a beau­ti­ful vin­tage cup-cake tower made by neigh­bours of Kirsten's par­ents, Francesca and Lynsey Blake.
Wed­ding music and entertainment:
We booked a five-piece band called Red Alert via Gigz Man­age­ment — they played a fan­tas­tic set with every­thing from Motown to mod­ern anthems. In between sets Neal's good friend Dan Willis, the owner of Sound Book­ings DJs, filled the floor with some awe­some tunes.
Mem­o­rable wed­ding day moments:
Kirsten: Trav­el­ling in the VW Camper­van from the church to the recep­tion venue, steal­ing a quiet roman­tic fif­teen min­utes with my new hus­band, drink­ing a glass of champagne.
Neal: The first dance. In the run up to the wed­ding a lot of our friends had been wind­ing us up say­ing they were expect­ing big things from our first dance, since Kirsten trained as a dancer and I had done a few street dance classes. We played it down, say­ing it would just be some­thing bor­ing, but we were plan­ning a sur­prise. On the day the ush­ers got every­one to assem­ble around the dance floor, and we appeared wear­ing Nike high-tops – sky blue for me, pink for Kirsten. The cheer we got was one of the most mem­o­rable moments of the day! Our first dance was to 'We don't have to take our clothes off' by Jer­maine Stew­art, and con­sisted of a mix­ture of a bit of street danc­ing with var­i­ous silly moves – it was a lot of fun and every­one bun­dled onto the dance floor straight after­wards, set­ting the tone for an amaz­ing party.
Wed­ding day advice:
Remem­ber to slow down and take a minute to take it all in – the day goes so quickly. And dance like a maniac!
Rec­om­mended wed­ding suppliers:
Paul Rogers, pho­tog­ra­pher: stun­ning documentary-style pho­tos, cou­pled with with an unob­tru­sive, friendly, and pro­fes­sional approach.
Claire Kendon, florist: absolutely beau­ti­ful flow­ers, even more stun­ning than we had antic­i­pated. Was amaz­ing, came up with great ideas. Made a stun­ning bouquet.
Red Alert (band) and their agents, Gigz Man­age­ment: The band were superb, great stan­dard of musi­cian­ship and played a fan­tas­tic set. Gigz Man­age­ment made it easy to find the right band for us, and took care of all the logis­tics and finer details.
Dan Willis, Sound Book­ings DJs: friendly, pro­fes­sional ser­vice and played an amaz­ing set that kept the dance floor filled all night.
Mad­in­g­ley Hall: The Cater­ing Man­ager, Sonia Fer­reira, made our day run like clock­work, and was highly organ­ised, friendly, and couldn't do enough to help.
See more from Kirsten and Neal's wed­ding on Paul Rogers' wed­ding pho­tog­ra­phy blog