When I was a kid I found the film Ravenous on the shelf of my local video store.  Yes, I probably shouldn't have been allowed to rent it at the time, but the video store clerks knew me well for my fandom and these moments are important when young.  Much of what we discover in life is through other people. When you actually find something on your own, without recommendation, it's like a secret between you and the ether.  It is something great waiting in the wings that only you know about (at least amongst your friends) and that you can now recommend.
The film has been at the top of my list of favorite films since that day.  It is one of the most scathing, horrifying and brutally funny critiques of American expansion and colonial imperialism ever put to film.  By no means reductive, it utilizes the focus of a fantastic narrative to discuss the sacrifices put upon others by the ideals of freedom.  At its core is a score I still cannot fully comprehend.  Combining flavors of the civil war with American roots, jazz, classical and sampling, it goes beyond the needs of the film and elevates the discussion.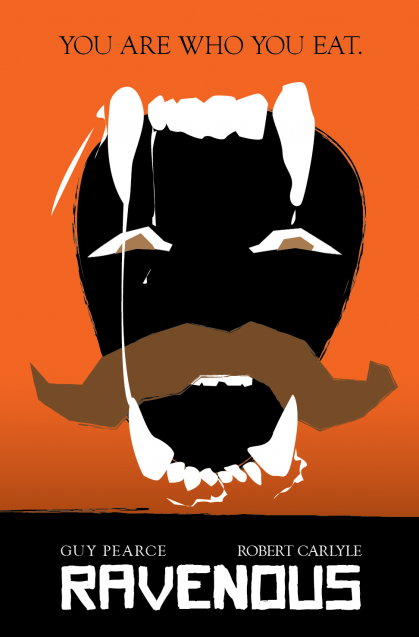 Poster by Garrett Ross
I spent years trying to get the record.  These were the years before online shopping and downloading and I went from record shop to record shop pilfering through their often miniscule soundtrack collections, at times finding other soundtracks long hunted, but most often not finding a thing.  At the time I was the only one I knew who really hunted for film scores.
The score was composed by Damon Albarn and Michael Nyman; two men from very different walks of life.  Albarn is of Blur and Gorillaz fame while Nyman is an impressive film composer with credits ranging from The Piano to Gattaca.  Not a collaboration of any traditional sort, Albarn began work on the score first and completed sixty percent of it prior to Nyman taking a look.  In interviews about the process Nyman has said, "he had gotten a hold of the film before I did, and as it was his first, he was very excited by the prospect and chose the scenes he liked and wrote music … My stuff was totally self-contained.  Damon improvised and wrote his into a musical sequencer."
Despite this, the score sounds whole and represents both artists working at the top of their game.  "We did work together to assemble a team of people (orchestrator, programmer, music editor) to turn it into a soundtrack.  A lot of work needed to be done on Damon's ideas – which were very good, instinctive, fresh and quite stimulating – before they could become a soundtrack, whereas I, the old hand, just sat down and did what I needed to do."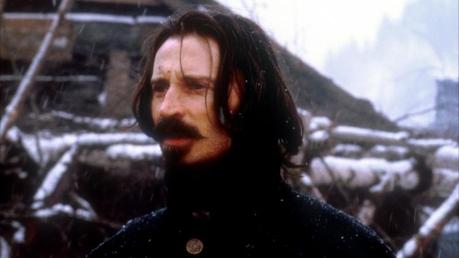 The film's narrative deals with the civil war, cannibalism, westward expansion and all things American.  Musically, they attempt to deal with this, but in a way that furthers the problematic ideas addressed by the narrative.  There is tradition and classical orchestration, but there is also a sensibility of intimate menace and terror of an unknown dimension brought about by strange timings and dissonance.  There are things occurring through the course of pieces that one rarely hears and this broadens the film's attack offering new layers of dimension.
The film is about the rape and destruction of land and its history, which is written by those who have conquered it.  It is about the actions of righteous men and the complications of believing in a moral superiority.  Ravenous shares a belief in the self-sufficiency of myth– stories and ideas engrained in the fabric of civilization not so easily dismembered.  It's a fever dream of reality at the edges of what we cannot see with our naked eyes.
Albarn and Nyman wrote a new history with their music.  Its terrain is a no man's land where pasts, presents and futures coexist and come together to form a new landscape.  By avoiding the specific it elevates an already volatile concoction of ideas to magnificently vicious proportions.  Ravenous has one of the great scores of all time and it is a precursor to what has since been developed, while speaking to the violence and hypocrisy on which this country stands.
Years later I found the album, waiting for me in a college record shop. I anxiously grabbed it from the racks as if it was a mirage.  Used, but in very good condition, I was finally able to revel in the music on its own terms.  This exhilaration of the hunt and its finality feeds into my love of the music every day.  I worked hard for it and cherish not only the time spent tracking it down, but the other works discovered during the process.  There is respect endowed with a search.  Where once there was work there is now only playlist but I still find myself making the chase harder than necessary to find a particular work, even though I could just download it with a device in the palm of my hand. There is a pleasure in the hunt.
Garrett D. Tiedemann  1/26/12
Find sample of music here: