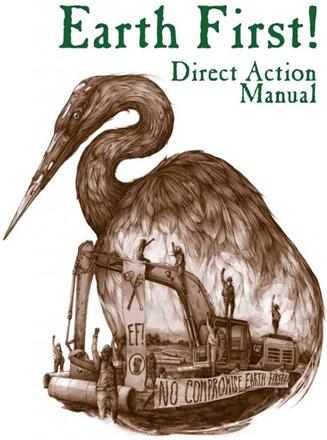 from Earth First! Newswire
Date: September 19, 7pm – 9pm
Location: Bluestockings Bookstore, Café, & Activist Center
172 Allen St, New York, New York 10002
Looking for tips and tools to enhance your week of action for climate justice in NYC? Looking to meet up with other EF!ers in NY?

Check out this presentation on the long-awaited 3rd edition of the Earth First! Direct Action Manual (affectionately known as the "DAM")
The event consists of a slideshow with stories about Earth First! and the radical environmental history that contributed to the skills compiled in the DAM followed by discussion.
Along with a chance to get a copy of the book, the event will also be an chance to pick up the newest Earth First! Journal, learn about direct action efforts in your region, and perhaps inspire your participation in the week of actions for climate justice.
Perhaps folks can meet up here to head out to Rockaway kick-off later that night: https://www.facebook.com/events/297895900415481/