March 14, 2014
Working with my friends @Hellmanns today got me thinking. Whats ur favorite use for mayo? Mine is a mayo/banana sandwich. #dontknockit

— Dale Earnhardt Jr. (@DaleJr) March 14, 2014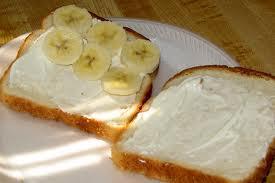 I don't know what's more disgusting, the tweet or the fact that when I google machined, "banana and mayo sandwiches" there was a ton of legit conversations and pictures on the web about this very sandwich.  Are people crazy?  I mean there can't be a worse idea in the history of the world that I've heard that can compare to a banana and mayo sandwich.  Let's look at how it stacks up on a 1-10 scale.  Look: 0, Taste: -100, Texture: NEGATIVE INFINITY, Calories: Too many to count.  Nothing about his makes any sense at all.
God dammit Dale, you just ruined March.
Post navigation
← Bro Bags A 500 Pound Pig In The Woods And We're Not Talking About Banging A Chick.