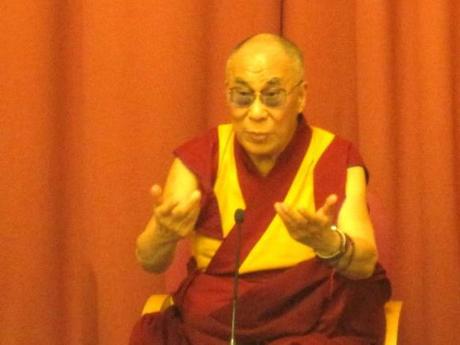 Photographed by Alexandra Buerger: http://alexbuerger.wordpress.com
There are many people who are able to draw and hold attention, but very few that can also command peace. The moment the jovial Dalai Lama stepped onto the modest stage at the University of Westminster in London, the entire audience sighed with joy and then silence fell on us all.
When it comes to inspiring lecturers, myself and my fellow students could not expect more than one of the world's most renowned public figures sat humbly before us, glancing around the small hall with a warm smile.
He was here to mainly talk about the 'Values of democracy and Tibet'. He spoke of the matters closest to his heart and to the heart of humankind: the imbalance of power in China, the turmoil in Tibet, the ironic emptiness in a society that's a 'glass half full' with technology and the diminishing understanding of one human being from another.
"This century should be a century of dialogue," he said, with a calm assertiveness. His advice to China was: "Don't use guns and force but reason in your approach." He cited India as a living example of a nation where different religions, languages and cultures can co-exist in harmony.
He expressed his gratitude at being present at our university, amongst young people of the future who hold the chance to make a difference. "I'm very happy," he said, clasping his hands together in a prayer-like gesture, almost with equal enthusiasm as his onlookers who couldn't falter their gaze.
A major difference between the Dalai Lama and other world leaders is that he bears no airs and graces: "When I talk to people, I talk on the same level," he said. "I am no different to you."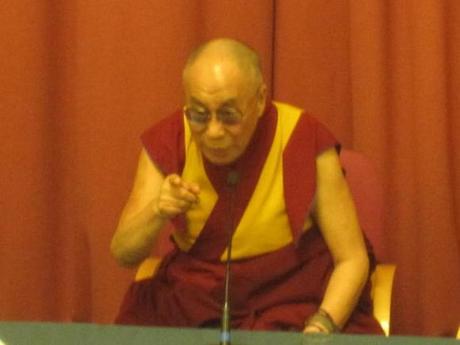 Photographed by Alexandra Buerger: http://alexbuerger.wordpress.com
The world belongs to seven billion people
His simple words carried immense depth and meaning as he talked of the inequalities in societies across the globe. "The world belongs to seven billion people" he said, not to a handful of "rajas" and politicians.
"A democratic system is the best way to rule a country; by people for the people," he added.
Confirming his ideology of a united world, he said that he has always admired the spirit of the E.U., which values common interests as opposed to individual wants and needs. And he inspired his listeners to realise that "meaningful autonomy" and "equal rights" are the ways to mend a war-torn world.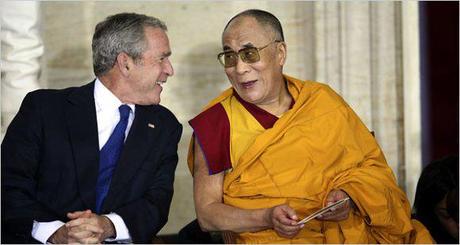 Photographer unknown
In a style that is unique to the Dalai Lama, he intercepted his words of wisdom with humour that induced heartfelt laughter and smiles among us. Recalling his meeting with George W. Bush, he said he was a pleasant man and a "close friend", which was met with a few raised eyebrows.
However, after the former U.S. president's interventions in Iraq, the Dalai Lama gently told him: "I love you and respect you, but about your methods, I have some reservations."
He then returned to the somber truth of the matter: "Violence is unpredictable and leads to unexpected consequences." Therefore, it should be avoided at all costs.
Only His Holiness has the capability of inspiring his audience to face the realities of the world, but to feel joyous in the present moment at the same time.
Middle way approach
He also encouraged the audience to express their views, asking for a show of hands for those who agreed with his "middle way" approach for resolving the issues in Tibet, or if independence was supported. He maintained his view of the middle way, adding that complete independence is "out of the question".
It is unfortunate that true ambassadors of peace are few and far between. But the fact that the Dalai Lama's UK tour sold out within days provides hope that his messages are being heard and understood. Maybe one or two great, virtuous individuals are enough to deliver lessons of such impact and make a notable difference to the world.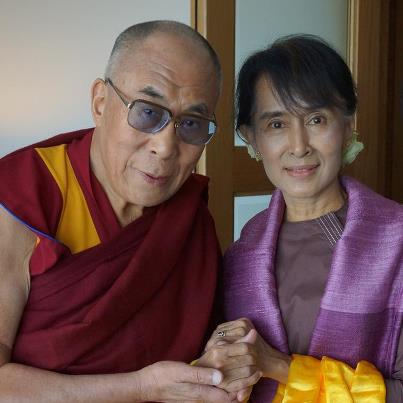 Jeremy Russell/OHHDL
Another symbolic figure of peace, Aung San Suu Kyi, said during her Nobel lecture on Saturday in Oslo:
""Absolute peace in our world is an unattainable goal. But it is one towards which we must continue to journey, our eyes fixed on it as a traveler in a desert fixes his eyes on the one guiding star that will lead him to salvation."
May such compassionate leaders continue to guide the way and long may a growing majority of us follow.