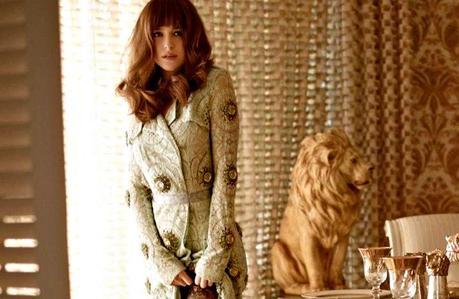 Fifty Shades of Grey does not hit theatres for another year (official release date is February 14, 2015) but the publicity machine is already gearing up for the big premiere. Dakota Johnson is on the cover of US ELLE in an Anastasia Steele inspired photo, wearing demure John Galliano dress and some red-hot Manolo Blahnik ankle strap shoes.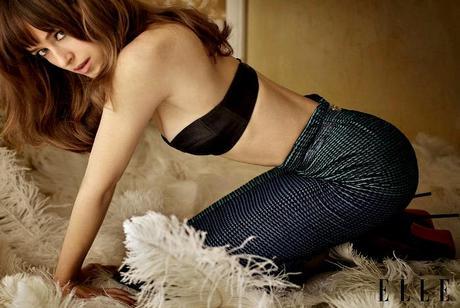 Everyone of course is dying to know about "those Fifty Shades of Grey scenes", but Dakota says she is not fussed. She was (after reading the Fifty Shades of Grey book series) more interested in the emotional relationship between Anastasia and the irresistible but oh, so complex Mr. Grey. "I don't have any problem doing anything," she says in ELLE. "The secret is I have no shame." The film's producer Michael De Luca told E! News the chemistry between Dakota Johnson and her co-star Jamie Dornan is hot. "The chemistry is there, they genuinely like each. They're enjoying the story, the story is so powerful."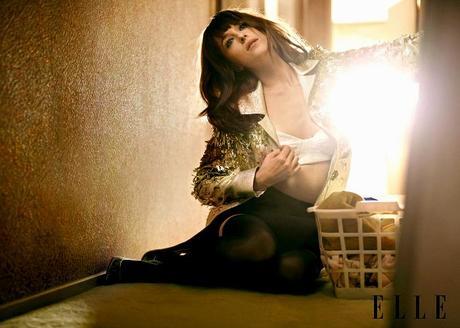 Fifty Shades of Grey is filming in Vancouver, Canada and fans have been posting pics from the filming on Instagram and Twitter. Huffington Post (Canada) has compiled a slide show of some of the best shots that also includes snaps from Rita Ora who plays Christian Grey's adopted sister Mia.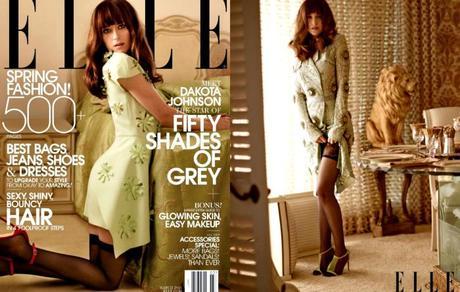 The sultry photo shoot was shot by photographer Carter Smith who has a long history of working with ELLE magazine and has shot many famous women for the magazine. (Shakira, Kate Upton and Amanda Seyfried just to name a few.) Dakota's styling is very sultry and very almost 60s glam with big hair and heavily lined eyes. My favorite is the Burberry embellished lace trench coat they've paired up with Burberry Prorsum rubber sandals. (pic above on the right.)
MORE ON THE WEB:
Fifty Shades of Grey: Is he the real Christian Grey?
All images: ELLE.com
The post Dakota Johnson talks Fifty Shades of Grey in ELLE appeared first on