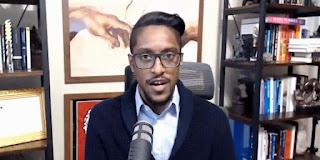 Ali Alexander (YouTube)

Part Two

Right-wing extremist Ali (Akbar) Alexander and his allies have made it a habit to harass and threaten progressive voices in Alabama, where he has a base of operations that includes Montgomery lawyer Baron Coleman. Two of the favorite targets for Alexander & Co. have been attorney/activist/whistle blower Dana Jill Simpson and yours truly. Simpson has stated that she suspects Alexander or his allies have been involved in a number of alarming attacks against her, including a fire on her property.
Could a massive hack of the website-hosting firm Epik lead to revelations about Alexander's activities in Alabama -- and elsewhere, given that he was organizer of the Stop the Steal rally that turned into the Jan. 6  assault on the U.S. Capitol? The answer is "maybe" -- partly because it could take months or even years for tech experts to sift through the data. (See Part One.)

Alexander reportedly has been in hiding since Jan. 6, but he might be running scared, according to an article at dailydot.com, under the headline "After the Capitol riot, 'Stop the Steal' organizer Ali Alexander was scrambling to hide his digital footprint":
Just days after supporters of former President Donald Trump violently stormed the Capitol on Jan. 6, Ali Alexander, one of the primary organizers of the rally that day, appeared to be busy, attempting to hide his ties to dozens and dozens of websites calling the 2020 election stolen.

Domains tied to Alexander that pushed Stop the Steal, which the Daily Dot reviewed, including ones he publicly posted on as himself, were scrambled in the wake of the riot to hide ownership. But hacked documents show they trace right back to Ali and an anonymize service from the web hosting company Epik.

In the run-up to the failed insurrection, which was sparked by weeks of false allegations regarding widespread voter fraud in the 2020 presidential election, Alexander had positioned himself as the movement's de facto leader with his "Stop the Steal" campaign.

At a Dec. 19 rally in Arizona that he spoke at, Alexander made his intentions for Jan. 6 clear: He and his legion of followers would do whatever was necessary to stop Congress from certifying the electoral votes of President Joe Biden's victory.

According to the Washington Post and Daily Beast, Alexander was already working with far-right Republican legislators to plan the Jan. 6 rally.

"We're going to convince them to not certify the vote on Jan. 6 by marching hundreds of thousands, if not millions of patriots, to sit their butts in D.C. and close that city down, right?" Alexander said that December day. "And if we have to explore options after that…"
How did Alexander, with his well-documented criminal record, become a national figure in the GOP, which used to be known as the law-and-order party? Perhaps it is a case of "the right thug, at the right time":
Alexander has been a prominent backchannel in Republican politics for nearly two decades. He's also pled guilty to felony charges under a previous name, when he was known as Ali Akbar. He's been friendly with far-right operatives like Laura Loomer and Jacob Wohl. He also has ties to Roger Stone, who is under investigation for his role in fomenting the Capitol riot. At the time of the Capitol riot, Alexander had almost a quarter of a million Twitter followers.

On the night before the riot, Alexander was filmed chanting "Victory or Death" to an enthusiastic crowd. He'd also dubbed himself an official co-ordinator of the Jan. 6 event, and was filmed on a roof during the rally glowing about its success.
Has Alexander been anxious to take credit for his role in launching the deadly Jan. 6 attacks? Not exactly, reports Daily Dot: 
When the dust finally settled on Jan. 6, Alexander had already seemed to start an effort to obfuscate his ties to the movement. With five deaths, hundreds of injuries, and extensive damage to the Capitol, the conspiracy theorist would find himself facing permanent suspensions across social media before eventually going into hiding.

As the national outrage over the riot intensified, work appeared to be happening behind the scenes. On Jan. 15, just nine days after the failed insurrection, Alexander, or someone working with him, took steps to anonymize his personal information on the registrations for more than 100 domains. Nearly half of those domains are directly related to Stop the Steal. Domains such as stopthestealmovement.com, stopthestealnews.com, and stopthestealupdates.com were all scrambled in the wake of the riot.

Alexander had opted to entrust his web addresses with the domain registrar company Epik, which offers a domain privacy feature known as "Anonymize." The decision would, theoretically, keep the public from discovering which domains he owned.

Yet on Sept. 13, the hacking collective Anonymous announced that it had pilfered a decade's worth of data from Epik, a company known best for hosting extremist websites. Although the company initially claimed to be unaware of a breach, Epik CEO Rob Monster later said in a bizarre, four-hour-long video conference that hackers had obtained a backup of its data.

Released online in a torrent, the 180-gigabyte data cache included, among other things, domain registrations and account credentials as well as the personal details of individuals who had registered some of the internet's most notorious far-right domains.
Has the hack left Alexander vulnerable? From Daily Dot:
Analysis of the data by the Daily Dot was able to link an email tied to Alexander to 122 separate domains. On Jan. 15, the far-right figure received an email to a ProtonMail address thanking him for setting up an Anonymize account.

"Dear Ali A," the email begins. "Thank you for signing up with us. Your new account has been setup and you can now login to our client area . . .


By searching through the hacked data for the ProtonMail address used to register the account, the Daily Dot was able to locate Alexander's Anonymize profile. The data includes Alexander's username and hashed password as well as a phone number and address. The address appears to be that of a UPS store in Texas. The Fort Worth Star-Telegram previously tied that UPS address to Alexander.

The Daily Dot made repeated attempts to reach Alexander over the phone number and email address found in the breach but did not receive a reply by press time.

The account creation date listed under Alexander's account information, Jan. 15, matches the date of the email that says he signed up for the Anonymize service.

The account for Alexander was assigned a unique ID, that would take the place of his actual name on his public domain registrars. The Daily Dot is not disclosing Alexander's ID.
As for the ugly events Simpson and i have experienced, apparently at the hands of Akbar and/or his associates, we addressed those in a Sept. 2 post:
Closer to home, Alexander has bragged about his ties to the Alabama legal world, perhaps through his friendship with Baron Coleman, who once practiced with Alabama State Bar official Tripp Vickers.

Simpson and I know what it's like to be the target of Alexander and his right-wing goons. Alexander once threatened  to sue me for reporting accurately and fairly about a letter  Simpson wrote to Obama re-election counsel Robert Bauer in 2012. My wife received notice of the lawsuit threat shortly after my "arrest for blogging" in October 2013. Was that a coincidence, considering that Alexander's NBC buddies were in a blogging frenzy when word broke of my incarceration. Does that mean they know who caused the unlawful loss of my freedom, the loss of our Birmingham home via wrongful foreclosure, and perhaps my wife's severely broken arm in 2015 at the hands of deputies in Missouri (where we now live)? Let's just say we haven't ruled out Alexander and NBC's knowledge of, and perhaps involvement with, any or all of those events.

Simpson has experienced all kinds of unsettling incidents related to her house, vehicle, and property -- some involving fire. She has stated publicly that she suspects Akbar and/or his colleagues' involvement in at least some of these evens.From a November 2018 LS post: 

Simpson's interactions with the right-wing crazies go back several years, to the beginnings of the Don Siegelman case:


The NBC, as we call them, came to my attention when they harassed and told false stories about Siegelman activists. The NBC is a vicious group. What is such a hoot is that is how I first learned about crazy Steve Bannon's bunch.

I started getting a master's degree in philosophy and religion, and the nuts in the National Bloggers Club started following me around in D.C. and California. The idiots were making a film for Andrew Breitbart and were trying to falsely claim I was a ring leader in Anonymous

, as they were friends of mine, and that I was dating a guy who they believed was in Anonymous. The dimwits offered me all kinds of things to say I was part of it, through him.


Simpson knows these creepy wingers can get both scary and personal. She also says they are behind -- at least in part -- some of the abuse (false arrest and imprisonment, theft of house) that has been directed at my wife, Carol, and me. . . . Says Simpson:

Even as late as 2013 they were threatening me and called my boyfriend (now husband) trying to advise him not to marry me, telling him I was going to jail. The GOP National Blogger bunch in 2014, due to me having a neck injury, worked with their Alabama State Bar buddy, Tripp Vickers, and his former law partner,  Baron Coleman and a federal judge to try to set me up -- when in all likelihood it was them who set my office yard on fire and burned up my car and my shed with all my files in it. They spent months trying to frame me with all kinds of things. They were not successful. I might add, in my opinion, they were responsible for what happened to Shuler as well -- as some of their members bragged about it at their Web sites and were working with Rob Riley who first used a #MeToo deal in the Doug Jones-Roy Moore race.

Alexander also has threatened legal action against Simpson. Consider this from one of his online comments:

Jill Simpson should lawyer up buddy. Tell her not to worry about coming to Texas. I can come to Alabama. I'll dine with the Governor and then spend the afternoon cashing in favors with Alabama lawyers.


This raises some questions that hit close to home: The governor at the time was Robert Bentley, who I helped bring down by breaking the story about his extramarital activities with senior aide Rebekah Caldwell Mason. And what kind of favors was Alexander cashing in with Alabama lawyers? Is this a reference to the Alabama State Bar? What implications might this have for Carol and me, given that Missouri deputies  shattered her arm during an unlawful eviction that occurred about the time I was breaking the Bentley story? We will ponder that question in a future post.

Meanwhile, we note that Alexander and Coleman have a history of making sport of others' legal misfortunes. Consider this repartee under the LS headline"Tweet suggests Ali Akbar and attorney Baron Coleman know who's behind my arrest and our foreclosure

Akbar starts the festivities by tweeting about Matt Osborne, the editor of Breitbart Unmasked, and me--with a reference to a $3.5-million default judgment against me in the (Jessica Garrison case). The default judgment, by law, is void and due to be overturned, and that process is ongoing.
Removing extraneous comments from a couple of other folks, here is the conversation between Akbar and Coleman:


Akbar: Matt Osborne sure helped Roger Shuler out. Hahaha. $3.5 M libel mishap. Idiots flock together.
Coleman: The last three year's of that guy's life is a fine example of what not to do.
Akbar: His whole existence.
Coleman: He's judgment-proof, has nothing. No reason to bother fighting it. $1 might as well be $10 million to him.
In the wake of the Epik hack, Akbar and Coleman might not find legal difficulties so amusing.