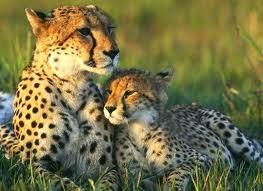 Dachigam National Park is a beautiful parkthat is located in the state of Jammu and Kashmir,

at a distance of about 22 km from Srinagar. Stretched over an area of about 141 sq km, the park is one of the top tourist attractions in Jammu and Kashmir. The literal meaning of the park is 'ten villages', which must have probably kept in the memory of the ten villages that were relocated to form this national park. In the year 1981, the region was declared as the national park.


Attractions

Flora

Dachigam National Park is filled with a diverse species of flora. Around 50 species of trees, 500 species of herbs and 20 species of shrubs have been recorded at this place. The principle species of tress found in this region are abies pindow, morus alba, salix sapp, corylus colurna and lots more. As for the shrubs found in this national park are desmodium tiliaefolium, berberis spp, indigofera heterantha etc.

Fauna

The national park is major attraction in Jammu and Kashmir, as it is home to the rare species of birds and animals that cannot be seen anywhere else in the country. The chief attractions of this place are the species such as hagul and Kashmir stag. Besides these, other species of wild animals found in this region are musk deer, jackal, jungle cat, snow leopard, Himalayan Brown and Black Bear, Himalayan serow, long-tailed marmot etc. Apart from these, the park is also home to around 150 species of birds, including wagtail, redstart, minivet, wallcreeper, bearded vulture, woodpecker, black bulbul, cinnamon sparrow, Himalayan ruby throat, Kashmir flycatcher, orange bullfinch, chough, Himalayan griffon vulture and lots more.




Best Time to Visit

The park can be visited throughout the year, as the different seasons has a different beauty at this park. Still, the most appropriate season to visit this place is from April to August, as it is a perfect time to visit the upper regions of the park which remains snow covered during the winter season.

Accommodation

There are very limited options available for accommodation in Dachigam. There are two rest houses available at this place that is run by the Forest Depart. If you are in search of much better quality of accommodation, then Srinagar is the best option, which is located at a distance of about 22 km. Srinagar is dotted with various types of accommodation that are facilitated with modern day amenities.

How to Reach

By Air:

The nearest airport to this place is in Srinagar, located at a distance of about 24 km. The airport is well linked by flight with various major cities in India, like Mumbai, Delhi, Jammu, Leh, Bangalore etc. Regular bus and taxi services are available from the airport to the national park.

By Train:

The closest railway station to this park is Jammu National Park, located at a distance of about 327 km. The station is well connected with places like Indore, Mumbai, Kolkata, Delhi, Pune, Chennai and many more.




By Road:

The Park can be easily accessed from the main town of Srinagar, located at a distance of about 22 km. Regular bus and taxi services are available from the town to the national park. Srinagar has a good network of roads that connects the place with other major parts of the country like Delhi, Jammu, Chandigarh, Leh etc.