Four days ago, on March 16, 2013, the people of Cyprus were told by the grand poobahs of the eurozone that as much as 10% of the deposits in their personal bank accounts would be "levied" confiscated, in exchange for a $13 billion (€10 billion) bail-out of their heavily indebted country to avoid bankruptcy and a banking collapse.
Cyprus is a small island country in the Eastern Mediterranean Sea to the east of Greece, and a member of the European Union (EU). The eurozone is an economic and monetary union of 17 EU member states that have adopted the euro (€) as their common currency and sole legal tender.
The eurozone's levy was contingent on the approval of the Cypriot parliament. Yesterday, parliament resoundingly rejected the confiscation of Cypriots' bank assets, which means the EU must now contemplate one of their members defaulting on its debt.
But the damage is already done. As Tyler Durden of ZeroHedge puts it, "the Rubicon has been crossed." The idea of "wealth taxation," that is the involuntary "levy" or confiscation of citizens' bank assets, "is now front and center" not only in Europe, but undoubtedly in the United States as well.
Faster than you can say "Jiminy Cricket," the governments of two other countries already are making similar levy noises.
New Zealand
Yesterday, New Zealand's Green Party issued a press release claiming that NZ's National Government are pushing for a Cyprus-style solution to bank failure in their country.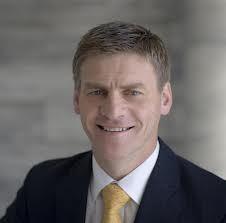 Bill English
As reported by NZ's (independent news) Scoop, NZ Deputy Prime Minister and Finance Minister Bill English is pushing for the Open Bank Resolution (OBR) under which, if a bank fails, the savings of all bank depositors would be reduced overnight to fund the bank's bail out. In effect, small depositors would be forced to fund big bank bailouts.
Green Party Co-leader Dr Russel Norman said:
"Bill English is proposing a Cyprus-style solution for managing bank failure here in New Zealand – a solution that will see small depositors lose some of their savings to fund big bank bailouts. The Reserve Bank is in the final stages of implementing a system of managing bank failure called Open Bank Resolution. The scheme will put all bank depositors on the hook for bailing out their bank. Depositors will overnight have their savings shaved by the amount needed to keep the bank afloat. While the details are still to be finalised, nearly all depositors will see their savings reduced by the same proportions.
Bill English is wrong to assume everyday people are able to judge the soundness of their bank. Not even sophisticated investors like Merrill Lynch saw the global financial crisis coming. If he insists on pushing through this unfair scheme, small depositors can be protected ahead of time with a notified savings threshold below which their savings will be safe from any interference.
Open Bank Resolution is unprecedented in the world. Most OECD countries run deposit insurance schemes which protect people's deposits up to a maximum ranging from $100,000 – $250,000. OBR is not in line with Australia, which protects bank deposits up to $250,000.
A deposit insurance scheme is a much simpler, well-tested alternative to Open Bank Resolution. It rewards safe banks with lower premiums and limits the cost to taxpayers of a bank failure. Deposit insurance will, however, require the Reserve Bank to oversee and regulate our banks more closely – a measure which is ultimately the best protection against bank failure."
Spain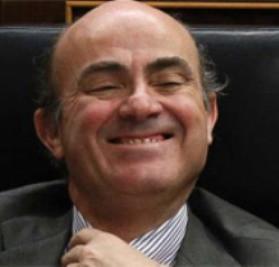 Luis de Guindos
According to a report by El Paiz, yesterday (March 19, 2013), Spain's economy minister Luis de Guindos proclaimed in the Senate that "Spanish savers should stay calm."
But De Guindos has a peculiar way of reassuring Spanish savers because in the same breath, he assured them that bank deposits under €100,000 are "sacred," which of course implies that deposits over €100,000 are not!
As Tyler Durden observes, it would appear Spain has changed constitutional rules to enable a so-called "moderate" levy on bank deposits,  as under previous Spanish law this was prohibited. For now, the helpful De Guindos claims the "levy" will be "not much higher than 0%" and is mainly aimed at regions in Spain that have "made no effort to collect taxes" based on new revenue expectations. Minister of Finance and Public Administration Cristobal Montoro defends the need for such a "levy" in their constitution on the basis of standardizing taxes across regions, and is preparing a proposal on the amounts to be paid.
Although the European Commission could previously argue that such a "tax" would violate the free movement of capital in Europe, Cyprus and Spain have opened the door to eventually effectively taxing bank deposits in Europe.
See also my post of March 19, 2013, "Confiscation of bank deposits: Can it happen in America?."
~Eowyn