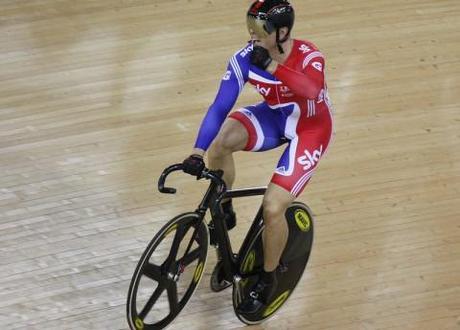 Chris Hoy. Photo credit: Sum_of_Marc http://flic.kr/p/cA6drE
The background
Sir Chris Hoy claimed a sixth Olympic gold medal on Tuesday to become the most successful British Olympian of all time. Having won gold on the first night of the track cycling in the men's team sprint, Hoy's triumph in the keirin race was the perfect finale for Team GB, who claimed a staggering seven on ten available gold medals and could have had more if it hadn't been for controversial disqualifications and relegations. Hoy's six golds take him past rowing great Sir Steve Redgrave's five. Redgrave was at the velodrome to congratulate Hoy on his stunning success.
"I'm in shock. You try to compose yourself but it's surreal," said Hoy. "I wanted to win gold in front of my home crowd. I saw everyone stepping up to the plate and thankfully it worked out for me too."
Hoy's achievements should be on the national curriculum
"His achievements on a bike should be on the national curriculum," exclaimed Paul Hayward of The Telegraph, who said Hoy has done more than anyone to change the mindset of British athletes from "plucky losers" to world-beating winners. "Tuesday's demonstration of Hoy's tenacity could be shown in schools to help children understand a winner's mentality. No British sportsman or woman is harder to beat."
A man worthy of his knighthood
James Lawton of The Independent celebrated the "timing of a natural-born champion, a man who knows exactly when to apply the hardest of the pressure." Lawton reminded that "some thought the rush to his knighthood was perhaps a little premature, that it was a populist gesture on the road to the British Olympics. But for some time now there has scarcely been a whisper of doubt and yesterday there was the greatest expression of a man who has established himself so strongly in the national consciousness."
"Bradley Wiggins and Mark Cavendish may have since sashayed through the door of fame, but it was Hoy who kicked it open," reminded Jonathan Liew of The Telegraph.
Hoy's 'murderous desire'
Jonathan Liew of The Telegraph praised the 36-year-old cyclist's "murderous desire" which meant that "there has never been anyone quite as imposing as Chris Hoy at winning a bike race." Liew said that the debate about who's greater between Hoy and Redgrave "is largely a moot one. Both had the ability not just to fill us with patriotic pride, but to lift us from our sofas too. Many possessed Hoy's raw power, but few shared his murderous desire and his unstinting ability to raise his game for the big occasion."
More on Olympics

Samuel L. Jackson's Olympic tweets: NBC, give this man a job
Lightning Bolt strikes twice
Bert Le Clos is the world's proudest parent