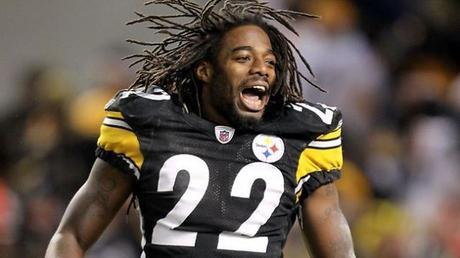 Photo: steelworldorder.com
- Adam Parker
"Head due west, young man! Head to the desert!"
Or something like that.
Since the beginning of the Ken Whisenhunt Era in Arizona, the Cardinals have been enticing more and more former Steelers players to reunite with Pittsburgh's former offensive coordinator, and essentially turn the Cardinals into Steelers-West.
Steelers cornerback William Gay was the latest player to swap out the black and gold for Cardinals' red after he agreed to a two-year deal with Arizona.
Gay spent the previous four seasons with the Steelers, who selected him in the fifth round of the 2007 draft. He has appeared in all 80 regular season games since entering the league, including 37 starts.
Last season, he started 15 games for the Steelers and finished the year with 56 tackles -- 45 solo -- with two interceptions.
As a lifelong Steelers fan, I can't say I'm sorry to see Gay walk out the door. As my colleague here at Beard and Stache -- Troy Ballard -- can attest, I am no fan of Gay's play on the gridiron. For years I've been futilely hoping against hope that the Steelers would find a replacement for Gay to pair opposite solid veteran, Ike Taylor.
Game after game I'd look up, and to no surprise, see Gay get beat time after time by any number of receivers. I mean, I can't overstate this enough. It had almost gotten to the point that it wasn't a Steelers game if No. 22 wasn't shown on a replay getting beat for a big play at least once.
Needless to say, my prayers up to this point have fallen on deaf ears. But now, with Gay headed to Arizona and former No. 2 cornerback Bryant McFadden released, I don't think the Steelers have much of a choice but to supplement the position with a player or two from next month's draft.
However, there are two young cornerbacks on the roster that I do think have the potential to be the heir apparent No. 2 guy opposite Taylor -- Keenan Lewis -- a third-round pick in 2009 -- whose been gradually making his way up the depth chart and last year's fourth round pick -- and Cortez Allen from the Citadel.
However, if I was in general manager Kevin Colbert's ear, I'd give him a small bit of advice: Don't get complacent. Outside of maybe offensive line, cornerback has arguably been this team's biggest need for the better half of the last decade.
The NFL is a passing league, and though the team's pass rushers are great, it's become abundantly clear in recent seasons that the team is in dire need of some fresh blood at cornerback to defend these exotic four and five-wide receiver sets.
I'm begging you, Kevin.
No, the entirety of Steeler Nation is begging you -- Draft a corner in the early rounds so we can finally get some stability at the position.
As for Gay to Arizona, best of luck to the Cardinals. They obviously don't see it yet, but it's only a matter of time and it's bound to happen sooner rather than later. The former Louisville Cardinal is bound to let coach Whisenhunt and the rest of the Desert Birds' defense down in the end.
Enjoy him, Arizona.
Good riddance.
Be sure to follow Beard And Stache on Twitter 
@BeardAndStache
, 
and also Adam 
@Adam_Parker43
, Like our Facebook page 
HERE
!