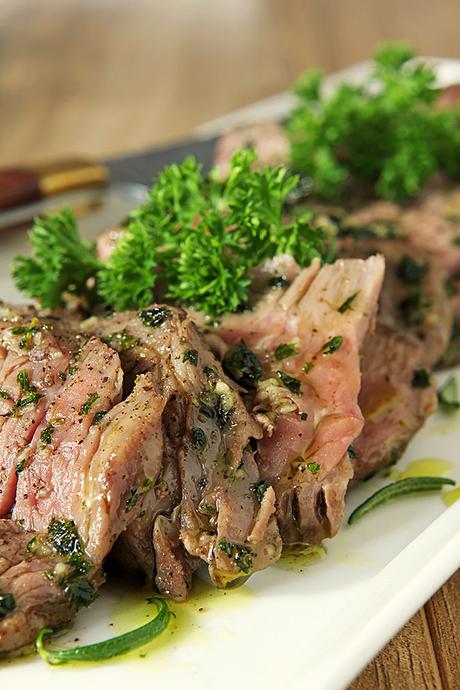 Easter sort of snuck up on me this year. Actually it does that a lot in Colorado. Spring can be so fickle; warm sun bathing the landscape with the promise of green fields and early flowers contrasted with the howling wind of late season snowstorms. So the snow of yesterday has already melted but today it's chilly and not springlike at all. When I notice that Easter is this Sunday on my calendar, I admit I'm a bit shocked. Still, it's true and while a bit late for me to share, this rib-eye is not your standard fare and it's so easy and beyond delicious. Be gone ham and lamb...there's a rib-eye in town!
Rib-eye is the only cut of beef I use for this recipe; they can be a luxury but I was lucky to have some still packaged in my freezer from a local farmer friend and I knew immediately when I saw these that I had to make this Cut Rib-eye with Olive Oil, Garlic, Parsley and Rosemary (Tagliata). It's almost as easy as grilling them but the extra step is so worth the trouble; this dish is truly magnificent.
The year I first published this post, I had broken my leg in February of the previous year and I was in the middle of a long and difficult recuperation. My original post made note of the fact that I had not stepped foot in my garden the previous year at all and how excited I was to be getting around with just a cane. It was another reminder that while my knee will never be quite the same, I'm no longer limited to living in my family room and using a walker like that first year. Thank goodness right?
As I was getting more mobile and able to blog again, I received a gift of this amazing olive oil from Lael and Giuliano Hazan. Lael wrote, "Giuliano and I are often asked, "How do you choose an olive oil"? Which ones do you like best? What does "extra" mean? How can you be a very virgin? Extra virgin refers to olive oil that has no more than aa 0.8% acidity level and comes from the first cold pressing of the olives. Giuliano and I import our own line of extra virgin olive oil from Apulia, where the spur and heel of Italy's boot is. It is made from 100% Ogliarola olives, Apulia's most prized varietal."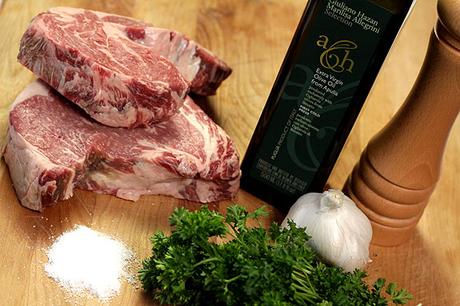 I decided to do my own taste test between this product and what I normally used to see if I could really notice a difference. The color of the oils were very similar but the taste? Let's just say that I hid my cache. I thought of giving a bottle to each of my girls but I rethought that decision; I wasn't sure they would appreciate it quite enough. That was a long time ago but I just discovered the last bottle in my cupboard and I'm so hoping that the years will have been kind!
I love the bottle too; the label is beautiful with an embossed gold logo. I have a thing about bottles; wine and otherwise. I have wine bottles throughout my living space interspersed with olive oil bottles and I imagine my home an Italian villa (a very small one in a Denver suburb, but still..). I do not buy the fact that I'm Swiss, German, English and Irish. I just know someone stole away one night to Italy, had a tryst and my heritage surely includes a touch of Italian. My excitement at this prize could hardly be contained and I wanted to make something that would really make the olive oil shine and not hide it in a big dish with a bunch of big flavors.
So I went to the source. I asked Lael, who conferred with her husband Giuliano (aren't I special?) and they suggested this dish. So simple. So amazing. So utterly Italian. So me. So delicious. So perfect. Enough?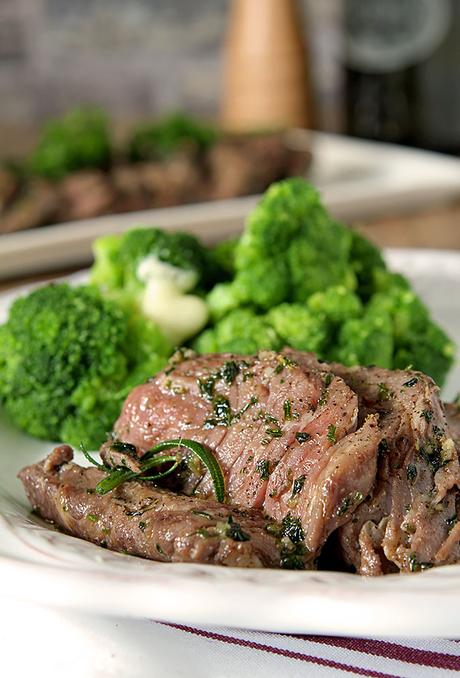 I admit the beef industry would be in trouble if I were the norm. I love chicken and seafood and limit my red meat intake to the occasional flank steak or burger. Each time I enjoy this amazing steak I think that must change. A rib-eye is already such a tender and juicy cut and certainly over embellishing it would be sacrilege. This is not that. After grilling it outside just a bit short of rare, the meat is brought inside to rest where it is then sliced on the diagonal and briefly immersed in a warm olive oil, sea salt, garlic, parsley and rosemary sauté. It was heavenly. It is heavenly.
It is definitely a dish perfect for a holiday meal and it's SO easy too. There is no need for the preparation and long roasting often associated with many holiday dishes and yet this would outshine most of them any day (still have to have turkey on Christmas right?).
I don't know about you but I'm ready for grilling, even if there is snow, and this Cut Rib-eye with Olive Oil, Garlic and Parsley (Tagliata) let's you get your grill on while still serving a dish that is perfect for your fanciest china. Try it, you'll see!
Serves 4 Servings
10 minPrep Time
15 minCook Time
25 minTotal Time

Save Recipe
Ingredients
Instructions