If you start Microsoft's Chromium-based Edge, you can set the "New tab" via the Hamburger menu which is available on the right side of the page. Using the layout menu, you can select to go with the feeds, picture of the day and frequently visited pages.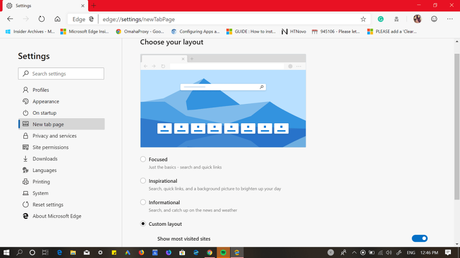 In the latest version of the Edge Canary build, the company has added a new entry "New tab page" from where users can customize the layout of New tab page. On the page, you will find different options which include Focused, Inspirational, Informational, and Custom layout from where you can choose whether you would like to display most visited sites, background image and news feeds.
New tab page option in Edge Settings
To get access to New tab page entry, here's what you need to do:
Click on the 'Settings and More' (icon) available on the upper right corner and select Settings.
On the left panel of the Settings page, you will find "New tab page" entry. Switch to it to get access to customization options.
Probably, including a separate section for New tab page in the Edge browser settings brings new possibilities to customize the New tab page of Chromium Edge in near future.
Source: Techdows