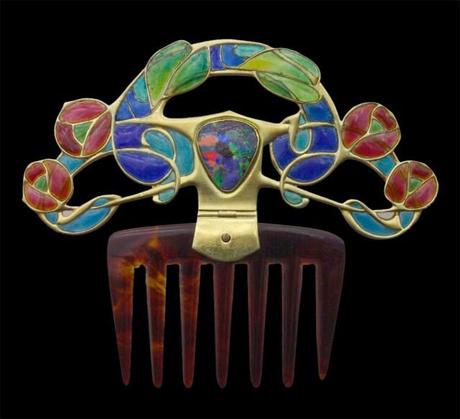 There's something so gratifying and appealing about the swoop and flourish of an Art Nouveau piece, whether it be an object d'arte or a bejeweled broach, it's no wonder that the influence of the movement is still seen nearly 120 after its inception.
Birthed in Paris during the late 19th century, the Art Nouveau movement, although deeply rooted in Victorian-era design sensibilities, is known for its ties to the natural world and is floral, curvy, and feminine. Plique-a-jour, a type of enamel that allows light the penetrate through, gives Art Nouveau jewelry an ethereal look reminiscent of stained glass. Birds and other animals were often employed in Nouveau, as well as fairies and insects, like dragonflies and butterflies, made to resemble imaginary creatures.
Unlike the stodgy Victorians, Art Nouveau artists weren't afraid to use the nude female form, glorifying its curves rather than vilifying them. Additionally, Art Nouveau jewelers such as George Fuquet began incorporating gems like opals and turquoise into their pieces. Louis Comfort Tiffany used colored glass to create his signature Tiffany Art Nouveau style. But the movement was also heavily influenced by region. Countries such as Germany, Italy, Spain, Malta, Norway, and Portugal all put their own unique spin on Nouveau, from the opulent Baroque of Spanish designers to the classical look inherent in German design. Further, Art Nouveau designers all over the world were influenced by Japanese art work and craftsmanship.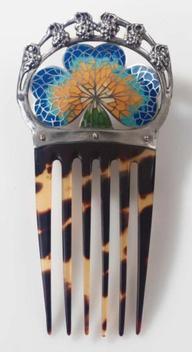 The Art Nouveau movement finally gave way to the Modernist Movement in the 1930s. Regardless, to this day, Art Nouveau jewelry remains a favorite amongst collectors and fashion enthusiasts everywhere, and its influence is strong in the works of the world's greatest jewelry designers, from Buccellati to Cartier, and, of course, Tiffany and Co.
Kandy H for Raymond Lee Jewelers, South Florida's premiere source for buying and selling luxury watches and designer jewelry.