Current Crochet Projects:  Bridal Shower Favors - Crochet Flower Rings
 
Several months ago I was honored to be asked to be the maid of honor in my sister-in-law's wedding.  Since then, I have been planning her bridal shower and bachelorette party.  My sister-in-law and most of my husband's family live in the Akron, Oh area.  Unfortunately, this limited the number of locations available for her bridal shower.  My husband's family is quite large, so having the shower at a winery or most restaurants were out because they could not accommodate the number of guests on my sister-in-law's guest list.
Someone recommended looking into hosting the shower at a pavilion at one of the local metro parks.  At first, I thought this would be way too casual for a bridal shower, that is until I found the Coventry Oaks Pavilion at Firestone Metro Park.
Enter to win a Craftsy class!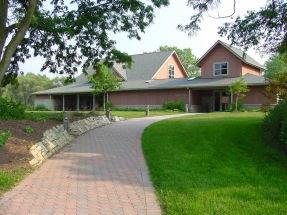 The Coventry Oaks Pavilion has been immaculately maintained and is very bright and airy.  Many people in the area actually choose to host their weddings at this pavilion.  I was so thrilled to have found it.  Then, I started  thinking about decor.  I have a few ficus trees that I am planning on bringing and stringing white lights through the branches.  I am also planning on having real flowers as the centerpieces at each table.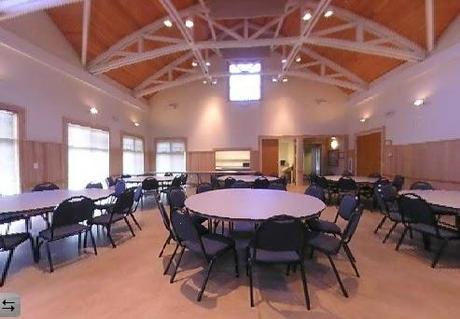 The one aspect of the shower I was having the hardest time deciding upon was the favors.  The guest list for the shower is well over 50 people, so even a favor that cost $1/piece would end up costing over $50 total.  My husband suggested we make the favors for the shower.  He was looking through my Etsy shop, Pearl Bridal Boutique, and he came across my flower rings.  He suggested crocheting a ring for each guest using the wedding colors of iris, black, silver and white.  I loved the idea.  Not only would the favors be an extremely personal touch but they would also be very cost affective.  Luckily, we decided on the favors two months before the shower, so I had plenty of time to crochet all fifty flowers without straining myself too much.  So far, I have crocheted fifteen flowers and have five rings completely finished.  Each ring has a silver plated adjustable ring base, a crochet flower and a faux pearl center.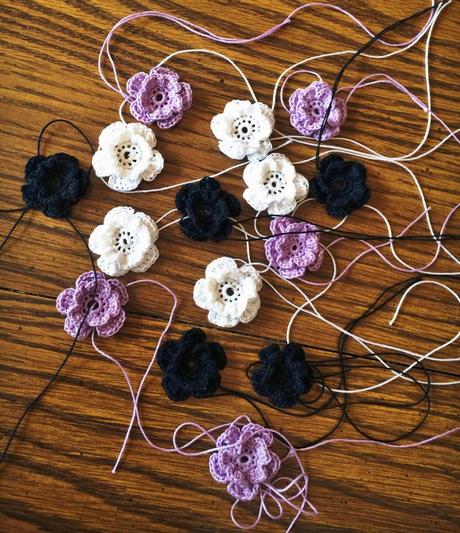 In order to  hold myself accountable, I plan on posting the current status of the crochet rings.  Once they are completely finished, I have an idea of how to display the rings at the pavilion.  I plan on taking a small Styrofoam ball, used for flower arranging, and sticking each ring into the Styrofoam ball so that there is a circle of crochet flowers.  Then, I will take a stem and stick one end into the flower ball and the other into a small flower pot.  Next to the flower arrangement, there will be a basket full of small organza bags and a sign telling the guests to select a ring of their choice and place it in one of the organza bags.