Curd Rice - Curd rice is a very popular rice preparation from Southern India. Cooked rice is added in the beaten yogurt with few vegetables and then tempered with white lentil/urad daal,asafoetida,curry leaves,mustard and cashew.
Curd rice/ Bagala Bhath/ Daddojanam /Thayir Sadam/ Dahi bhaat/ Masru-anna is an excellent recipe to use your leftover rice. It is also ideal to pack in lunch boxes or carry as a travel food. You don't need accompaniments for this curd rice as it a complete meal by it self,but if you want you can serve papad, pickle and curd chilies with this curd rice.
This curd rice is so popular in Southern India that it is a part of their daily lunch and meal,served at weddings and celebrations along with other spicy rice dishes .
Curd rice is cooling for the body so very good to have during summer season. Yogurt is very good for digestion and rice also digest easily so this curd rice combination is a very good ayurvedic food and a must have during summer . If you are lactose intolerant then you can have this easily as an alternate of consuming milk. Small kids and babies enjoys eating curd rice and they can digest it easily. it is also a very good recipe for bachelors.
You can add some cream or butter in it to make it creamier but I have never added these things in my curd rice as I wanted it light and easy to digest. You can add if you want ,totally optional.
Tips To Make Curd Rice
First of all you need soft cooked rice to make this. Either you cook rice using a pressure cooker or cook in a pan , add little extra water and cook till it become soft slight mushy. You can also use your soft cooked leftover rice to make curd rice. If your leftover rice is not soft and mushy then add little water in the rice and mash it slightly with a ladle. If making for breakfast or tiffin you can cook rice at night and keep it refrigerated. Just add vegetables and tadka in the morning.
Finely chopped cucumber,pomegranate pearls and grated carrot taste good and add nutrition and crunch in the curd rice . But it is optional depending on your taste preference. Addition of green chilies are also avoided if you are making it for kids but I like the flavour of ginger and chilies in it as both enhance the flavor of curd rice.
Curd rice is best served cold but you can also serve it at room temperature if you don't like eating cold food . Curd rice can't be heated as it may curdle while heating .
How To Make Curd Rice
Cook rice with some extra water so it will become softer and slight mushy. Let it cool down completely.
Whisk yogurt and dilute it either with some milk or water.
Add chopped green chili,ginger,cucumber,grated carrot, fresh coriander and pomegranate pearls.
Make Tadka- heat little ghee or oil in a pan add cashew pieces and roast on low heat till they turn slight brown,now remove the roasted cashews and add in the curd rice .In the same oil now add mustard seeds, urad daal, dried red chilies, asafoetida and curry leaves and let them crackle . When done add this tempering in the curd rice.
Add some chopped fresh coriander and mix . Chill the rice in the refrigerator before serving as it taste best when it is cold.
Garnish with some pomegranate pearls and fresh coriander while serving. You can also make some fresh tadka and pour over the rice as garnish.
You may also like these Rice dishes-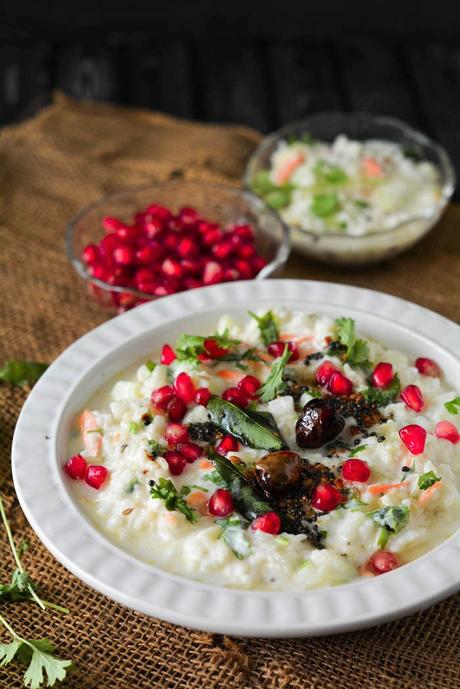 Curd Rice Video-
You can also follow me on, , and for more delicious recipes and updates
Curd Rice