We scrambled into Cucina 24 this past Thursday to use up an expiring Asheville Deal.
Upon walking in I knew right away I was underdressed in a t-shirt and shorts.  This place is fancy. I was initially relieved to see another table at the restaurant, with individuals in t-shirts, but as the night wore on patrons' threads just kept getting fancier and fancier.
My threads would progressively worsen throughout the night as somehow on my way back from the restroom I snagged my discount Dillards t-shirt on the bar and ripped a huge hole down the side.  So I was basically dining at Cucina 24 in a gym shirt.
We started with an order of the corn cakes topped with ham and pickled watermelon and an order of duck fat potato fingerlings.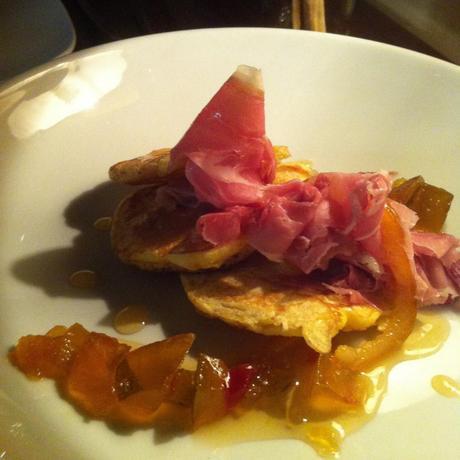 Corncakes at Cucina 24
This was my first time trying pickled watermelon as an ingredient and I have to say I was mostly impressed. The duck fat potato fingerlings were outstanding,
I ordered the cured foie gras next. There is currently a rather small controversy playing out in Asheville on whether foie gras should be banned.
Here is a guest column by Joe Walsh in the Mountain Xpress on why foie gras should be banned and here is a response guest column by local bartender and musician Johnathan Ammons on why a foie gras ban is a waste of time.
I will have to do a tad more research before I decide where I stand in that debate.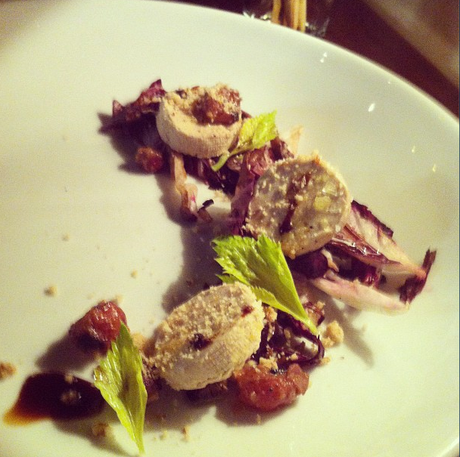 Cured Foie Gras at Cucina 24
This was my first experience with foie gras as well. But I can say if all foie gras tastes like what I had at Cucina 24, a ban will be no big deal for me. I have to say I'm not a fan of foie gras. Foie gras may be a little too rich and buttery tasting for my palette.
But it will be a huge deal for a fellow patron at Cucina 24. I couldn't help but notice a very young gentleman chatting up a lady at the bar, slinging out foie gras like it was the homie's calling card! Gentlemen take notes. I didn't hear what he was saying but I imagine it went something like this, "hey baby here is small sample of an organ so you won't be surprised when I whip out another later tonight." I'm sure the exchange is somewhere on Asheville Craigslist's Missed Connections.
Finally, we finished with a pizza topped with cherries, bacon, and arugula.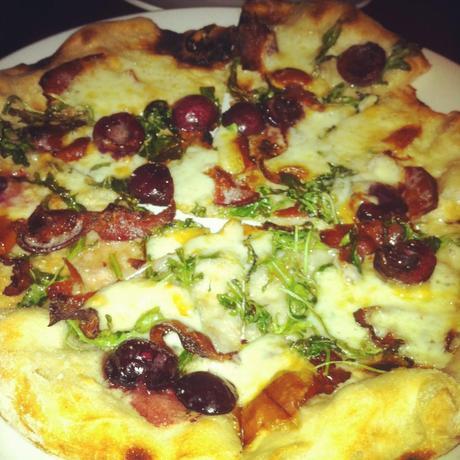 Pizza at Cucina 24
The crust on this pizza was super thin and crisp. I loved this pie. It's a pretty expensive pie at $17, but I would come back to get it again. In my personal opinion the best pizza is cooked over a wood fired oven.