Marg Helgenberger is a 54-year-old much-botoxed and -Restylaned denizen of Hollyweird, best known for her 12 years pretending to be a crime scene forensic investigator on the TV show CSI.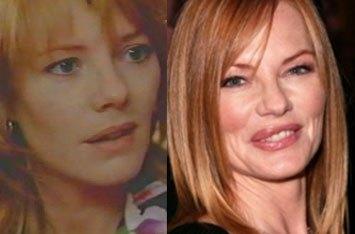 Joe Newby writes for Examiner.com, Dec. 19, 2012, that "Since the tragic Connecticut school shootings last Friday, liberals across the country have been busy proving that theirs is an ideology of hate and rage. Instead of blaming the person who pulled the trigger, liberals have blamed the NRA [National Rifle Association], the Second Amendment and gun owners in general. Many, including Helgenberger, have called for the deaths of NRA members in response to the shootings."
Twitchy reported Tuesday that last Friday, Dec. 14, novelist Joyce Carol Oates tweeted: "If sizable numbers of NRA members become gun-victims themselves, maybe hope for legislation of firearms."
To which, Helgenberger tweeted in response:
"@JoyceCarolOates

One can only hope

, but sadly I don't think anything would change."
Did you get that?
Helgenberger says "one can only hope" that NRA members — Americans who have committed no crime, but simply want to preserve their Constitutional Second Amendment right to bear arms — get shot or killed.
Another leftist who also expressed a desire to see NRA supporters dead is John Cobarruvias, a member of the Texas Democratic Party Executive Committee. Although he deleted his tweet and offered a weak apology for it, his Facebook page still contains a message saying that NRA members "need to [be] wiped off the face of the earth."
Yet another murderous leftist is University of Rhode Island assistant professor Erik Loomis, who called for the death of the CEO of NRA, Wayne LaPierre. (Read more about Loomis here.)
Helgenberger has since deleted her offensive tweet, The Wrap reported.
The National Rifle Association was founded in 1871 to promote firearms "training, education and marksmanship." Since then, the NRA has become the premier firearms education organization in the world and a major political force and foremost defender of Second Amendment rights in America.
The NRA has been silent since the terrible murder, by 20-year-old Adam Lanza, of 20 children and 6 adults last Friday at Sandy Hook Elementary School in Connecticut. But the NRA has issued this statement:
NRA STATEMENT
12/18/2012
The National Rifle Association of America is made up of four million moms and dads, sons and daughters – and we were shocked, saddened and heartbroken by the news of the horrific and senseless murders in Newtown.
Out of respect for the families, and as a matter of common decency, we have given time for mourning, prayer and a full investigation of the facts before commenting.
The NRA is prepared to offer meaningful contributions to help make sure this never happens again.
The NRA is planning to hold a major news conference in the Washington, DC area on Friday, December 21.
Details will be released to the media at the appropriate time.
These death threats by the Left are nothing less than TERRORISM, meant to intimidate, harass, and frighten gun owners.
The best way to resist these hateful evil bastards is by becoming a member of the NRA. To join, click here!
H/t Stephen Frank's California Political News & Views
~Eowyn