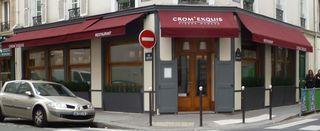 6.9 Crom'Exquis, 22, rue d'Astorg (the "g" is pronounced) in the 8th, 01.42.65.10.74, closed weekends, has been open but a few weeks but it's already jam-packed with suits who overflow and stand, suits standing mind you, eating at the bar.  I'm sure Pierre Meneau is tired of being compared to his starred Dad in Vezelay but Dad's cooking has sure rubbed off on him.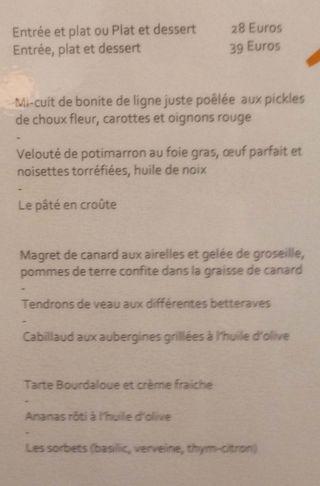 The menu is 3-3-3 with two sorts of cromesquis (androuilette and foie gras and truffles) and at lunch is a bargain at 28 E for 2 dishes and 39 E for three.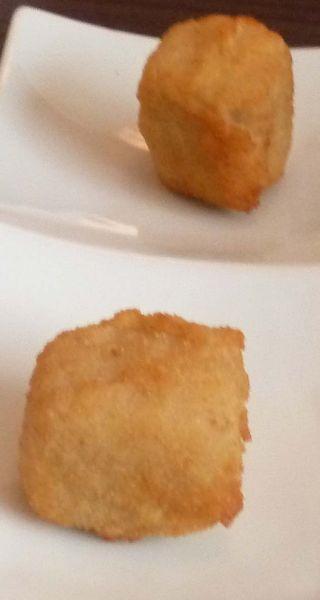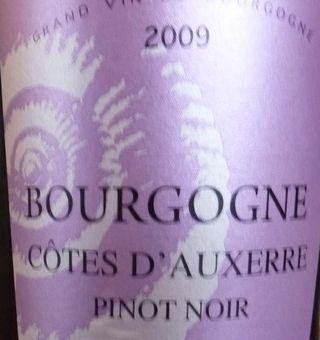 We started out, how can you not?, with the signature cromesquis with andouilette (if you don't know what heavenly creatures they are, look here) as well as a fine Cotes d'Auxerre.  The waitress (they all wanted to speak English to us and we happily replied in French) explained that you had to pop it all in yourmouth and watch out because breaking into it could result in it spraying all over your neighbors.  Since there were 3 of us, I said we'll break this French rule and cut them three ways and you know neither the waitfolk nor food gods took revenge on us.  BTW they were terrific.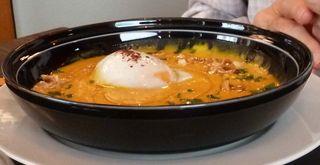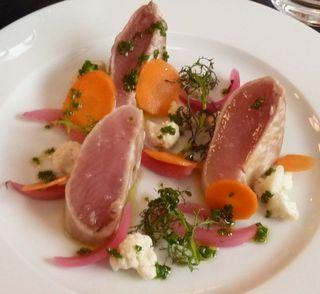 The global physicist had the pumpkin soup with foie gras and an egg (everybody is doing it this fall) and my fellow Board team/examiner friend and I had the bonito warmed on the outside with marinated onion strips and teeny tiny cauliflower flowers and carrots - yum.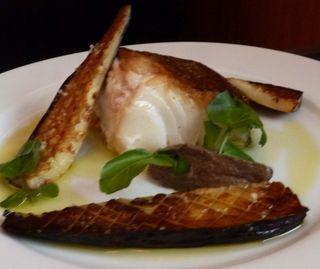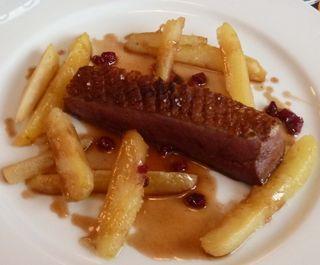 Then she stayed with fish, with a nice piece of cof and grilled eggplant while the boys went over to the meat side with a somewhat too chewy magret but outofsight potatoes cut like they were intended to be fried but were not, they were confited in duck fat - that was a first for me.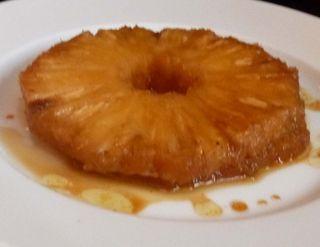 At this point I folded my cards while my two ex-skiing buddies plowed into the pineapple roasted in olive oil and three types of sorbets.
With 1.5 bottles of wine, no bottled water, great bread and three coffees but omitting the cromequis (which I urge you not to, you'll find the 6 E on the street someday) the bill for three could be 163.00 E or 108.66 E a couple.  The credit card receipt reads Burgundy Cooking 89 Vezelay - Papa lurks.
Go?  If you can get in, be my guest, and Pierre's and theirs.